Brute Force
by Shawn Micallef
There is a picture of Murray G. Ross, York University's first president, sitting at a desk in 1962. The photo originally ran in the Toronto Telegram alongside an article entitled "I'm here… now where is my university?" Such a predictably corporate image would be at home in any mid-century institutional building. But, in this instance, Ross and his desk are in the middle of a farmer's field. In the dead of winter.
It's unclear in which direction the photographer's camera is facing, but it is quite possible that what we are seeing in the far distance is the Niagara Escarpment peaking hazily just beyond Ross' perfectly centred head. Now knowing the kind of austere, monumental architecture that would soon materialize in these fields, it's almost as if Ross were evoking – willing even – a new concrete escarpment to rise out of the surrounding stubble and earth. 
Indeed, creating a new university campus from scratch may have been as herculean an effort as the glacial forces that created the Niagara Escarpment itself. Cast in stark concrete and brick, York's original brutalist architecture is probably as close as humans can come to creating a rough-hewn, rock-solid topography of their own. 
An economically efficient style of city building, brutalism's obdurate presence at York is not surprising. Rising from the ashes of the Second World War, brutalism's global footprint owes much to Swiss-French architect Le Corbusier, whose béton brut (raw concrete) buildings, among them the modernist residential complex Unité d'Habitation in Marseille, France, influenced architects around the world in such bombed-out cities as Belgrade, London and Tokyo, making them fashionable in the 1950s and 1960s.
New York City also embraced the new urban renewal aesthetic – the United Nations building and its brutalist elements being noteworthy examples – as did Toronto, whose raw concrete City Hall and Nathan Phillips Square are at once a curvaceous and angular iteration of brutalism (though purists will here quibble over what is and isn't truly brutalism).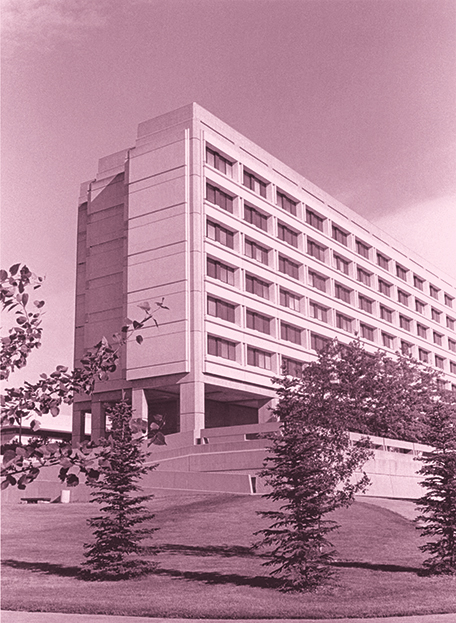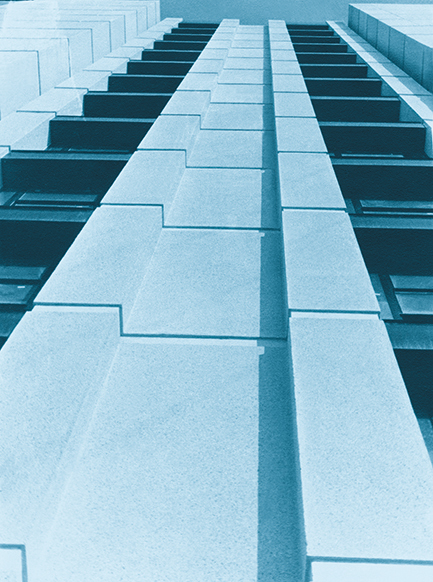 York University signalled its commitment to all things new and innovative by carpeting the fledgling Keele Campus with mid-century modern buildings that furthered brutalism's hold on Toronto's urban landscape. Ross was clearly a devotee. The centrepiece of York's original brutalism is the Ross Building with its multilayered, labyrinthine layout, interior courtyards and even a sunken student lounge area evocative of the swinging '60s era.
Like a constellation of concrete, the original campus buildings grew around it in the mid to late 1960s, 14 of which are listed in the City of Toronto's heritage inventory. They include McLaughlin College, the Curtis Lecture Halls, the Scott Library, Winters College and Vanier College.
But these brutalist buildings fell out of favour in the 1980s and 1990s when a renewed taste for old-world ornamentation made huge swaths of unadorned concrete appear cold, ugly and uninviting. Unloved, they were allowed to deteriorate until only recently when brutalism, long neglected and underappreciated, suddenly inched back in style. The architecture is now considered an important part of the University's modern heritage.
Architecture is beholden to the whims of fashion, and fashion is fickle. Yet it seems that as architecture reaches half a century it suddenly becomes respectable again, often just as it's at risk of being torn down and replaced. 
Brutalism is experiencing its own renaissance right now. There are Tumblr accounts that defiantly celebrate the style and coffee table books that explore the historic and heroic virtue of this kind of architecture. Design shops sell T-shirts, collectable plates and scale models of famous examples of brutalism. Toronto even has its very own "Concrete Toronto Map," a slick guide to the city's brutal gems that includes the aforementioned six buildings at the Keele Campus. York is well positioned to be part of brutalism's celebratory second wave.
Like all period architecture, there are ways to improve it and adapt it to contemporary needs, but the apparent loathing around brutalism is often an unexamined one. Often synonymous with bureaucracy, it's not a coincidence that the style common among so many public buildings like courthouses, university buildings, libraries and city halls were brutalist designs, as were many corporate headquarters. It projects power and permanence. 
Brutalism can be incredibly sculptural, too, as concrete does whatever architects and engineers want it to, including cheating gravity. A case in point is the Scott Library, a concrete modernist glory with an interior zigzag staircase masterminded by University Planners, Architects & Consulting Engineers, the firm formed and commissioned in 1962 to create a master plan for York University.
This iconic piece of architecture prefigures some of the great concrete zigzag staircases in Toronto by local architectural legends Moriyama and Teshima, who put them in the Scarborough Civic Centre (1973), the Toronto Reference Library (1977) and the North York Central Library (1987). York, however, was the trendsetter. 
York's other brutal charms tend to be more subtle and tucked away. For instance, the inner courtyards of Vanier and Founders colleges, which provide escape from the hustle of campus with trees and grassy knolls, harken back to the rural landscape Ross first laid eyes on back in 1962. 
As York continues to grow and fill in with new buildings that knit the campus together, remember those original brutal buildings: they rose out of empty fields and are the solid anchors to which the University is moored.  ■