Thinking Inside the Box
by Deirdre Kelly
photography by Mike Ford
At York University, big things really do come in small packages, or so nearly 12,000 newly minted graduates recently discovered when they received a specially designed convocation box delivered straight to their door.
Measuring approximately 14 by 18 inches, the custom-built York red box comes embossed with the University's convocation logo and filled with such graduation-worthy goodies as a cap and tassel, an alumni pin, a tube of confetti and, la pièce de résistance, one's hard-earned diploma encased in a rigid made-to-order document holder to keep it safe from harm.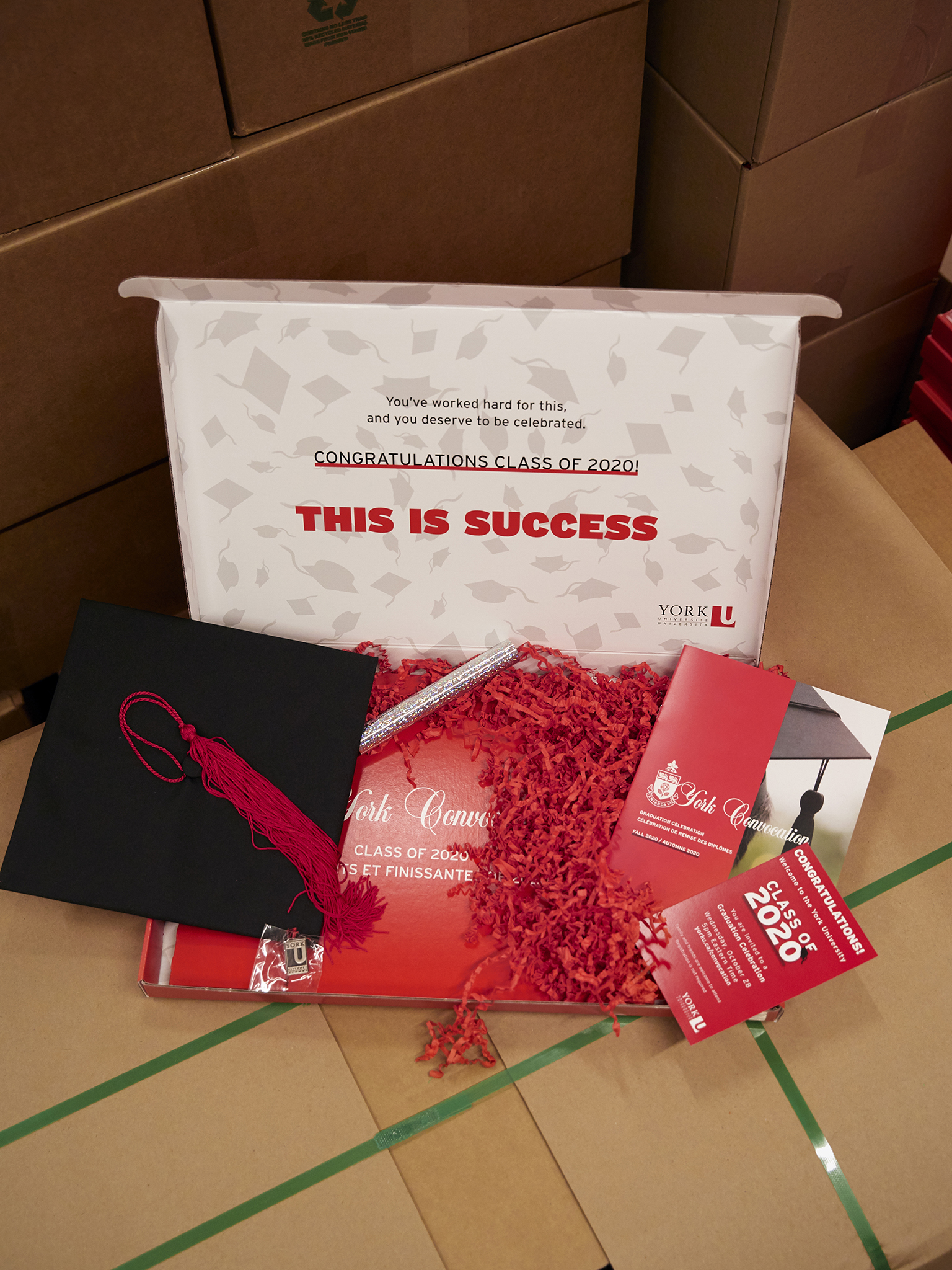 "We had to think of a new and different way of doing a convocation," says associate registrar & director, Student Records & Scheduling Frances ("Frankie") Billingsley, "something that still reflected the symbols of what York University is and that would continue to encourage the desire to stay connected as an alum in the future."
We don't call it a convocation box. It's a graduate celebration
When the threat of the coronavirus forced all in-person convocation ceremonies to be cancelled this year, Liz McMahan (BA '16), herself a York alum who today manages the University's Convocation & Special Projects office, got to thinking about how to celebrate graduates who – like the rest of us right now – are confined to their homes. Putting a graduation ceremony in a box is her bright new idea, hatched in the global pandemic, and it's enabling thousands of York alumni to feel connected to and engaged with their University, even in a time of lockdowns.
"Besides the diploma, the most important thing about graduating is being able to celebrate your achievement," McMahan says. "But how to do that when convocation is cancelled?" And so, the box was born. The baby has its own name: "We don't call it a convocation box," she adds. "It's a graduate celebration."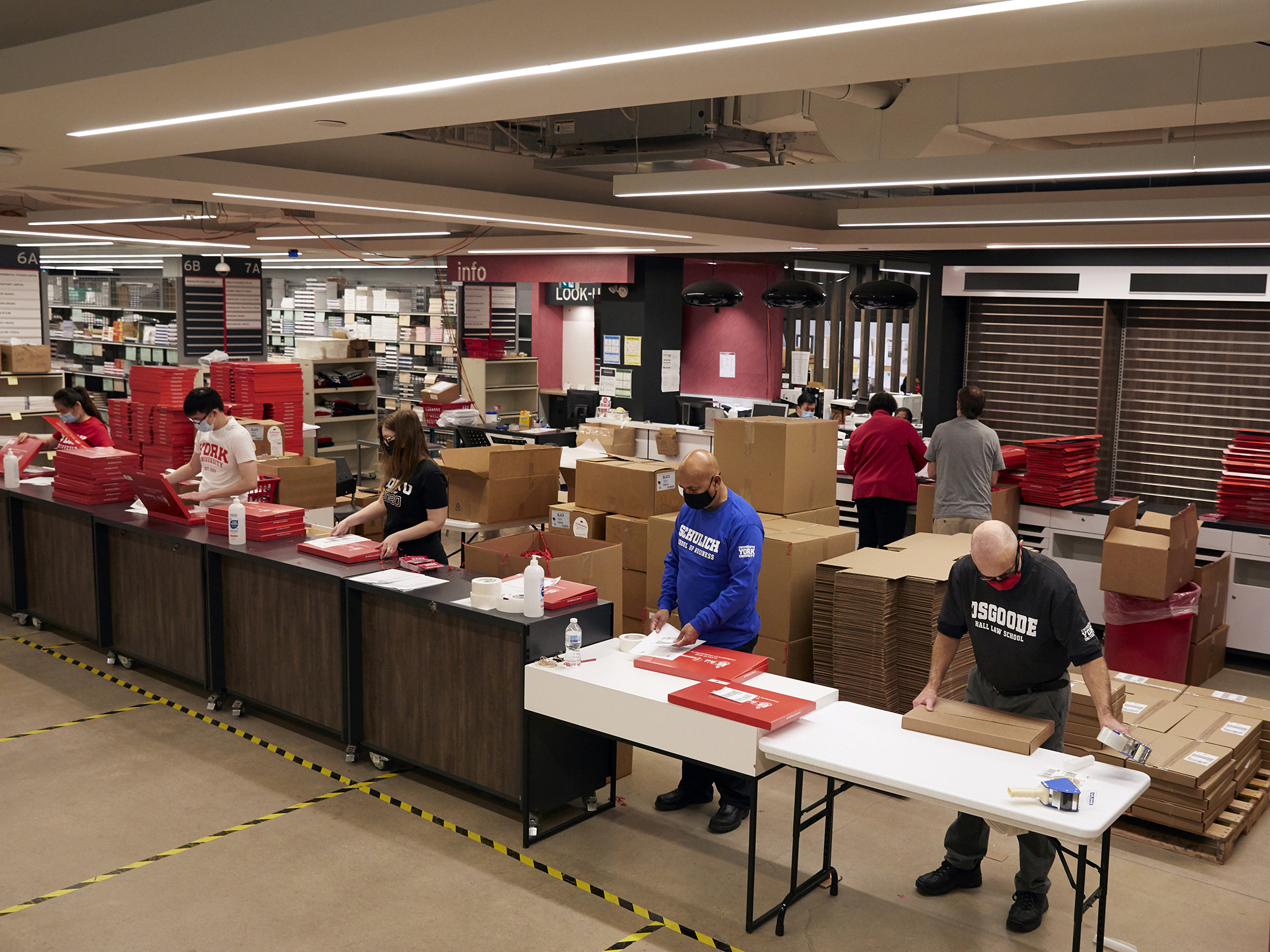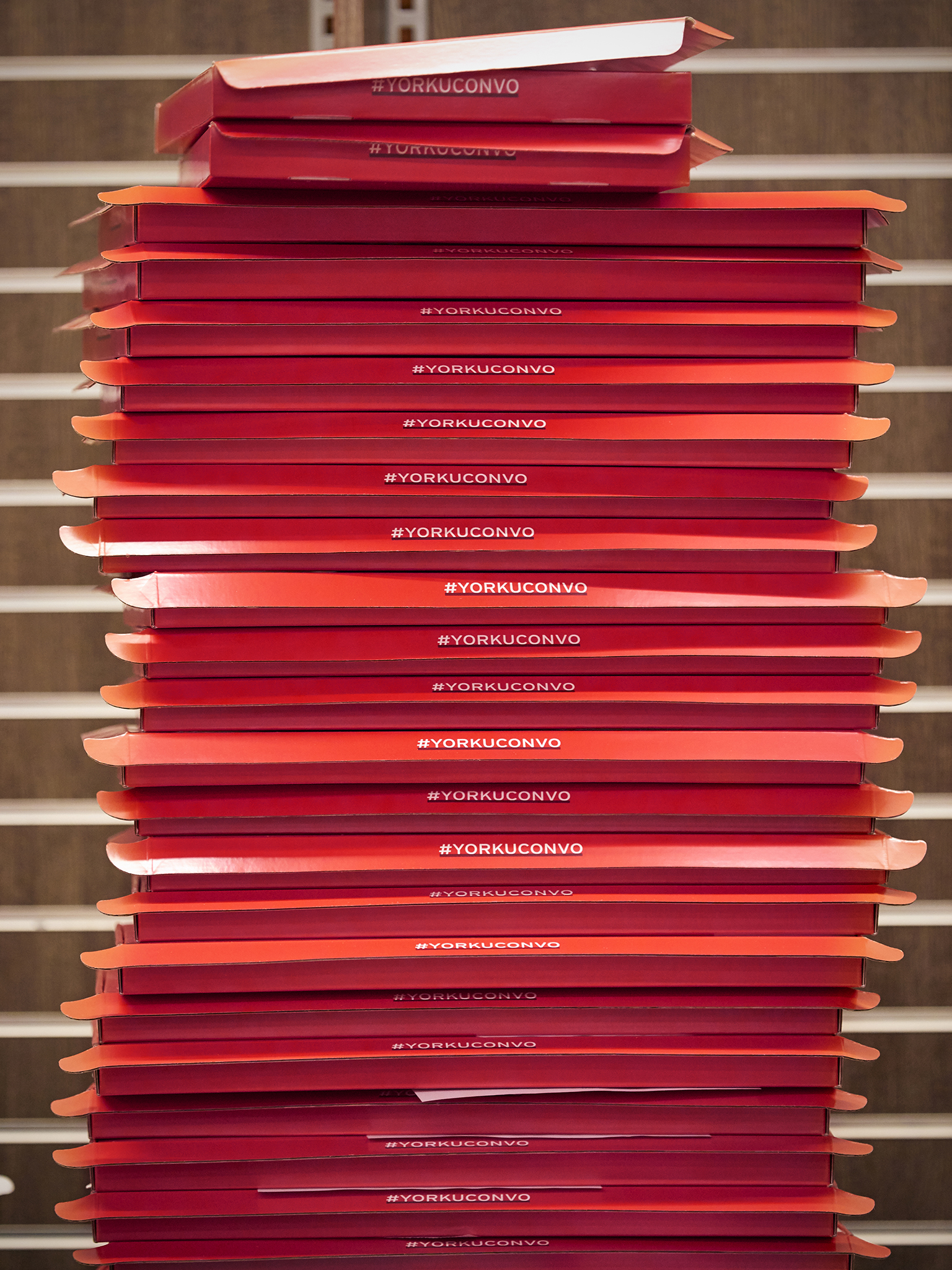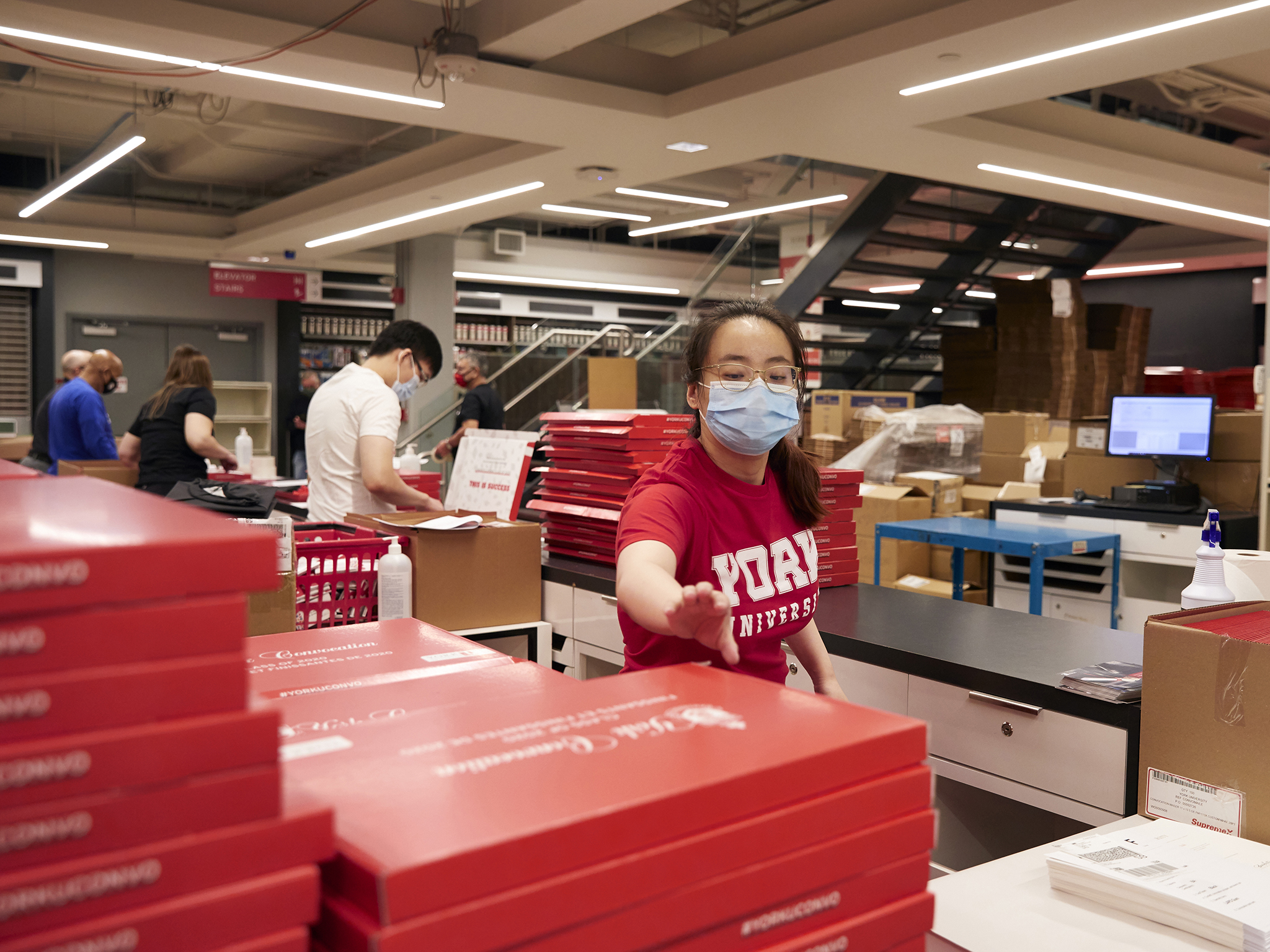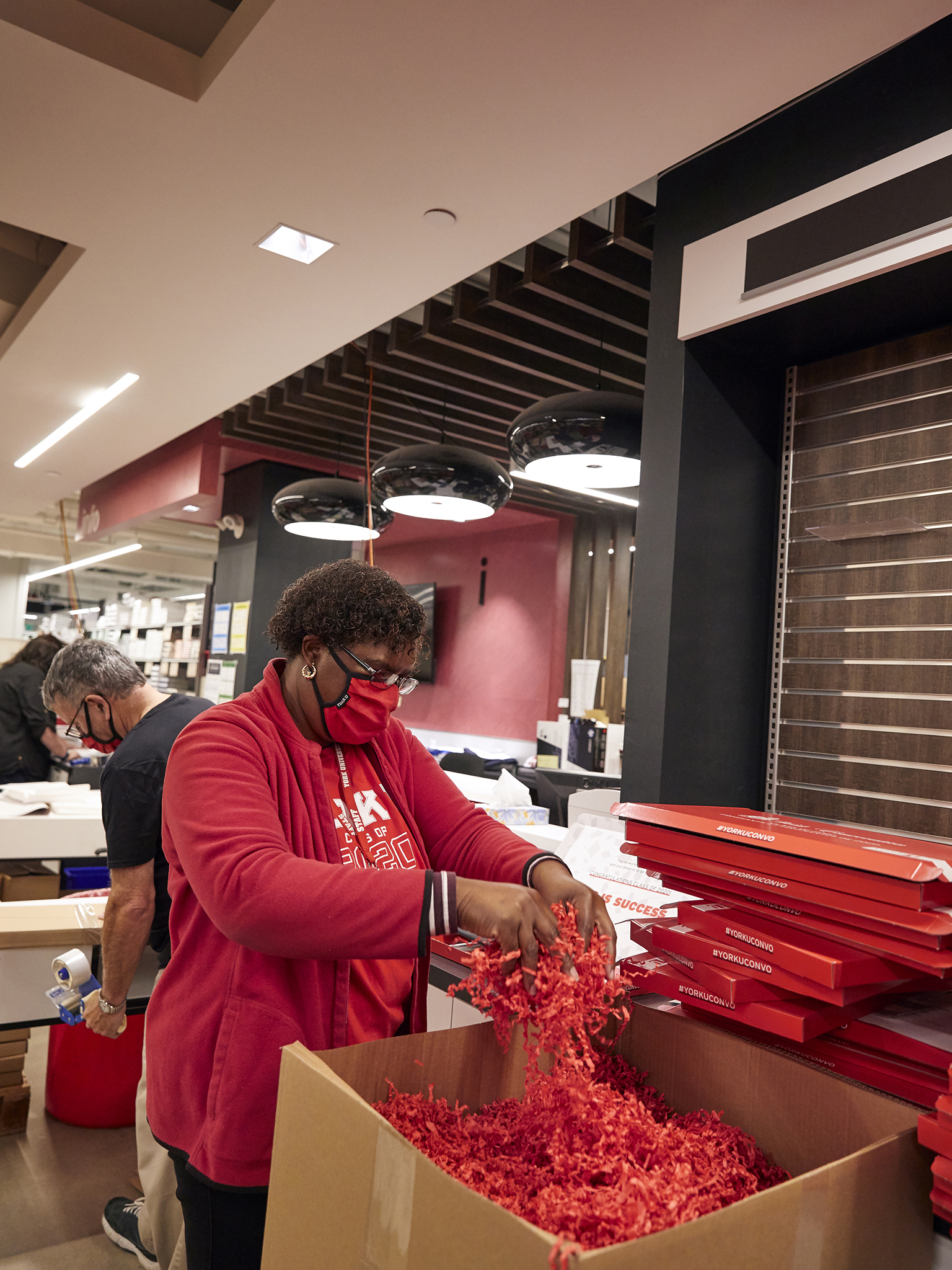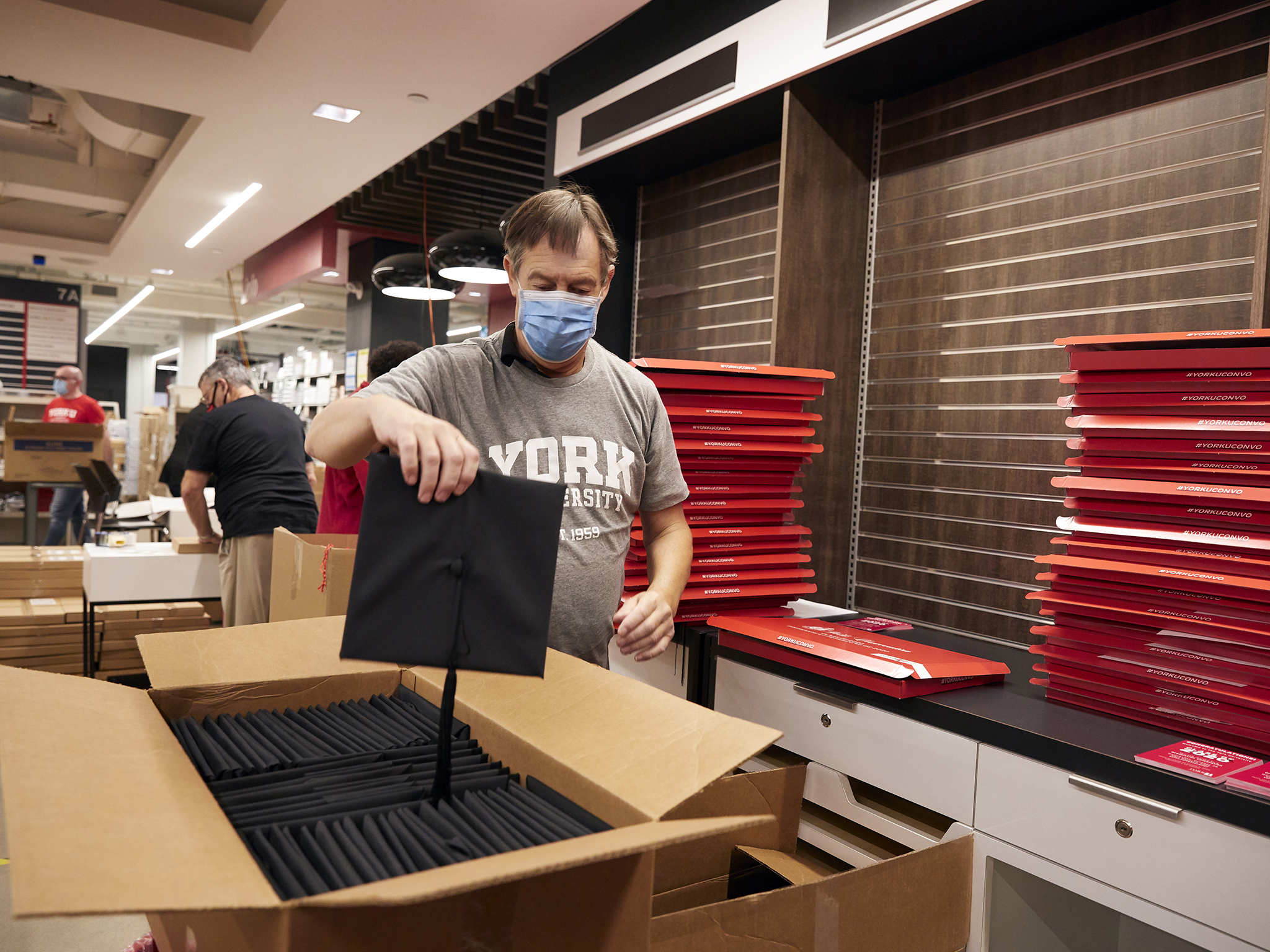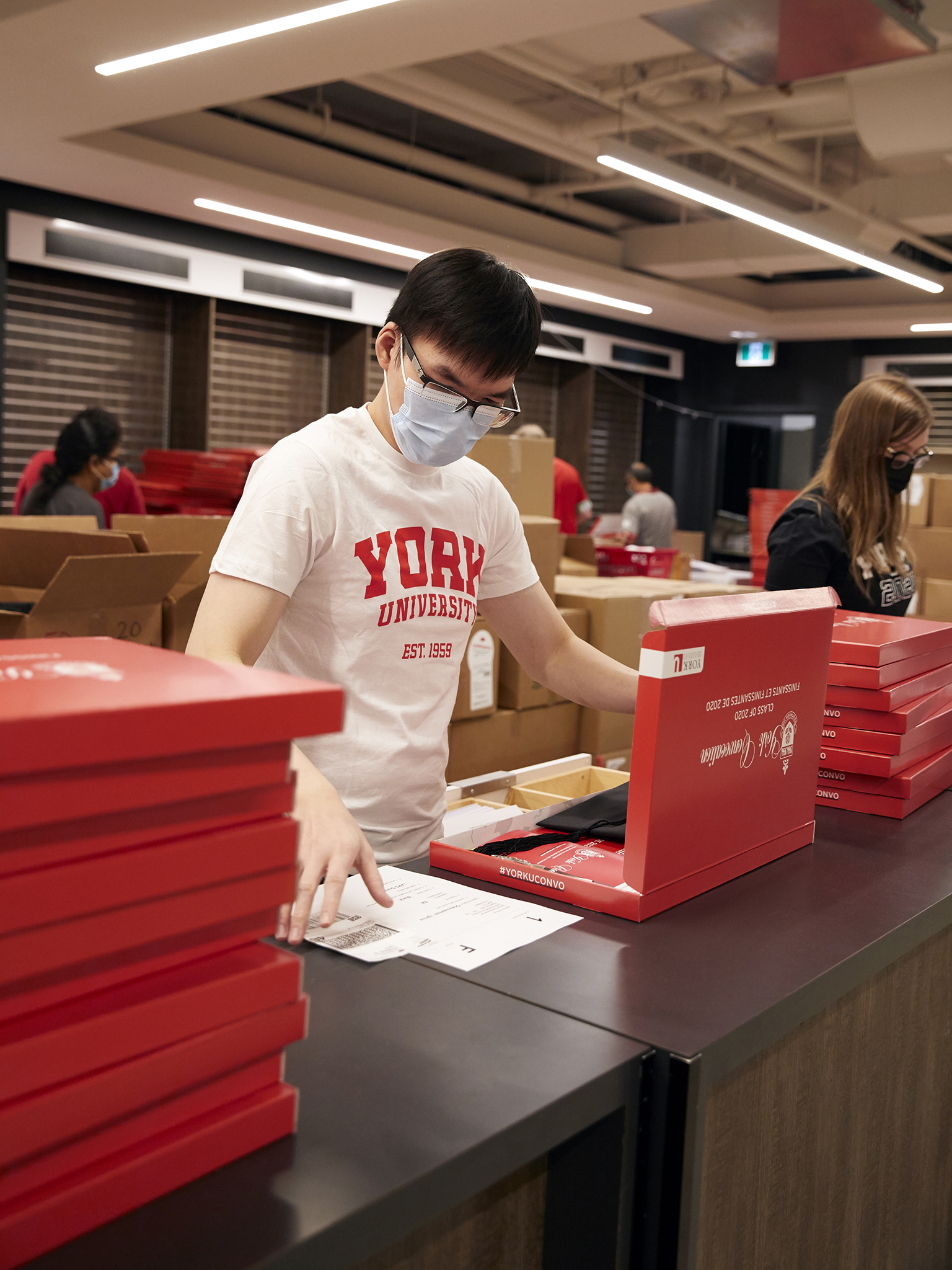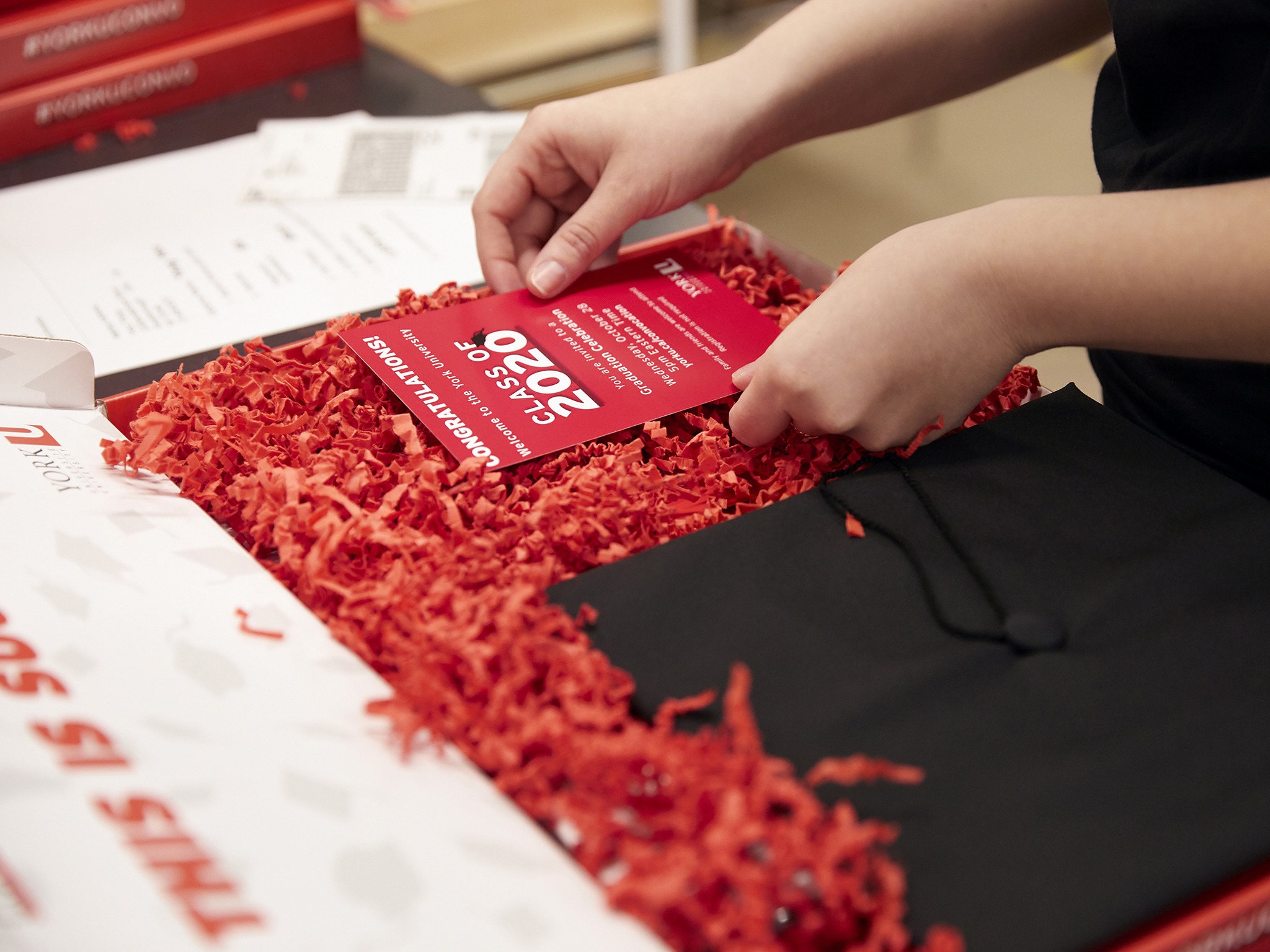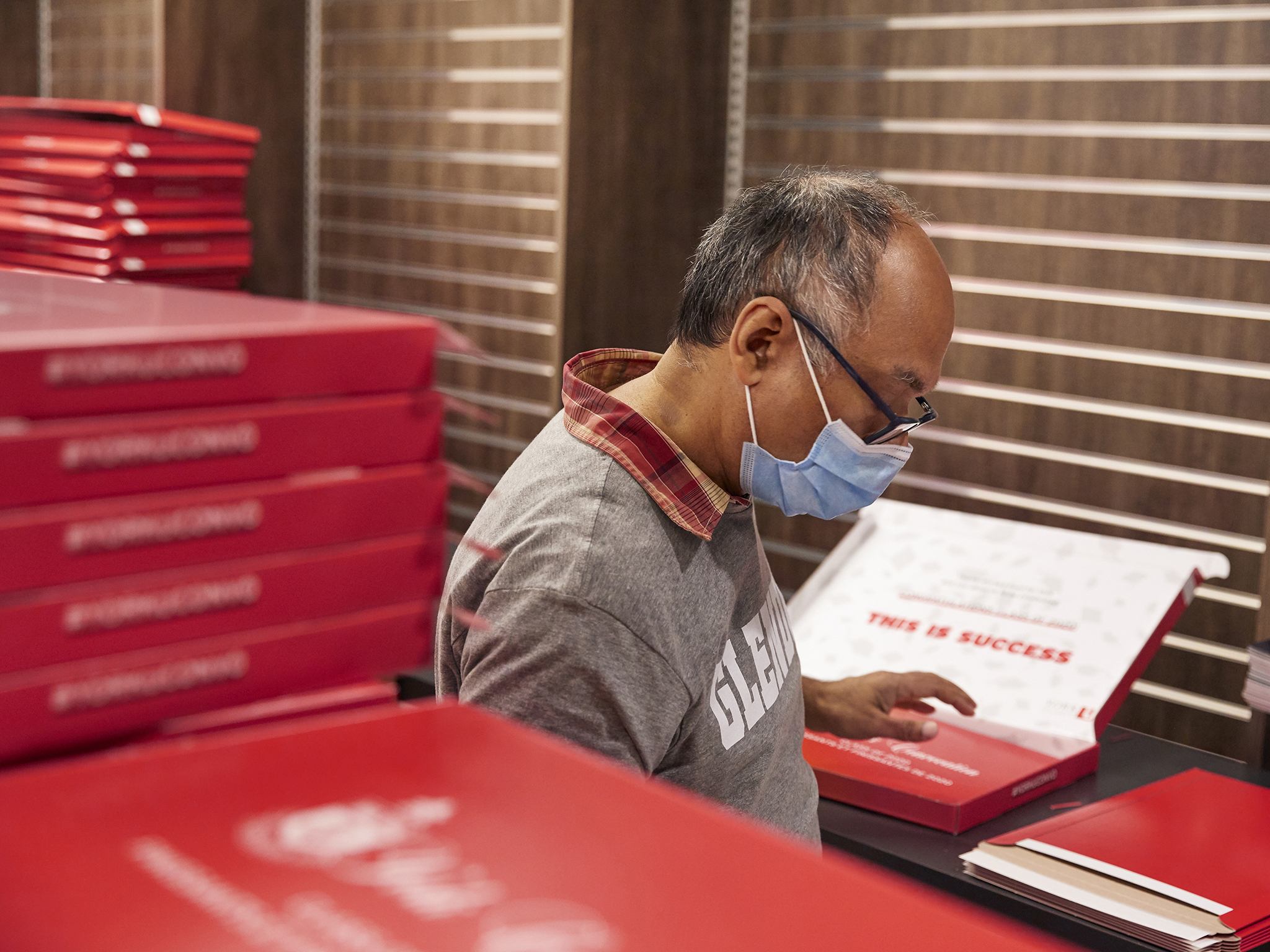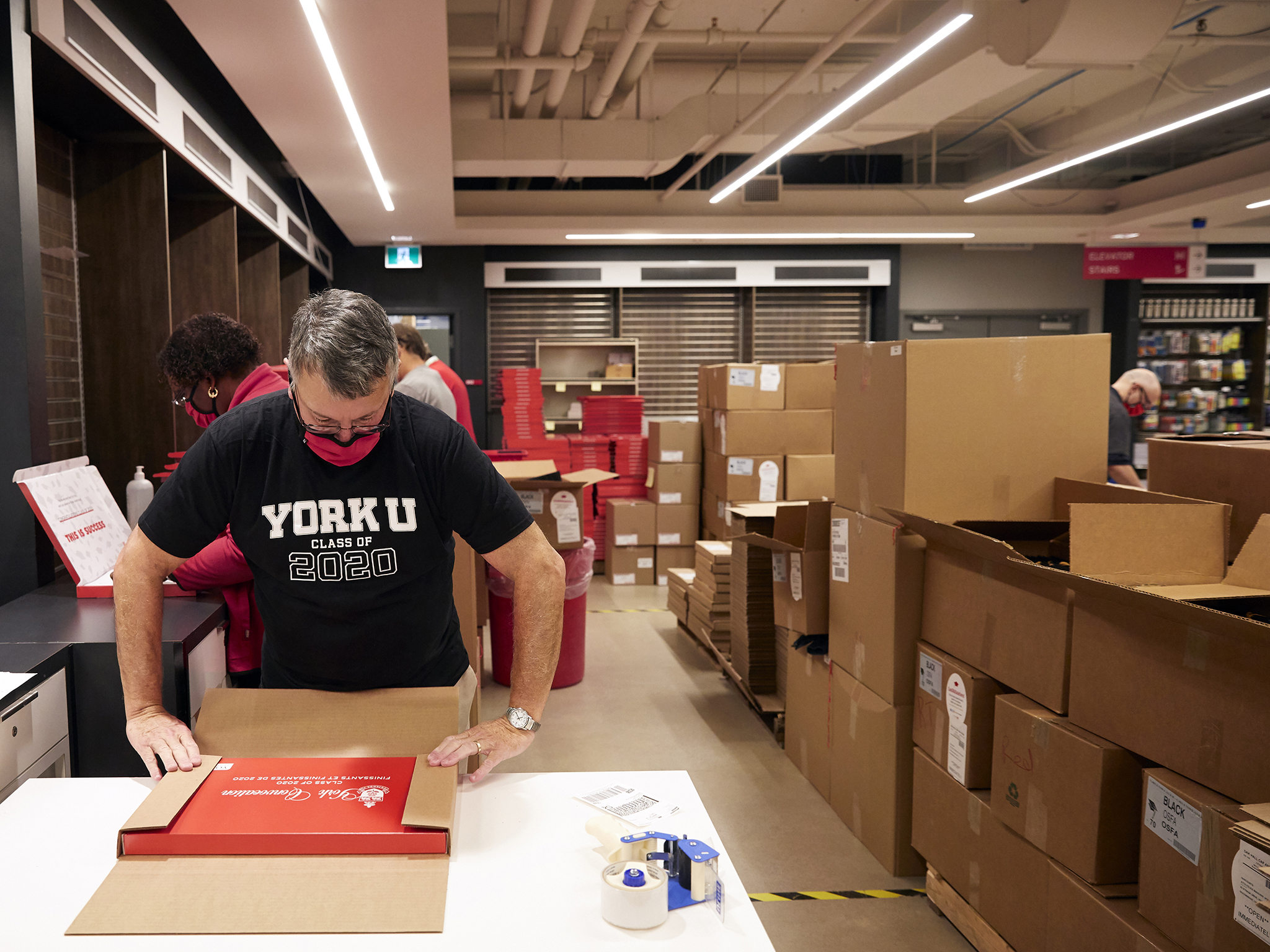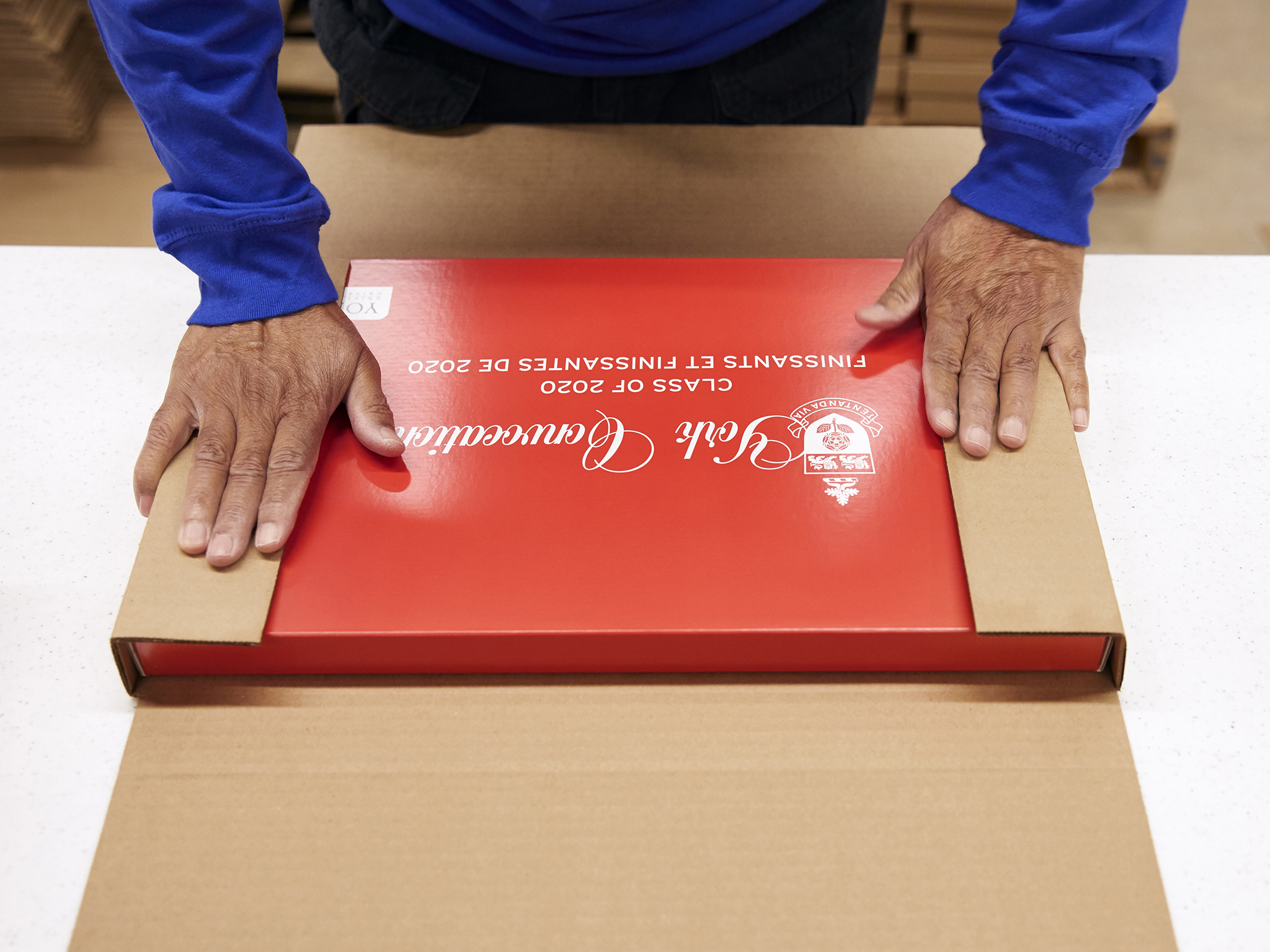 This distinction duly noted, McMahan then takes pains to acknowledge the many hands behind the scenes who helped make it happen, from Communication & Public Affairs graphic designer Kathleen Maxwell, who helped to design the keepsake, to the hands-on staff at the York University Bookstore who – guided by director Chad Saunders – personally filled each one in advance of both the spring and fall convocation dates.
To give you an idea of just how big a job this was, you only have to remember that the June convocation had more than 8,000 grads registered, and the fall an estimated 4,000. That's a lot of boxes to fill, and York staff did it, and much more.
Every box was individually packed. It truly is a customized student experience
"What's interesting about the boxes is that there were dozens of variations depending on the faculty and whether the recipient was a grad or post-grad; we organized and packed them in groups to make it efficient," says Saunders, who has had to close the York bookstore to the public during the pandemic, converting it into a distribution centre to get product out to faculty and students. "Every box was individually packed," he continues. "It truly is a customized student experience."
Besides the boxes, this year's graduation celebrations also included a virtual online ceremony combining special drone footage and video shot and assembled by York marketing officer Grace Gravina and multimedia content creator Mario So Gao, also members of the University's communications department.
It's a different experience of the campus, which is now empty, but where we all hope to return and come together again
Manager of Learning and Technology Services Rob Finlayson co-ordinated the footage, which featured overhead views of the now-empty Keele and Glendon campuses, in addition to pre-recorded speeches by York President and Chancellor Rhonda Lenton and Toronto Mayor John Tory (LLB '78), another York grad. The online event also featured an honour song and the national anthem sung via Zoom in English, French and Anishinaabemowin, an Indigenous language of the Ojibwa people.
Typically, the University's convocation procession is led by a beadle holding a ceremonial mace gifted to York in 1964. This year, the beadle walked with only a bagpiper marking his passage across the Keele campus to Vari Hall. "It's a different experience of the campus," says Finlayson, "which is now empty, but where we all hope to return and come together again."
To ensure graduates didn't miss the show, McMahan added to the celebratory boxes a postcard printed with the address of the virtual graduation presentation that various units within registrarial services came together to support. Response so far has been strong, so much so that McMahan says the boxes will likely become a regular feature of all York convocation ceremonies going forward. "I'm very proud of it," she says. "I wanted to find a way for people to feel connected to their University, and I think the box provides a link."  ■