Giller Guys
by Deirdre Kelly
Michael Redhill
When a visibly moved Michael Redhill took the 2017 Scotiabank Giller Prize at a black-tie ceremony telecast live across the nation from a downtown Toronto hotel ballroom last November, the author of the winning novel, Bellevue Square, tearfully thanked a long list of people, including his agent, his editor and his mother, in that order. He saved his biggest expression of gratitude for Michael Ondaatje and Linda Spalding, Canada's first couple of literature, who taught English at York in the years before Redhill decided to join the University in 1986 to pursue a film studies degree with a minor in creative writing. "I met my most important mentors at York,'' Redhill says later, underscoring how those early encounters went on to pay him dividends, and in more ways than one.
The bearded resident of Toronto's Riverdale neighbourhood is an editor as well as a writer. But the day after winning ­Canada's most important – and lucrative – literary prize, Redhill is playing hooky. It is now late in the afternoon and he rushes in late to a local Danforth café after spending most of the afternoon paying homage to Bellevue Square in Kensington Market, the inspiration behind his same-named novel about a woman and her doppelgänger and the confusion arising from their story of mistaken identity. Somewhere along the way he has also managed to squeeze in a visit to his bank to deposit the $100,000 cheque handed out to the winner of the Giller Prize along with a trophy designed by craftsman Soheil Mosun. The reality of what has just happened to him is only just starting to sink in.
For three years, I have been living hand to mouth. I've had a hard time making ends meet. To say this feels good would be a ludicrous understatement
"Look at my balance," Redhill insists, holding up his cellphone in between sips of espresso and glasses upon glasses of cold water. A mobile app shows his bank details blinking brightly in the semi-darkness of a fall afternoon. There's the $100,000 all right. But it's the screen's other figure, $411, that he's referring to. In effect, the author, a father of two teenaged sons, had teetered on the poverty line just a day before. His life as he knew it has already changed.
"This is not a brag," Redhill exclaims, his eyes threatening to go moist again. "For three years, I have been living hand to mouth. I've had a hard time making ends meet. To say this feels good would be a ludicrous understatement." Thanks be to the Giller, and thanks be to York.
"The University gave a lot of writers teaching jobs both at the Keele and the Glendon campuses," Redhill says, referring to Ondaatje and Spalding, who instructed him not inside the classroom, but more at their Cabbagetown home, which they opened to him in the days when he was still an aspiring writer. In the 1980s, they were editing the Canadian literary journal Brick and had invited Redhill in to learn firsthand about the trials, tribulations and tender rewards of the literary life. He is forever indebted. "It's where I learned to become an active member of an arts community," Redhill says, "in a way inspired by their example."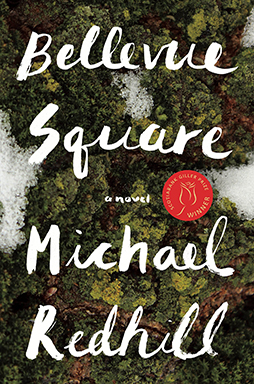 Experiences acquired on campus also informed the writer he is today. He was at York three years, travelling daily up to Keele from the apartment he kept in the city, a round-trip commute that ate up hours of his day. "It was a terrifying journey, back before the TTC had shock absorbers," he recalls, shuddering at the memory. "It felt like going to school in a bomb shelter. It was remote. There weren't a lot of services. But there was something very raw about the experience that created this real ferment in the arts."
Redhill quickly inserted himself into the scene, cutting his ­literary chops editing the York literary magazine Yak, in which he published the nascent poetry of fellow student Steven Page, "before he became a Barenaked Lady." Other young writers coming up at York at the time included ­Lesley-Anne Bourne, today an award-winning poet. "There was a very rich literary scene at York when I was here," Redhill says. "I met bpNichol at York before he passed away and I had Don Coles, the professor who brought me out to Banff, and Bruce Powe, the Canadian novelist and poet. I took courses with both." Redhill has since led courses of his own at York, returning to campus as a sessional teacher, participating on panels and addressing students about what the life of a writer is really like. It can be tough, he tells them. But the bumpy ride – as Redhill can personally attest – is worth it. "The creative writing program at York gave me a life," he says. "It was the first time I thought I could spend my life doing this."
Will Ferguson
Best known for 419, his Giller Prize-winning book of 2012, Will Ferguson evolved into a novelist and screenwriter somewhat by accident. Becoming a writer hadn't figured in his career plans when the three-time recipient of the Stephen Leacock Medal for Humour attended York at precisely the same time that Redhill did during the latter half of the 1980s. Both, in fact, were in the same first-year film class. But they didn't come to know each other until years later when mutual friends brought them together. They had kept their literary ambitions pretty much to themselves. "I wanted to study film and so I was pretty much focused on just that," says Ferguson, a resident of Calgary who grew up in Fort Vermilion ("close to the Arctic Circle") in northern Alberta.
Ferguson first came to the University in 1986 as a 22-year-old "mature" student, having travelled the world for a couple of years post high school as a volunteer with the Canadian volunteer organization Katimavik, among other government-sponsored youth agencies with a global reach. "I had travelled and acquired life experiences prior to coming to university, which made me different from most other students," he says. Ferguson chose the University for its film production program and for four years learned how to edit film manually with blade, tape and splicer. It was solid training. But by 1990, just as he and his fellow classmates were completing their degrees, digital had taken over the industry and raw footage became as antiquated as a VCR. "We all graduated as dinosaurs," Ferguson recalls, noting that Ceri Marsh and Kim Izzo, joint authors of a future bestseller, The Fabulous Girl's Guide to Decorum, were among his film studies cohort that year who also went on to become writers. "And, you know what they say, novel writing is the last refuge of the unemployed."
It's an economical form of storytelling, demanding and unforgiving. You must be able to reveal character through dialogue. It's a good discipline
All kidding aside, it takes a great deal of skill and discipline to complete a novel. York taught Ferguson that and more. A course on screenwriting in the film studies program instilled in him writerly precision and an acute ear for speech, qualities that would come in handy when he turned to writing full-time shortly after graduation. "The screenwriting class I took at York was perhaps the most important course I could have taken for preparing me to become a novelist, but I didn't know it at the time," he says. "It's an economical form of storytelling, demanding and unforgiving. You must be able to reveal character through dialogue. It's a good discipline. I always advise aspiring writers to try to do a screenplay, at least just once. It's a very rigorous format."
Ferguson honed his craft while teaching English in Japan in the 1990s. As an expat there, he began writing travel pieces for mass publications back in North America. He loved Japan. It made him regard his homeland, and the people in it, with unstinting clarity. In 1997, he published his first book, the ironically titled Why I Hate Canadians, ­following it a year later with Hokkaido Highway Blues (later retitled Hitching Rides with Buddha) and The Hitchhiker's Guide to Japan, based on his own experiences thumbing his way across the full length of the country, from Cape Sata on the southern island of Kyushu to Cape Soya at Hokkaido's northern tip. "Going to Japan was also because of York," Ferguson says. "I took a Japanese cinema course with Ted Goossen, a Haruki Murakami translator, and I was completely fascinated by the encounter. Professor Goossen was the one who turned me on to the JET [Japan Exchange and Teaching] program, which I thought to do for one year to pay my debts, but then ended up staying for five. I never did work in film." Cinema's loss was literature's gain.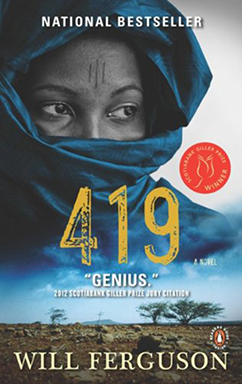 Ferguson went on to write an astonishing 10 more books in 10 years, among them 2001's Generica, 2004's Beauty Tips from Moose Jaw: Travels in Search of Canada and 2009's Beyond Belfast: A 560-Mile Walk Across Northern Ireland on Sore Feet, all award winners. But it was 419, the novel that took the Giller in 2012, that made him a household name.
A page-turner shot through with suspense and credible characters whose lives go sideways in the oil-rich Niger Delta in West Africa, 419 (four-one-nine is how you say it) takes its title from the Nigerian criminal code pertaining to fraud. The story is about a woman who investigates the death of her father after he falls victim to an email-based scam originating in Lagos' criminal underworld. Upon its release, critics observed that the novel both extended and departed from Ferguson's background as a travel writer, taking him into rich new literary territory. "I don't think I took a risk," he said at the time. "I think my publisher [Penguin Canada] took the risk, to be quite honest. 'You know, what I really want to try is literary fiction.' And they got behind it."
Determined to build on that success, Ferguson took time when choosing what he wanted to do for his next work of fiction, The Shoe on the Roof, which came out in the fall. Again, York University provided inspiration. The comic novel exploring the complexities of the brain started out as a screenplay that Ferguson wrote in his dorm bedroom at York during his first year as an undergraduate. Back in the 1950s, his mother had been a psychiatric nurse in Weyburn, Sask., and when he had to produce a screenplay for one of his York film courses he remembered her "harrowing and triumphant" stories concerning people struggling with delusions. One tale involved a case she had heard about in the U.S., involving a pair of mental patients who both believed themselves to be Jesus. They were cured when they realized there couldn't be two Messiahs on Earth at the same time. "I thought it was a great story, and manageable for my purposes. I mean, York in the winter looked very much like a psych ward. I thought I wouldn't have to go far to get the patients," Ferguson jokes.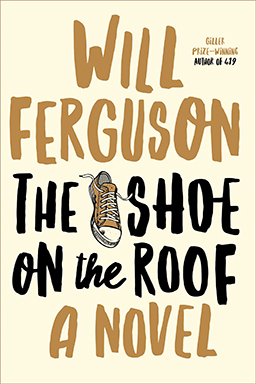 He wrote a 10-minute screenplay for three characters (adding a third Jesus to symbolize the Holy Trinity) with the idea of using a single long tracking shot ("at an experimental angle") that would slowly circulate the table to examine each player in turn. But it proved too difficult to pull off. Ferguson shelved the transcript until 2007, when he told his agent about it with a notion of expanding it into a feature film. That, too, never got off the ground. "And so, after 419, when I was looking for another novel to do, I kept thinking of that screenplay. I thought to myself, you know, there's a novel in here," Ferguson says. "I did the exact opposite of what is usually the norm. I adapted a novel from a screenplay." And became a writer after studying film at York. Which is what you might call a happy ending.