The Joker
by Deirdre Kelly
photography by Mike Ford
Mark Breslin is a newly minted member of the Order of Canada, and, while the appointment is no laughing matter, the standup comic who founded Yuk Yuk's (the national comedy club chain), discovered Jim Carrey (among other celebrity comedians) and wrote jokes for the late Joan Rivers (rest her silicone soul) can't help but think it funny.
"I feel like Gerry Adams of the IRA, a former revolutionary now making nice with everybody," quips Breslin (BA Hons. '74) over a coffee that stretches for hours in Toronto's Yorkville district, near where the first Yuk Yuk's flagship location opened 40 years ago, in 1978.
"I do cherish the honour. But, at the same time, I remember when people didn't let me in the room."
So, let's start there. Behind closed doors. Before this Lenny Bruce of the North started kicking them down with blunt-force chutzpah and sardonic wit. It's how a self-described outcast who ended up becoming a vaunted member of ­Canadian society might begin to make perfect sense. There is a method to the madness. Discernible only in retrospect.
York is where I learned to read between the lines
You see, Breslin hadn't an inkling he'd become a pioneering businessman, let alone a performer whose own prowess behind an open mic would launch many a stellar career and put Canada squarely on the world of comedy map. When he first came to York University as an undergraduate in 1970, all he knew is he wanted to be an iconoclast. He quickly made good his ambition, skipping a lot of classes to read a book a day sprawled out on a love seat in Scott Library.
It proved to be the perfect education for the comedian he would become, erudite as well as acerbic.
"York," Breslin says, "is where I learned to read between the lines."
He was born a disrupter. His parents were middle-aged when he made an unplanned appearance in their lives 65 years ago. His father, Ruben, a former shirt factory owner who ended up running nursing homes, was 53 at the time, and his mother, Matilda, a homemaker, was 44. They had already reared two grown daughters and believed their child-rearing days were behind them. But the joke was on them.
Their only son, whom they raised like an only child, not only messed with their retirement goals, he blew their minds. Young Breslin was precocious to an extreme.
"I could read before I was three," he says. "I was a sensation at my nursery school." So much so that word of his firebrand intelligence spread south of the border, attracting the notice of the CIA. "Two men from Virginia came to visit my ­parents and offered to put me in private school, but my parents wouldn't do it. They wanted me around."
From kindergarten, Breslin graduated to the theatre. Perform­ing is in his blood. His mother had been a child actress in Toronto's then thriving Yiddish theatre scene before retiring from the stage in the early 1920s. "This was back when Yiddish theatre meant something," Breslin says, explaining how the rise of Nazism and anti-Semitism in the 1930s succeeded in weakening its toehold in his family's own community.
The Strand, at the corner of Spadina and Dundas, was the name of the old Yiddish theatre where his mother used to perform. By the 1960s, it had morphed into the notorious Victory burlesque theatre, which his Uncle Harry had come to manage. This is where Breslin says he really grew up.
Behind the scenes, strippers wearing little more than tassels teased him while grizzled vaudevillians fed him punchlines like candy. He wants you to picture it. "You know that scene from All That Jazz?," he prods, referencing the 1979 Bob Fosse film in which lead character Joe Gideon has a flashback to his own upbringing inside a striptease club. "That is what my childhood was like."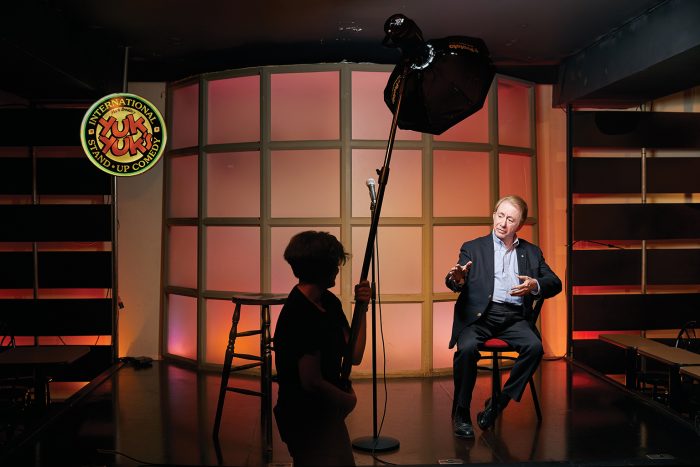 And it might explain why his mother, despite her own roots in the theatre, never gave him her blessing. "My mother hated what I did," Breslin says. "She was appalled all her life."
From these Woody Allen-esque beginnings, Breslin advanced into adolescence with an outsized ego that more than compensated for standing a little over five feet three inches in his socks. He hovered just below the jutting collar­bones of the jocks he encountered at his Forest Hill Collegiate high school. "But I didn't get beaten up," Breslin gloats.
"I was a mouthy, lippy, little Jew. I didn't blend in. But I became a star at my high school where I became best known for having run a campaign for a guy who didn't exist to become president of student council, and I won. It launched my political career."
Student activism inspired Breslin early on. It was the 1960s, and he threw himself into a decade rocked by cataclysmic change. He wanted to be part of the revolutionary action. When LSD guru Timothy Leary came to town, Breslin spent a week dropping acid with him. Any mystical visions that might have risen from the encounter had a discordant edge. "Everyone was a hippy, kind of sort of, and I was a political kind of kid," Breslin says. "I had a poster of Eugene McCarthy [the anti-Vietnam war candidate who ran for the U.S. presidential election in 1968] on my wall. I was left of centre."
I was hired to stand outside on the tarmac in a powder-blue leisure suit and hand out brochures
After high school in 1970, he applied to Glendon College, the idea being to study languages, and, after graduation, join the diplomatic corps and apply his activism to the real world. But French proved difficult, and after two years on Bayview, he transferred to York's main campus up at Keele and Steeles.
There, he quickly fell in with a couple of professors in the English Department who convinced him he had been right to change his major. Among them was Hersh Zeifman, whose modern theatre class compelled Breslin to attend professional productions in the city and write about them, in an analytical way. "He got me interested in off-Broadway theatre," Breslin acknowledges, "which is what I have done ever since."
But he didn't know Zeifman's class would be useful to him. At the time, he didn't even know where he was headed once he convocated in 1974. He only knew he needed a job, any job, to pay his rent. He found one at Harbourfront, Toronto's cultural centre on the shores of Lake Ontario. At first glance it didn't look promising. "I was hired to stand outside on the tarmac in a powder-blue leisure suit and hand out brochures advertising Harbourfront's various programs."
Since he was there anyway, Breslin started attending some of Harbourfront's shows, and found them wanting. He felt he had become something of an expert on what the city had to offer in terms of entertainment, and again largely because of his education at York. Confident he had the right taste and insights, he told the Harbourfront administration what he thought of the acts they were booking. They then hired him to work in their offices full time as their director of theatre and music. This is when outspokenness became destiny.
When my friends found out I was doing standup they couldn't believe it. It was so out of character
As part of his Harbourfront duties, Breslin oversaw the Wednesday open-mic night sessions. On slow nights, he would take the stage himself and improvise. Naturally loquacious, the words flowed out of him. When he lost the Harbourfront gig two years later due to a change of administration, he continued doing comedy as a way of keeping himself employed.
"I was never a John Belushi. But I was always responsive to what was going on in the world and I was not afraid to make myself heard," recalls Breslin of those early days. "I had never really thought of doing comedy before. I had watched sitcoms as a kid – 'My Favorite Martian,' 'Gilligan's Island' and 'Green Acres' were shows I watched regularly on TV – and I listened to the comedy records of Mort Sahl and Bill Cosby. That was my training, although I never knew I was in training. When my friends found out I was doing standup they couldn't believe it. It was so out of character. We all thought, me included, that I'd be doing social activism. But comedy, it turned out, ended up being the next best thing. It was social activism, except done on a stage."
From the beginning, Breslin used comedy as a tool of subversion. His jokes disarmed the status quo. He made fun of religion, politics and societal norms that he found restrictive, hypocritical, pretentious; he stuck his tongue out at the mighty and adopted a kamikaze persona, swearing on stage (something he doesn't do in real life), and at a time when F-bombs were a rarity in the theatre.
"He had, and always has had, an elegant mind trapped in an outraged psyche," observes Ralph Benmergui, whom Breslin executive produced when the Canadian radio and television personality had his own late-night comedy show on CBC in the 1990s. "He was supposed to lose in life – too small, too strange, too Mark," adds Benmergui portentously. "Yuk Yuk's was a slap in the face to all that. His success came wrapped in cruel irony."
Breslin drew direct inspiration from the anarchic punk movement, which, by the mid-1970s, was tearing up mainstream culture with calculated acts of rebellion. He wanted to shake things up and was among the first to present comics from diverse backgrounds. "No one was doing any of this," Breslin says. "We were multicultural before it became fashionable."
Regardless, Yuk Yuk's, which Breslin had launched in 1976 in the dank, dark basement of Toronto's Church Street Community Centre, at the heart of what today is known as the Gay Village, became known as the Jewish club. "This is where Jews came to be made fun of. And as I am Jewish I felt no qualms about doing that," Breslin says. But no one was spared.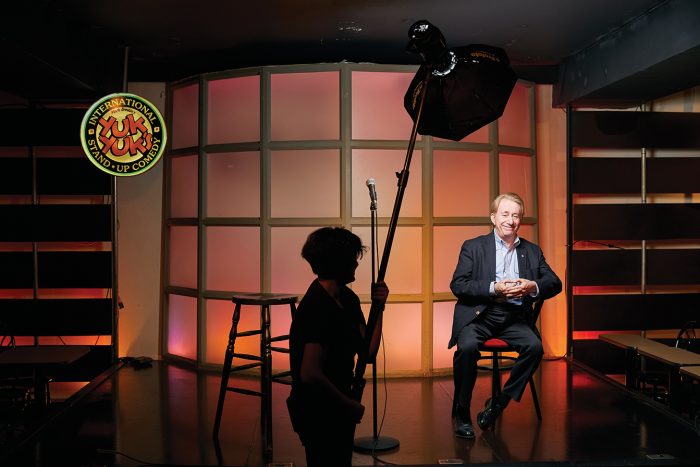 "We'd get so nasty and we'd pick on people in the room if we saw them walking out," he continues. "We'd heckle them from the stage: 'Go back to your stinking middle class Christian lives up in Willowdale!' And they would start to cry. We really didn't want people to like us." But it couldn't be helped. People kept coming back for more.
At first there were 30 people in the Wednesday night audience. But as word spread and newspapers like the Globe and Mail started writing about the "subculture of masochists" who flocked to Yuk Yuk's weekly shows, overnight that number increased 300-fold to 1,000. Within two years, Yuk Yuk's had outgrown its basement location.
The move to 1280 Bay St. in Yorkville in 1978 pushed ­Breslin into the big leagues. Despite naysayers telling him he'd be bankrupt within three months, he continued to draw in huge crowds for his merciless type of mirth.
"It was a touch of New York in Toronto, even though the comics were almost all Torontonians," he says, with an air of self-satisfaction. "And it existed to satisfy two big goals. The first was to create a Canadian comedy business that employed Canadians. Forty years later, I still do that. And the second was to provide a free speech environment for the comics who were working in my club. Free speech was the imperative, no matter what." It often got him into trouble.
Outraged patrons didn't just go snivelling back to Willowdale; they called the cops and demanded that Yuk Yuk's be shut down. In response, Breslin had a rubber stamp made with the words "Eat Sh** and Die," which he used to deface letters of complaint he then returned to their senders. It made his reputation.
"It was really, really brilliant, because he was making comments about a culture that wasn't afraid to laugh at itself," says Joel Axler, a fellow York grad (BA '76) who was there at the beginning, sitting behind the mixing board, and witnessing firsthand the effect Breslin's attack comedy had on Toronto audiences.
I wouldn't have predicted that me, a very verbal person, would even be able to relate to a baby
"He was doing gay jokes, he was doing racial jokes," continues Axler, today host of a retro rock 'n' roll show on Bluewater Radio 91.3 FM. "It was the 1970s when the Canadian mosaic was flexible enough to allow ethnic groups to make fun of themselves and others, and it was OK. Everybody saw it as an expression of communality, and they loved it."
Word quickly spread, and beyond Canada's borders.
In 1986, while getting ready to go on stage, Breslin was stopped by an assistant who told him that Joan Rivers was on the phone. He thought it was a crank call. But it was an invitation to meet for a job interview. "I hear through the grapevine we have a lot in common," said Rivers over the line in that nasally voice of hers. Johnny Carson, then the king of late-night television, she confided, had told her about him.
Breslin took the next flight out to Los Angeles, where Rivers, reclining in her Bel Air mansion while wrapped in bandages from a recent cosmetic procedure, hired him on the spot after he made a risqué joke at her expense (not to be reprinted here). He soon after moved to California to work for the Fox Broadcasting Company on "The Late Show Starring Joan Rivers." The show bombed after nine months. But Breslin's career took off. "I outlasted Joan," he says.
Since then, Breslin has not only grown his Yuk Yuk's comedy empire – today there are 14 locations across Canada – he has written five books, including the autobiographical novel Control Freaked, initiated SiriusXM Canada's comedy channel, co-founded the Humber College comedy program, and performed in sitcoms and films, including the 2008 Canadian mockumentary Confessions of a Porn Addict.
Now past the official age of retirement (he turned 66 in May), Breslin rarely does standup anymore. But for the past 15 years he has kept his funny bone nimble writing a monthly comedy column in Toronto's Village Post magazine. It recently ran its course and now Breslin is in negotiations with another Canadian publication to write for them. But he is in no hurry.
In 2010, he married wedding planner Karina Lemke, and not long after became a father for the first time. Breslin calls his son, Jackson – named for action painter Jackson Pollock, another creative revolutionary – his crowning achievement, the Order of Canada notwithstanding.
"I wouldn't have predicted that me, a very verbal person, would even be able to relate to a baby," says Breslin, a softly smiling changed man.
"But as soon as he peed all over me, I had fallen in love. I really am very happy."