Flight Path
by Lindsay MacAdam
photography by mike ford
Where were you when the world stopped at exactly 8:46am on Sept. 11, 2001?

I was in twelfth grade law class when my school principal's voice boomed over the PA system to let us know the unthinkable had happened – that life as we knew it had suddenly changed forever. We carried on about our day, but I distinctly recall walking home that afternoon and looking up at the sky in disbelief, wondering if we would ever feel safe again.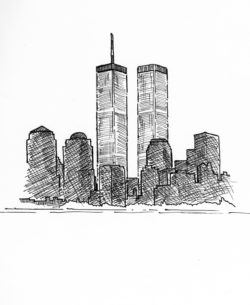 York University graduates David Hein (BFA '97) and Irene Sankoff (BA '99) were in their New York City apartment that morning, in a residence for international graduate students in Upper Manhattan. Hein was working for a company on Los Angeles time and Sankoff, who was doing her master's at the Actors Studio Drama School, didn't have class until 11am, so they were both home when the phone rang. It was Sankoff's father telling them to stay where they were, and to turn on the television. When she tried to call him back a few minutes later, after seeing the news coverage of planes flying into the World Trade Center's twin towers, the phone lines were jammed.
The pair spent the rest of that day surrounded by their neighbours, fellow students from more than 100 countries. They comforted each other while waiting anxiously for those they knew to return safely from their downtown offices, the smoke in the air serving as a constant reminder of the incomprehensible destruction across town. The musicians of the group took to the piano to lift the mood. "There was something very healing about the music that helped us come together as a community," says Hein. "Everyone needed that community. They needed to be in a room with other people."
If you were lucky enough to catch a showing of the hit musical Come From Away, co-written by Hein and Sankoff, when it smashed box office records in Toronto last fall, that scene should sound familiar – a diverse group of relative strangers forced together during an unimaginable crisis, making the most of a devastating situation by sharing stories and coping through song. Those similarities are precisely what piqued Hein and Sankoff's interest when theatre producer Michael Rubinoff suggested they consider creating a show about what happened in the immediate aftermath of 9/11, when 38 planes were grounded in the small town of Gander, N.L.
The couple insists their musical isn't about 9/11, though; it's about 9/12. "It's about how this small town responded to this larger event," says Hein. "But beyond that, it's about that feeling we all had internationally that we were going through something together."
In the 100-minute show, the 12-member ensemble cast – each playing multiple roles, with multiple accents – tells the stories of the 7,000 "plane people" who found themselves stranded in Gander for five days, and the 9,000 generous locals who dropped everything to welcome them with open arms, shots of Screech and generous helpings of cod au gratin. "They had every right to either not take the planes or just say, 'You're allowed into the airport and that's it,' " says Sankoff. "But that is not what they did. Not only did they take them into their community buildings as they shut down operations for a week, but they also took them into their homes and entertained them and fed them and washed their clothes."
With a minimalistic approach to set design, props and costumes, this show is instead carried by its authenticity, light-hearted humour (no mean-spirited Newfie jokes here) and foot-stomping East Coast tunes – which, by the way, were also written by Hein and Sankoff, and brought to life by the eight-piece band. To make sure they nailed the music, they brought on Bob Hallett, a hero of Hein's from the popular Newfoundland group Great Big Sea, as their music consultant. "It was a thrill to have him on board and get his stamp of approval," says Hein.
Creating a hit Broadway musical wasn't Hein and Sankoff's plan all along, if that's what you're thinking. "It's a real dream come true, but at the same time it's a dream we never really had – openly," says Hein. In fact, it took years of trial and error, countless professional detours, long days and big risks to end up where they did.
That journey began when the pair met on their very first day of Orientation Week at York, both entering the theatre program and moving into Winters College. Hein, an aspiring singer-songwriter originally from Regina, majored in lighting and set design. Sankoff, a musical theatre aficionado from the Toronto suburb of North York, initially majored in acting but later switched to psychology and creative writing. The two soon connected over their love of the arts, and have been together ever since.
In their first year at York, they had the opportunity to try out nearly every aspect of theatre production, from acting and writing to costume-making, set design and hanging lights – skills that would later set them apart and prove to be invaluable.
After Sankoff graduated from York in 1999, she moved to New York City to study acting. Hein followed, taking on odd jobs, including one at a music studio where "The Muppets" was recorded.
One month after 9/11, on Oct. 12, 2001, the couple spontaneously eloped at City Hall, just a few blocks from Ground Zero. They had been engaged for more than a year at that point and, given all that had recently happened, they decided this was as good a time as any. "There was a real feeling in New York of just living for the present," says Hein, "so we said, 'Why are we waiting?' … It was a very intense day of love, but set against the backdrop of this terrible tragedy, which is sort of what our show is."
The pair didn't realize they worked so well together until many years later, after Sankoff suffered a dance injury in 2007 and her inadequate U.S. health insurance, coupled with the company David was working for shutting its doors, meant they needed to make the move back to Toronto. They were both working various days jobs – Hein at an insurance company and Sankoff as a teacher – and pursuing their artistic passions in the evenings, leaving them no time for each other. They were burned out and desperate for change, so in 2009, they decided to write a show together.
That decision resulted in the musical comedy My Mother's Jewish Lesbian Wiccan Wedding, based on the true story of Hein's mother. It debuted at the 2009 Toronto Fringe Festival, where it caught the attention of David Mirvish and eventually toured all over North America. The show was such a success that Hein and Sankoff had to quit their day jobs, which in turn gave them the drive to write something else.
When Rubinoff approached the couple in 2011 about the story in Gander, the timing couldn't have been better. They discovered after some preliminary research that the town would be hosting a commemoration ceremony on the 10th anniversary of 9/11, and all the passengers, flight attendants and pilots would be returning. That's when Hein and Sankoff applied for the Canada Council for the Arts grant that allowed them to stay in Newfoundland for almost a month to hear the riveting stories that would end up inspiring their entire show.
Not only did they take them into their community buildings as they shut down operations for a week, but they also took them into their homes and entertained them and fed them and washed their clothes
It was the first time they had ever been to "The Rock," a place they now consider a second home. "We fell in love with the place, we fell in love with the people and we saw first-hand the generosities that the 'come from aways' saw 10 years earlier," says Hein.
When asked what it was about the people in Newfoundland that solidified their decision to create the musical,  Sankoff says, "They're charming people. They're wonderful storytellers."
"They take care of you while they're telling a story," interjects Hein. "They'll see you starting to well up from some heartbreaking thing and immediately they'll tell you a joke to turn it around and make you laugh. We tried to convey that in our show."
The hundreds of hours of interviews they conducted on that trip – about loss, love, generosity and acceptance – are reflected in every line, joke and song in this heartwarming work. Come From Away might be referencing a distinct moment in time, but it's a story that has resonated from coast to coast because of its universality and its raw depiction of the human condition. It also may be that in this present time of political turmoil and global unrest, people are finding comfort in the underlying message of hope – that kindness still exists, and that in the face of evil, people will ultimately take care of one another.
Despite what the recent buzz might lead you to believe, this isn't a brand new production at all; it has been testing the waters across North America for six years. Starting in 2011 at Sheridan College's Canadian Music Theatre Project, an incubator for new Canadian musicals, it then moved onto two musical-theatre festivals in the U.S., followed by stints in San Diego, Seattle and Washington, D.C., where it was performed for survivors of the 9/11 Pentagon attack. The show then returned to its roots in Gander for two benefit concerts, broke records at its homecoming in Toronto and finally touched down on Broadway this spring at the 1,080-seat Gerald Schoenfeld Theatre.
"Taking it back to Gander was the pinnacle of everything we could have dreamed of," says Hein, "sharing it with the people who shared their stories with us, and doing it at a benefit concert where all the proceeds went to local charities."
As Hein recalls, the audience of 5,000 that filled Gander's hockey-arena-turned-theatre started clapping mid-opening number. Then, 10 minutes before the show ended, they again erupted into applause that didn't cease until after the curtains closed. "It was overwhelming and so wonderful to know we got it right," he says, "which was sort of our goal the entire time."
Bringing the production back to Toronto was another major milestone for the husband-and-wife team. It's where they went to school, where they first met and where they started writing the musical. The Royal Alexandra Theatre, where it ran from November 2016 through February 2017, holds special significance for Sankoff, who has fond childhood memories of getting rush tickets with her mother for the nosebleed seats at the back.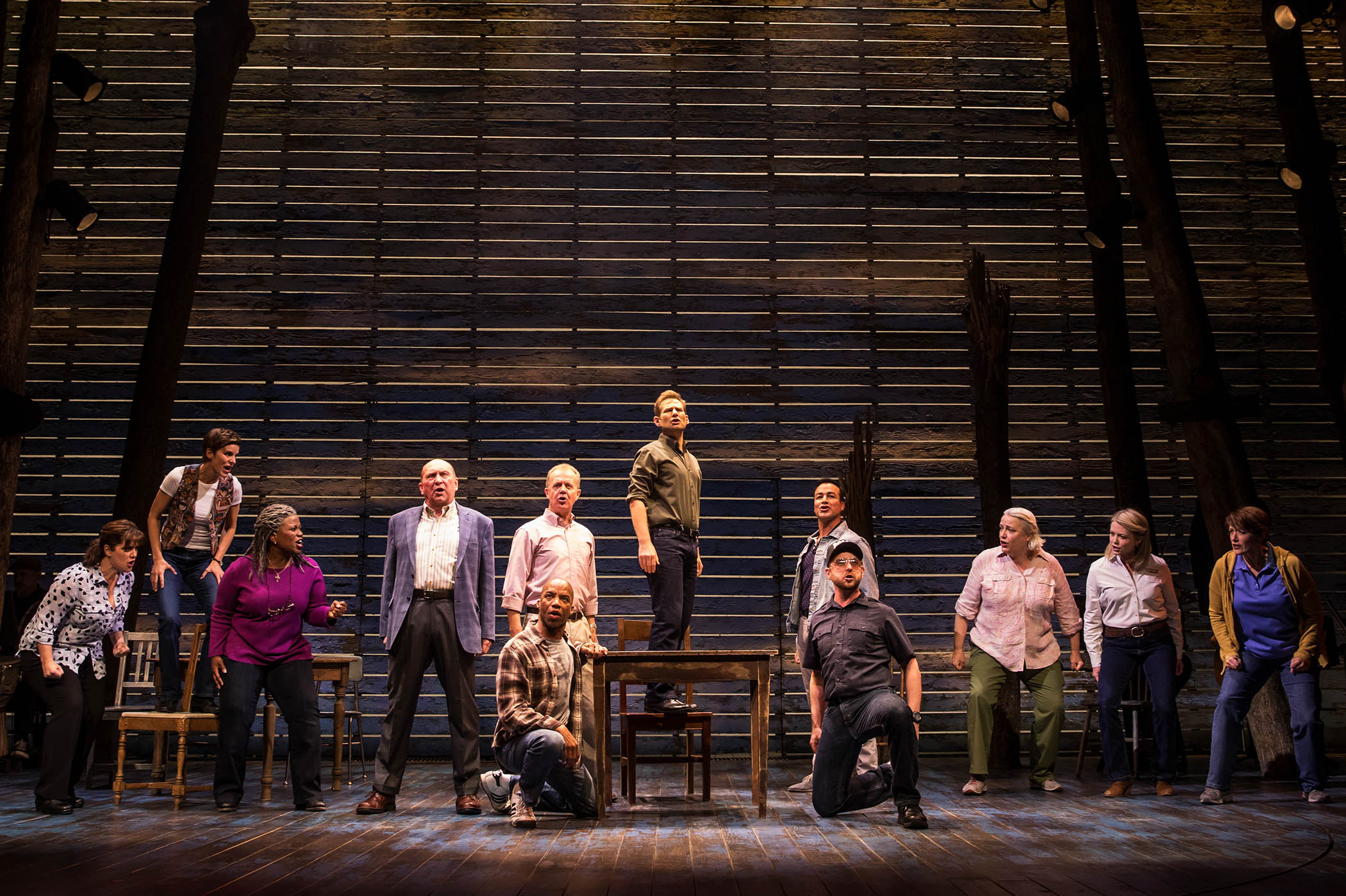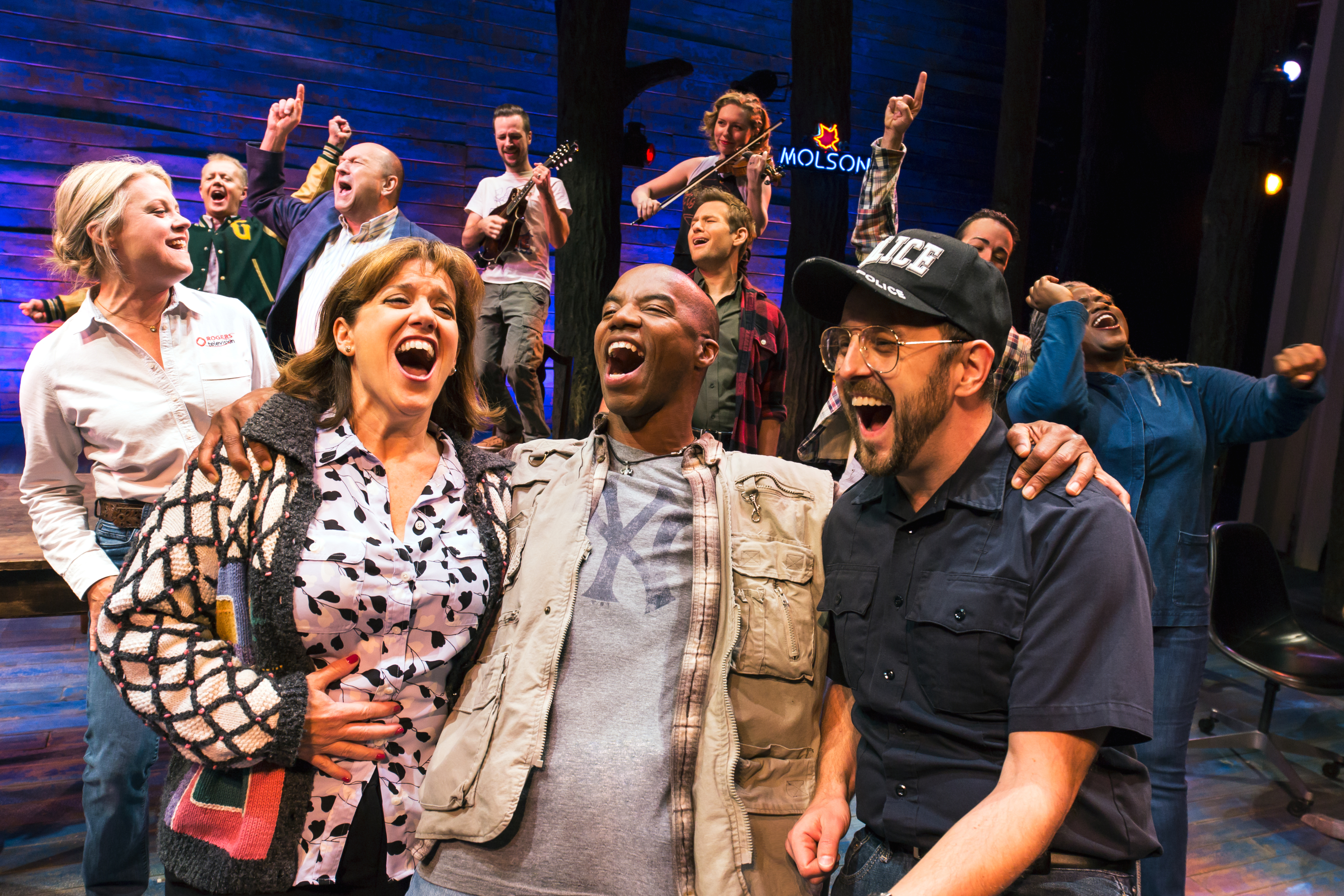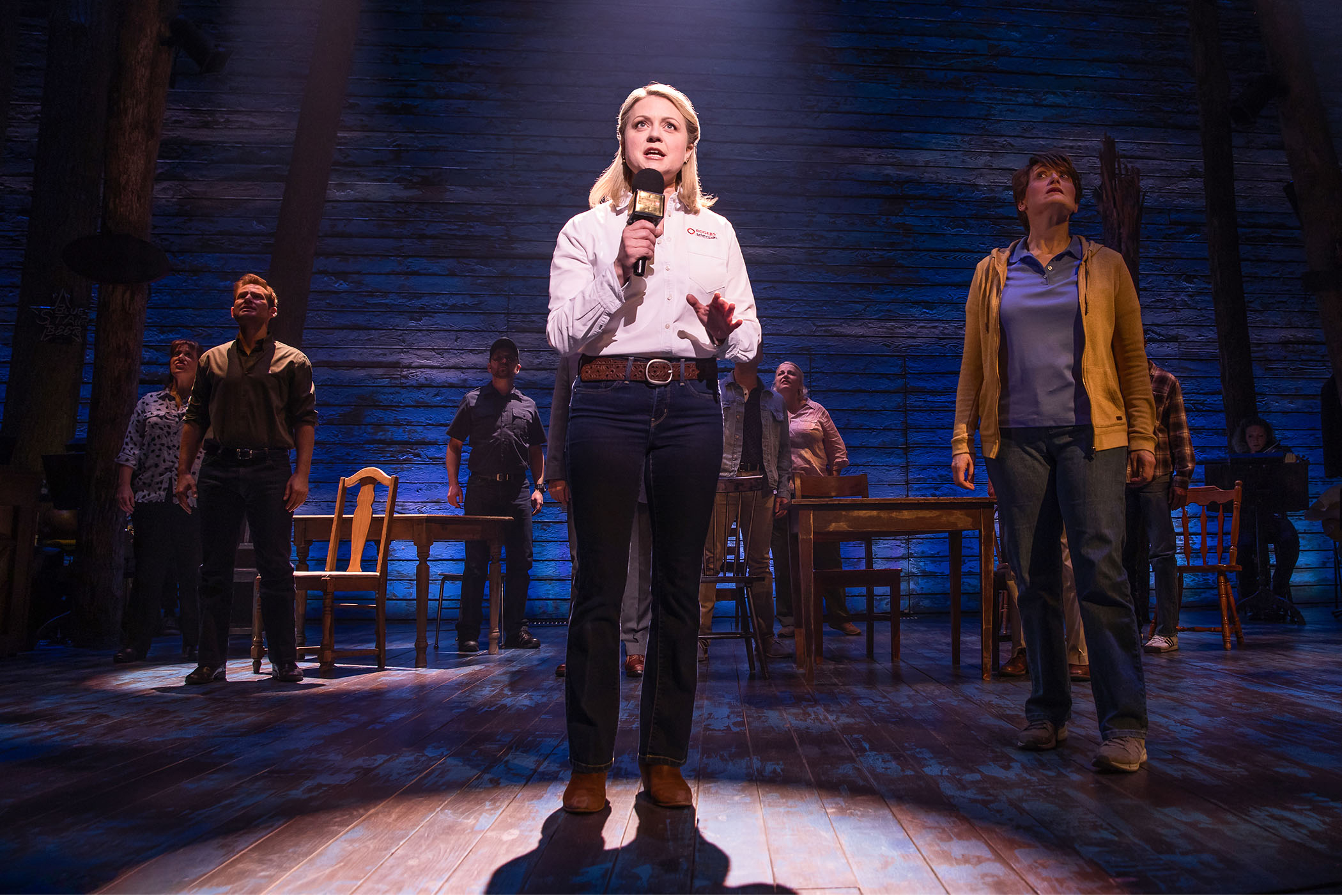 In March, Come From Away officially opened in New York and became the fifth Canadian-written musical in history to land on Broadway. It has since been met with standing ovations every night, rave reviews from influential critics, seven Tony Award nominations and – just recently – one win. On June 11, the show's director, Christopher Ashley, accepted the Tony for best direction of a musical "on behalf of the people of Newfoundland and all of the first responders and their families in New York on 9/11."
The hard-to-please New York Times called Come From Away "a big bearhug of a musical" and declared it a critic's pick, the Washington Post called it "an antidote for what ails the American soul" and the New York Post insisted it's "Broadway's biggest and best surprise of the season."
Big-name Canadians have been equally impressed. Singer-songwriter Jann Arden Tweeted back in December that it was the best musical she had ever seen, a sentiment that was mimicked by Calgary Mayor Naheed Nenshi. And actions speak louder than words for Prime Minister Justin Trudeau, who admitted to the cast that he cried through the entire show when he saw it on Broadway in March. Luckily for us north of the border, Mirvish Productions recently announced the show will be returning to Toronto in January 2018 for an unlimited engagement, based on public demand.
Despite the early success indicators of this Tony Award winner's Broadway run, Hein and Sankoff are remaining cautiously optimistic, acknowledging that the odds are stacked against them. Maybe it's the post-9/11 mindset that sent them impulsively to the altar all those years ago that still prevails, reminding them to live in the moment and enjoy the ride.