My Way
by Deirdre Kelly
photography by sofie kirk
You come to university usually with a set goal in mind and select your courses accordingly. But what you don't plan for is that the experience of being on campus, mixing and meeting with new people, encountering and absorbing new ideas, and participating in extracurricular activities – be them sports or student politics – can profoundly alter and shape the career path you will take after graduation. Your education is not a box. It is an idea that forged in the heat of higher education, as these three grads will tell you. Each came to York to study what they thought would be their life's work but ended up going in entirely different directions that brought them closer to becoming the people they really wanted to be.
Prakash Amarasooriya
MAKING CENTS OF KINESIOLOGY
Prakash Amarasooriya was supposed to become a doctor. Or, rather, that was the plan when he first came to York University in 2010 to study sciences.
"I started in chemistry, then switched to biology, then finally decided on becoming a kinesiology major with a minor in psychology. I chose that path," Amarasooriya says, "because I wanted to prepare myself for a potential medical school career, and felt that kinesiology would provide me with the most relevant education at York for that direction while also providing me with the flexibility I needed to work on my extracurricular and research activities."
But soon after graduating in 2015 with an honours bachelor of science in kinesiology and a minor in psychology, Amarasooriya had a change of heart.
While preparing his application for medical school, he read media reports and research studies suggesting that positions for specialized doctors would be reduced in Ontario in the coming years. His uncertainty about future job prospects led him to rethink his career objectives, but still with the goal of wanting to help people remaining foremost in mind.
And that's when he made – even for him – a surprising leap into business, which he nevertheless regarded as linked, in an altruistic way, to the practice of medicine.
Making people's lives better remains the prime objective
"I always wanted to make a difference, and felt that by switching into business I could help make that happen," says Amarasooriya, who grew up in an economically ­challenged South Asian immigrant family in Toronto's Jane and ­Lawrence neighbourhood.
"While the health field has a lot of individuals whose ­principle aim is to do good, the business world is typically made up of people with a different approach and mentality. I felt that if I could go into business with the idea of making a positive difference, I could make more of an impact than I might in a field where doing good is everyone's primary motive."
With this new objective in mind, Amarasooriya joined TD Canada Trust as a customer service representative in 2016. At the same time, he took up a volunteer position as school boards lead for the Toronto Youth Cabinet, the official youth advisory body to the City of Toronto.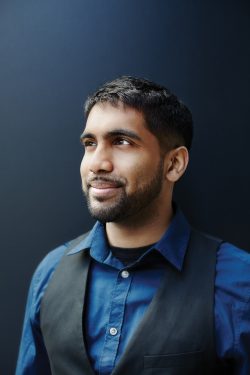 This latter role was an extension of the non-scholastic activities in which Amarasooriya had participated at York – the salsa and Doctors Without Borders clubs, where he served as president; the Community Safety Council, where he was vice-chair; and the Senate, where he represented his peers as a student senator, to name just a few.
"The leadership skills I developed from participating in extracurricular programs at York, like LeaderShape and other activities, gave me the confidence and competence to excel in any area I choose to pursue," says Amarasooriya, who cleverly combined his experience at the bank and at City Hall to develop an innovative proposal to introduce financial literacy modules into Grade 10 Career Studies courses in schools across Ontario.
Amarasooriya actively lobbied for the initiative in October and November of 2016, creating and publishing a petition that eventually drew strong support from both public and separate school board trustees, financial literacy organizations and their partners across Canada. Ultimately, he convinced the Ministry of Education of the importance of financial literacy instruction.
The ministry is implementing his modules in Ontario schools starting this September.
Amarasooriya credits his university for making it happen.
"At York, I learned about both the body and the mind in my kinesiology and psychology disciplines, respectively, and I also learned how there are a multitude of factors that contribute to a person's ability to lead a healthy life, which includes financial literacy. I have since been able to incorporate my education into my health-related activities and provide real-world examples of how to educate and improve the health of my community," he says.
"While I have switched my focus to business, and may switch it again as I see fit, the goal of making people's lives better remains the prime objective."
Mike George
AGENT OF LEARNING
Mike George deepened his bond with God around the same time as York University recruited him to play basketball for its championship team.
Don't think that's a coincidence.
He was meant to be at York just as much as he was meant to shoot hoops. The two are inextricably linked.
The now 40-year-old former point guard, today a National Basketball Players Association agent, relocated to the University from Sheridan College, lured, he says, by "a diverse campus with a diversity of courses."
From all the programs he had to choose from, George settled on anthropology, the academic discipline concerned with the study of people. That, too, was no accident.
One of five boys raised in a single-parent home, George is a people person.
"I believe in relationships," explains the married father of three sons. "I'm stern but respected. I am fair but I will always protect my guys."
But while studying humans in past and present societies, George realized that he didn't really want to spend his life rooting around bones and skeletons. He wanted to connect with living people. He shifted gears, choosing, while still an undergraduate, to become a teacher instead.
The outlaws with their own issues…. I could relate to them. I have been in their shoes
After graduating with a bachelor of arts in 2002, George realized this latter goal by taking a second degree at York, this time in education, in 2003.
His first job was as a middle school teacher for the ­Dufferin-Peel Catholic District School Board where he taught everything, from social studies to short stories.
But it is what he did after class that really allowed him to make a difference in students' lives: organizing an extracurricular basketball league that George called Christians in Action, or CIA Bounce as it is now widely known.
From the beginning, the club, operating out of Toronto's Humberlea Church of God, taught discipline through faith and faith through discipline.
Basketball, a game in which players are encouraged to blind toss their dreams into the ether in hopes of netting a point, emerged as the perfect platform for building community values, along with brotherly love.
"You know how people gravitate towards the perfect kids, the easy ones who can do it all? Well me, I'd run the other way and find the ones from single-parent homes, the outlaws with their own issues. I could relate to them," the anthropologist in him says. "I have been in their shoes."
A scene from his childhood: Midway through the year, while playing soccer, his mother's cheque bounced, leading his coach to tell him he couldn't play anymore. That hurt. And largely because no one reached out to help him. Mentoring young boys from marginal communities would right so many wrongs. But God had a bigger plan.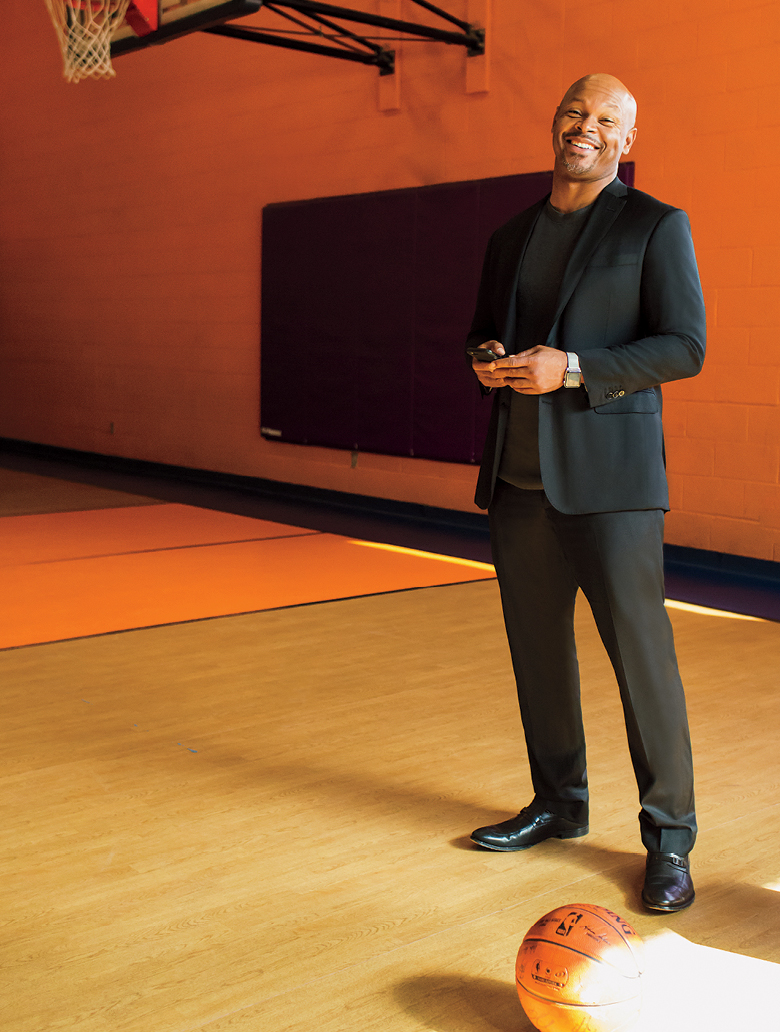 George's coaching talent, leadership skills and magnetic personality – so strong that "guys from CIA Bounce started applying out of district to come to my school" – eventually turned his club from an extracurricular pastime into an elite Amateur Athletic Union (AAU) basketball program, the best in Canada.
His graduates have gone on to play the game at the highest level. They include Westchester Knicks guard Xavier Rathan-Mayes, Canada's men's Olympic basketball team member and Acea Virtus Roma player Melvin Ejim, Los Angeles Lakers guard Tyler Ennis, Sim Bhullar, the first player of Indian descent to play in the NBA, Salt Lake City Stars guard Naz Mitrou-Long and Andrew Wiggins, who recently signed a five-year, US$148-million contract extension with the Minnesota Timberwolves, all of them CIA Bounce alumni.
"Our kids are different," says George, who has known some of these top-ranking players since teaching them first in elementary school. "We don't have the same opportunities as young players south of the border so we have to fight harder to gain the same respect."
Confident his program could hold its own against the competition, in 2013 George left CIA Bounce to become an NBA agent in New York. Earlier this year, he returned to Toronto to establish his own agency, the first of its kind.
"One Legacy Sports is the first major basketball talent agency in Canada," says George, who has brought in several CIA Bounce graduates, among them NBA players Khem Birch, Dillon Brooks, Jamal Murray and Dwight Powell, as clients.
"It's going great," he adds. "It's been a good recruiting year."
Klaudia Capalbo
FROM FRACTIONS TO FASHION
A whiz with numbers while growing up, Klaudia (née Zinaty) Capalbo first came to York University in 1990 as an undergraduate with the goal of becoming a math teacher.
She enrolled in both the mathematics and concurrent education programs, graduating with an honours bachelor of arts degree in mathematics and a bachelor of education in mathematics in 1995.
But besides solving cognitively challenging mathematical problems and sharing her knowledge of theorems with students during work placements, as part of her studies Capalbo discovered that math is everywhere, an integral part of the everyday world.
"At York, I learned that the fundamentals of mathematics encompass everything in our lives, from the creation and development of art, science, history, geography and technology to the simplest forms of calculating change in day-to-day existence," she says.
"Math can be applied in so many different forms and in so many ways."
Even including in the development of marketing campaigns for leading Canadian fashion brands like Flare and Toronto Women's Fashion Week, to name two very unlikely places where Capalbo has applied her math skills since launching her professional career 13 years ago.
From her perspective, it was a natural leap.
"If you ask any of my friends from high school, they'll tell you that I've always had a love for fashion – so it was no surprise, to me at least, that my career eventually evolved into the fashion world," she says.
Don't be afraid to venture away from your original path, because things do change
"While studying math at York, I would wear neon socks with matching neon bangles and earrings, and analyze the latest trends on 'Fashion Television' before heading to my local fabric and crafts store to create my own inspired versions of those runway looks to wear."
It was a passion that soon took over her life, compelling Capalbo to shift gears soon after leaving the University to work in the fast-paced and often glamorous world of lifestyle brands and consumer relations.
Her first jobs were in sports marketing and media with NBA Canada. From there, Capalbo moved into broadcasting at CHUM Television, followed by a seven-year stint at Flare as the Canadian fashion magazine's senior national account manager.
Presently, she is director of corporate partnerships for Toronto Men's and Women's Fashion Weeks and director of corporate relations at the Toronto Fashion Academy, where Capalbo still deploys her math skills on a regular basis.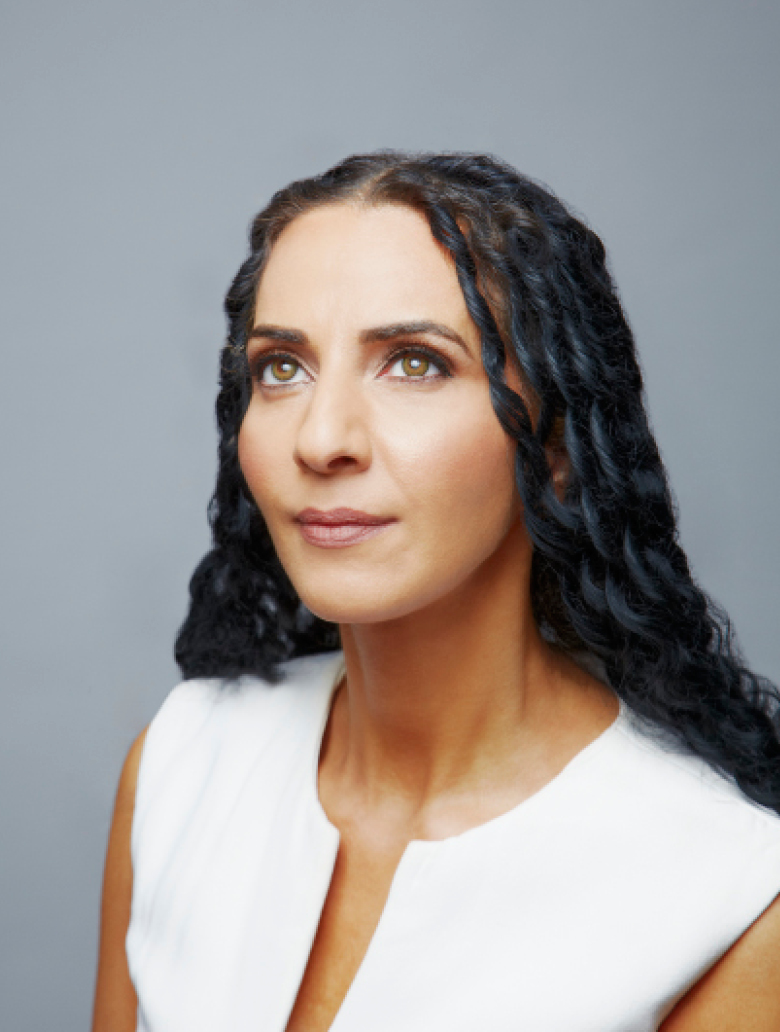 "Mathematics is a huge part of the fashion industry, whether it's creating media or marketing campaigns calculating reach and frequency, or becoming a buyer or retailer, to measuring and calculating patterns in design ideas and concepts, importing and manufacturing, to selling sponsorships and events," she says.
"There will always be a need for mathematical skills in fashion because it's not just about creating beautiful collections; it's about creating a successful business where math fundamentals can and will determine success."
Being able to see beyond the rigid parameters laid down by her academic speciality contributed significantly to Capalbo's own success, and now the teacher in her wants to share her winning formula with others. So, her advice to York students calculating their own professional futures?
"Pursue what you truly love and don't be afraid to venture away from your original path, because things do change, and you never know what is next on the horizon. Find what sparks the light in you, and then use it to illuminate the world in your own unique way."