Feed Me
by Signe Langford
photography by Chris Robinson
You might think giving students, staff and faculty access to good, healthy food via a weekly farmers' market would be a real no-brainer, but not so.
"It was hard getting the concept off the ground," says Shadiya Aidid (BES '16), founding manager of York University's farmers' market and a graduate of the Environmental Studies program who oversaw the market for two years following its launch in 2013.
"There were a lot of administrative hurdles to work through, not to mention applying for and getting all the necessary permits. It was certainly quite the process."
But one deemed to be worth the effort because it answered a long-standing demand for a retail marketplace that would sell fresh-from-the-farm produce to the York community.
Anytime people can become a little bit more aware of where their food comes from is a good thing
"I learned through my students that fresh and affordable food options on and around campus are often difficult to come by, so a real farmers' market really fills a need," says Angela Norwood, associate professor and Chair, Department of Design, who often assigns her students to survey food outlets at York. "Anytime people can become a little bit more aware of where their food comes from is a good thing. I think bringing that food accessibility to students is an excellent opportunity."
Spearheaded by Regenesis, the award-winning student environmental group, York's farmers' market is overseen by York Food Services and three faculty advisers: Elizabeth Brulé, from the Department of Equity Studies, Jennifer Foster, from the Faculty of Environmental Studies, and Anna Hudson, from the School of the Arts, Media, Performance & Design.
Open every Wednesday from September to April, with a couple of breaks for the holidays and Reading Week, YUM! – as this indoor market is affectionately called – regularly hosts between eight and 15 vendors at its Central Square location. Offerings include fresh produce, hot food, gluten-free and vegetarian fare, local honey and baked goods. A second pilot project recently launched at the Glendon Campus with more vendors added.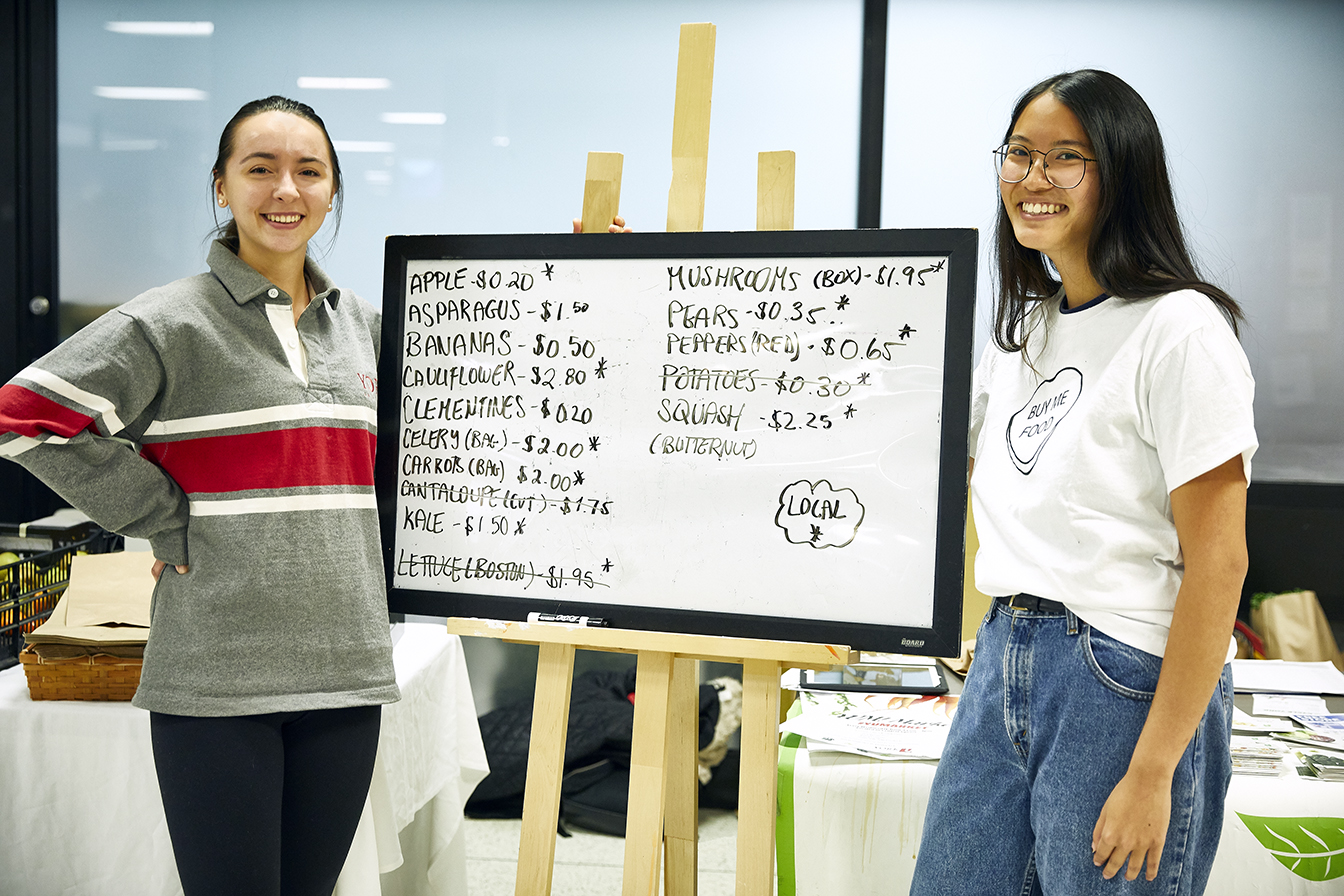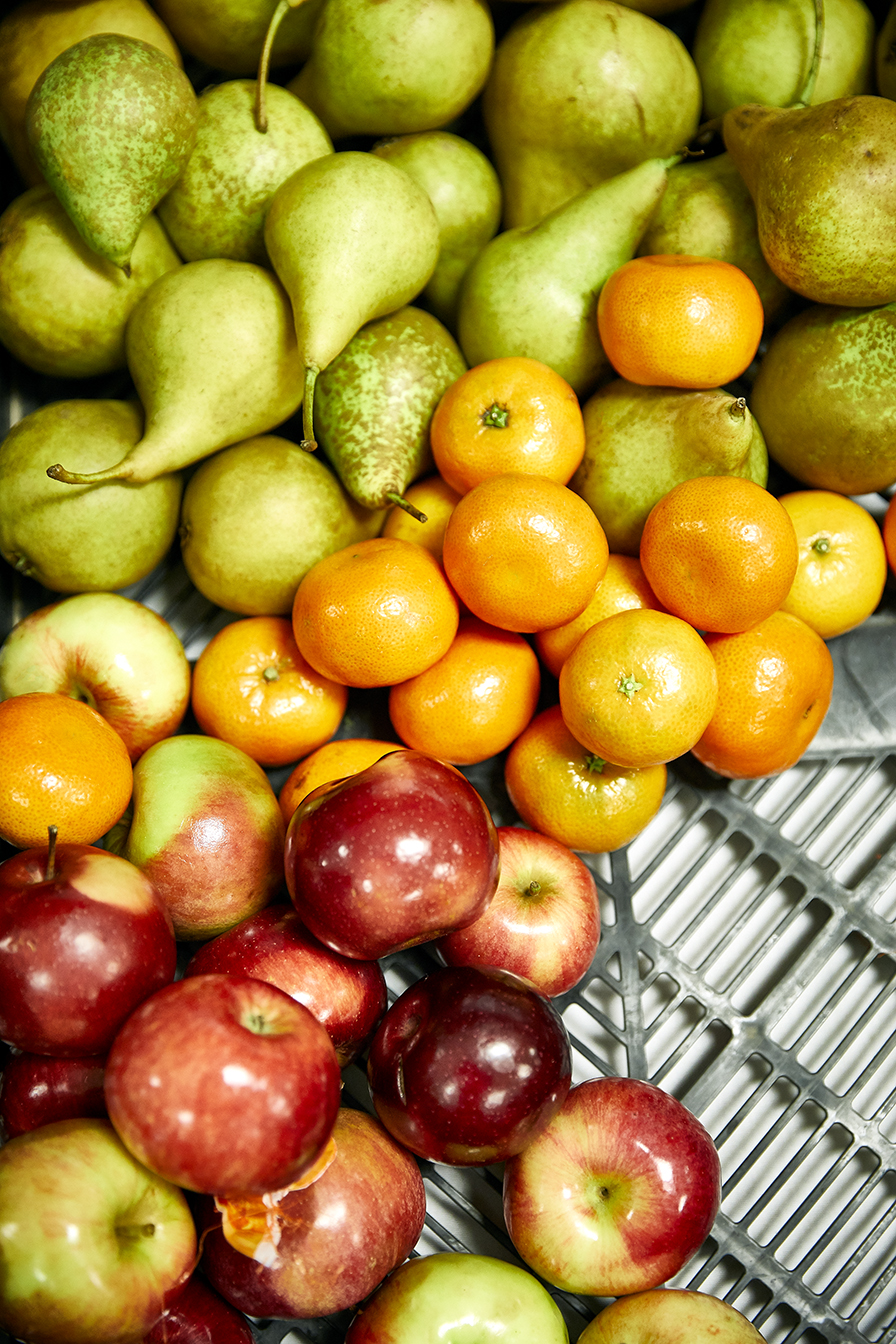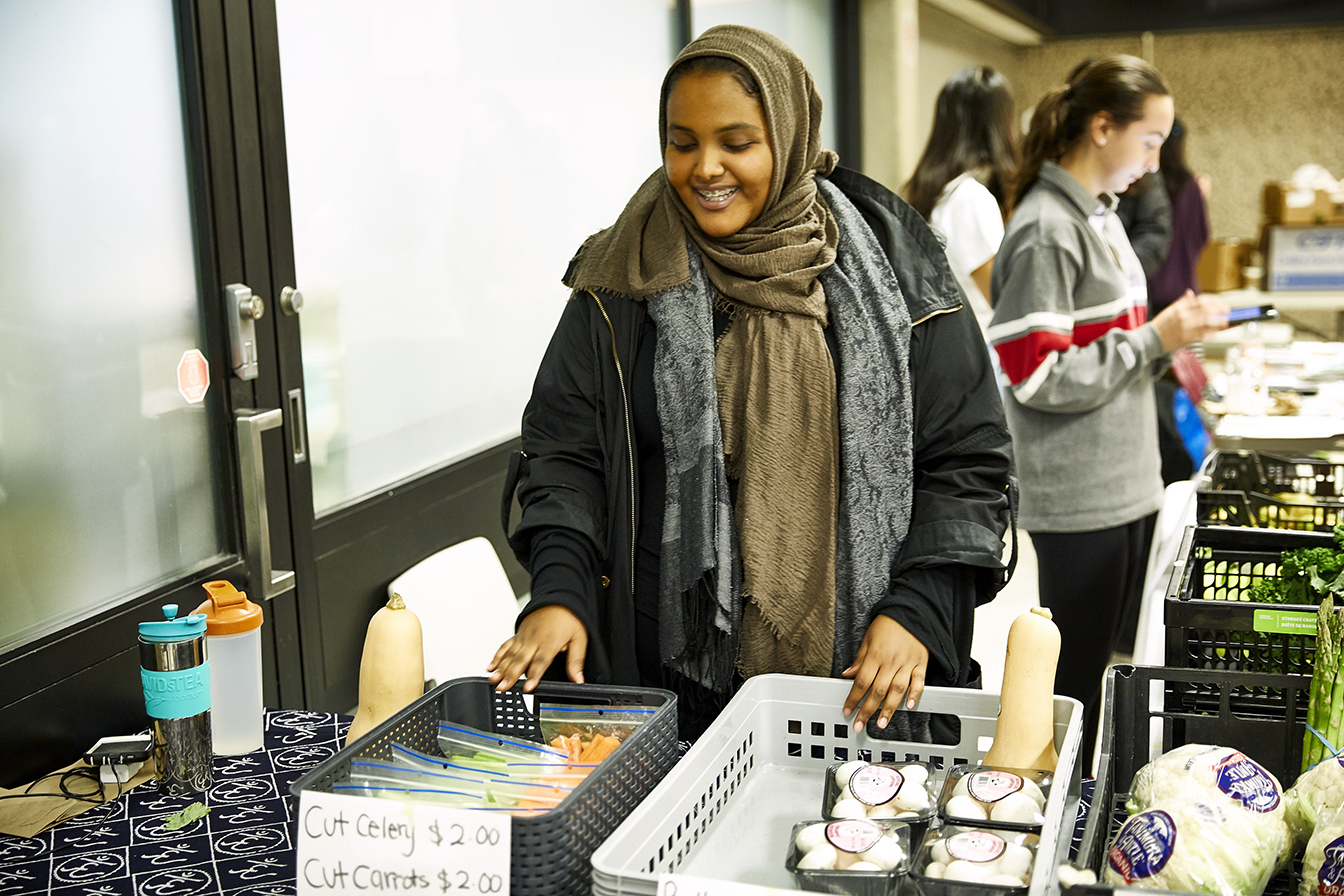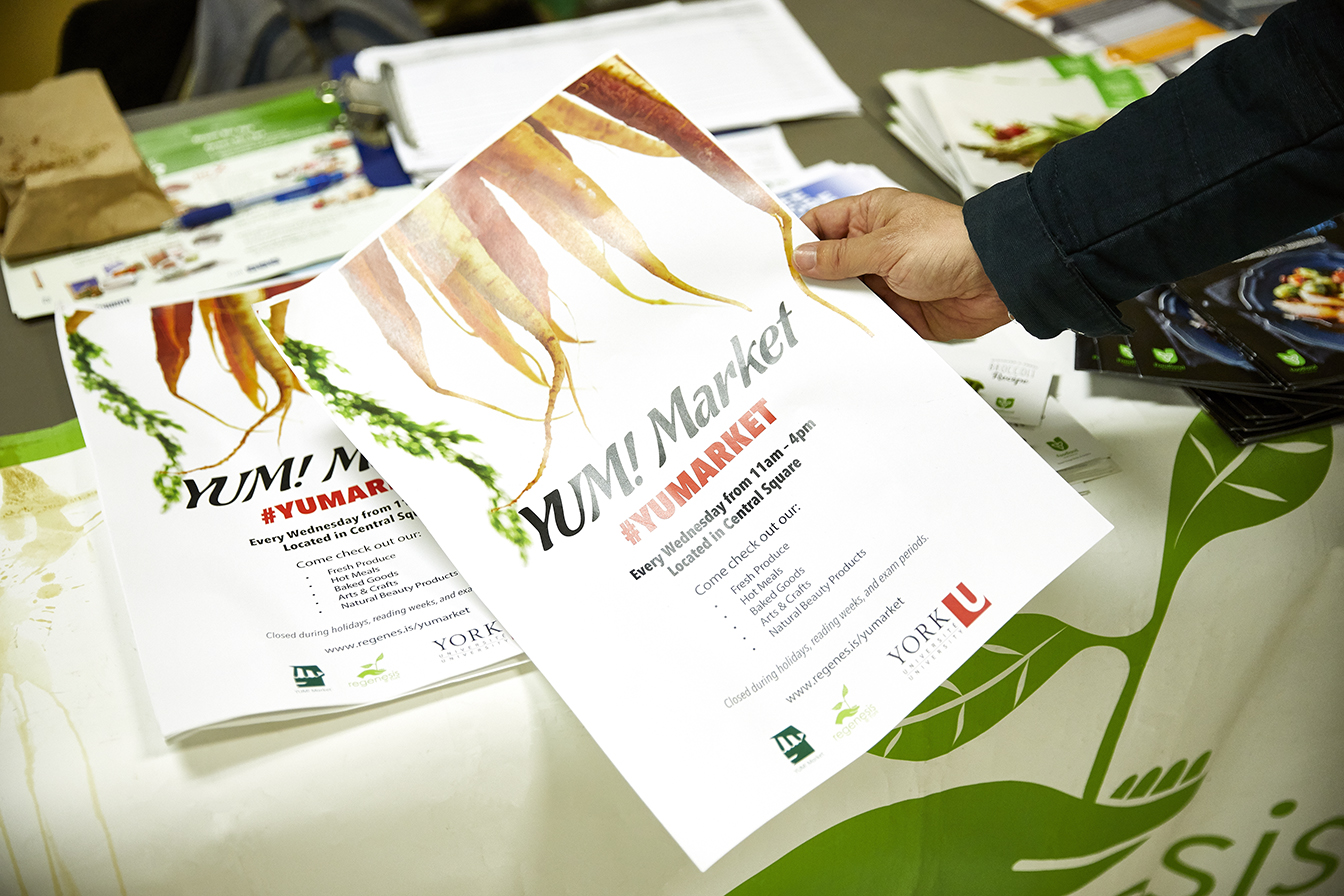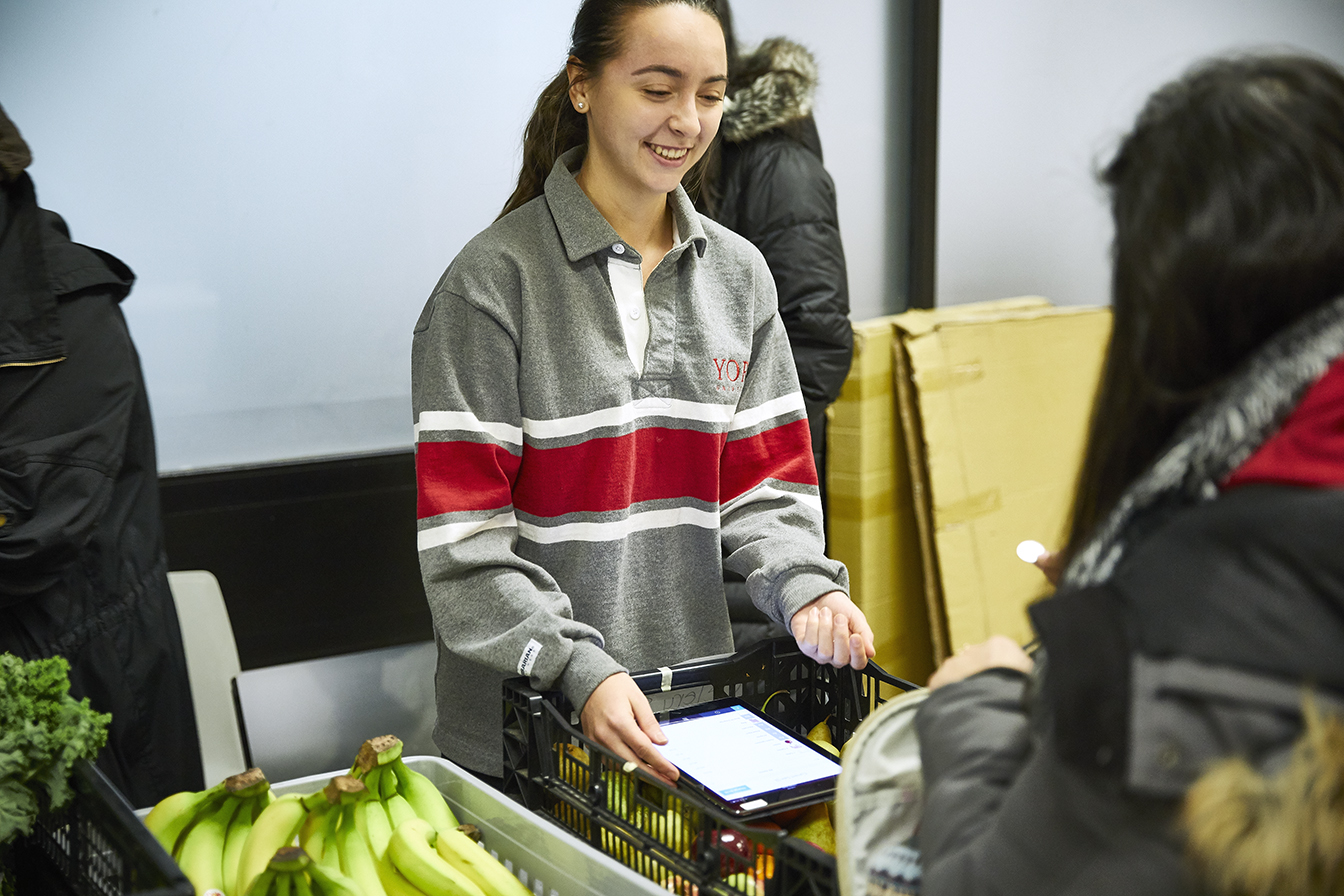 But farmers' markets represent but one of a myriad of green initiatives now proliferating at York.
A member of the Association for the Advancement of Sustainability in Higher Education, in 2011 York was inducted into the ranks of Canada's Greenest Employers by Canada's Top 100 Employers for having "developed exceptional, earth-friendly initiatives and actively attracting people to their organization because of their environmental leadership."
The University has maintained that status for six consecutive years, supported by an impressive list of environmental initiatives and programs, among them the Green Office program; the Sustainability Ambassadors program; Campus Clean Up Days; the Institute for Research & Innovation in Sustainability; green roofs on both the Petrie Science & Engineering Building and the Bergeron Centre for Engineering Excellence; the President's Sustainability Council; and the Energy Management Program, which has cut back the University's electricity consumption by 25 per cent, to name just a few.
The University also actively engages in sustainable food growing practices, including the raising of honey bees on campus and the creation of the Maloca Community Garden, established in 1999 by the Faculty of Environmental Studies.
Located at the south end of the Keele Campus, with about 2,000 square feet of individual and communally worked garden beds, the garden is where students, faculty and local members of the public can grow organic fruit, vegetables, herbs and flowers while nurturing a sense of family and community.
Students are becoming more interested in where their food comes from and how it is produced
When Johanne Daoust, a professor of graphic design at York's academic partner Seneca College and a rooftop gardening expert, paid a visit to the garden, she found it "brimming with herbs, veggies and flowers, a living testament to the dedication of staff and gardeners – on and off campus." Likening the garden to a place of refuge – "a great place to get away from the stresses of the classroom" – Daoust said that "it tackles food security, one garden plot at a time."
To help tackle food insecurity indoors, York's Food Services has installed an Urban Cultivator – a fully self-contained indoor growing system – at Stong College. Overseen by Abdel Belkadi, York's executive chef,  the Healthy Kitchen at Stong harvests kale as well as other leafy greens used for making smoothies at the campus' Booster Juice location.
Furthering the cause of healthy eating, the newly opened Second Student Centre comes with a state-of-the-art catering kitchen supporting the Campus Meal Club, the University's first-ever healthy food ordering and pickup service run by students online.
So, while nutritious and sustainable may always have to jockey for space with the many fast-food options on campus, healthy, local food choices are increasingly available. The raw goods are growing.
"Students are becoming more interested in where their food comes from and how it is produced," says Aidid, "and they're really excited to try new things, such as a veggie they've never even seen before. Every week we hand out recipe cards from Foodland Ontario to show them how to cook with all these new discoveries, and from the feedback we're getting, they love it."