Raising the Roof
by Deirdre Kelly
photography by Mike Ford
On the upper floor of the new five-storey Second Student Centre at York University's Keele Campus, a student touches his forehead to the poured concrete floor in an unselfconscious act of prayer, while on the ground level another prepares to stretch her limbs inside a mirror-lined dance studio. Down the hall, a trio of volunteers rearranges cans of corn and red beans on a tiered shelf located inside a student-run food bank at the same time as a student hobby club, holding its first meeting, shouts out hearty welcomes to a hundred backpack-wearing attendees in a capacious second-floor conference room.
Siva Vimalachandran, a 29-year-old York grad who has been involved with the 126,000-square-foot building since the beginning, takes in the action and smiles.
"There's not one single area where you feel closed in," he says, basking in the natural light surging through seven-metre-high windows showcasing blue skies, green grass and some of the best southerly views of Toronto. "It's such a big building," he continues, "but because of the skylights and the interior bridges you feel you are connected, no matter what floor you are on."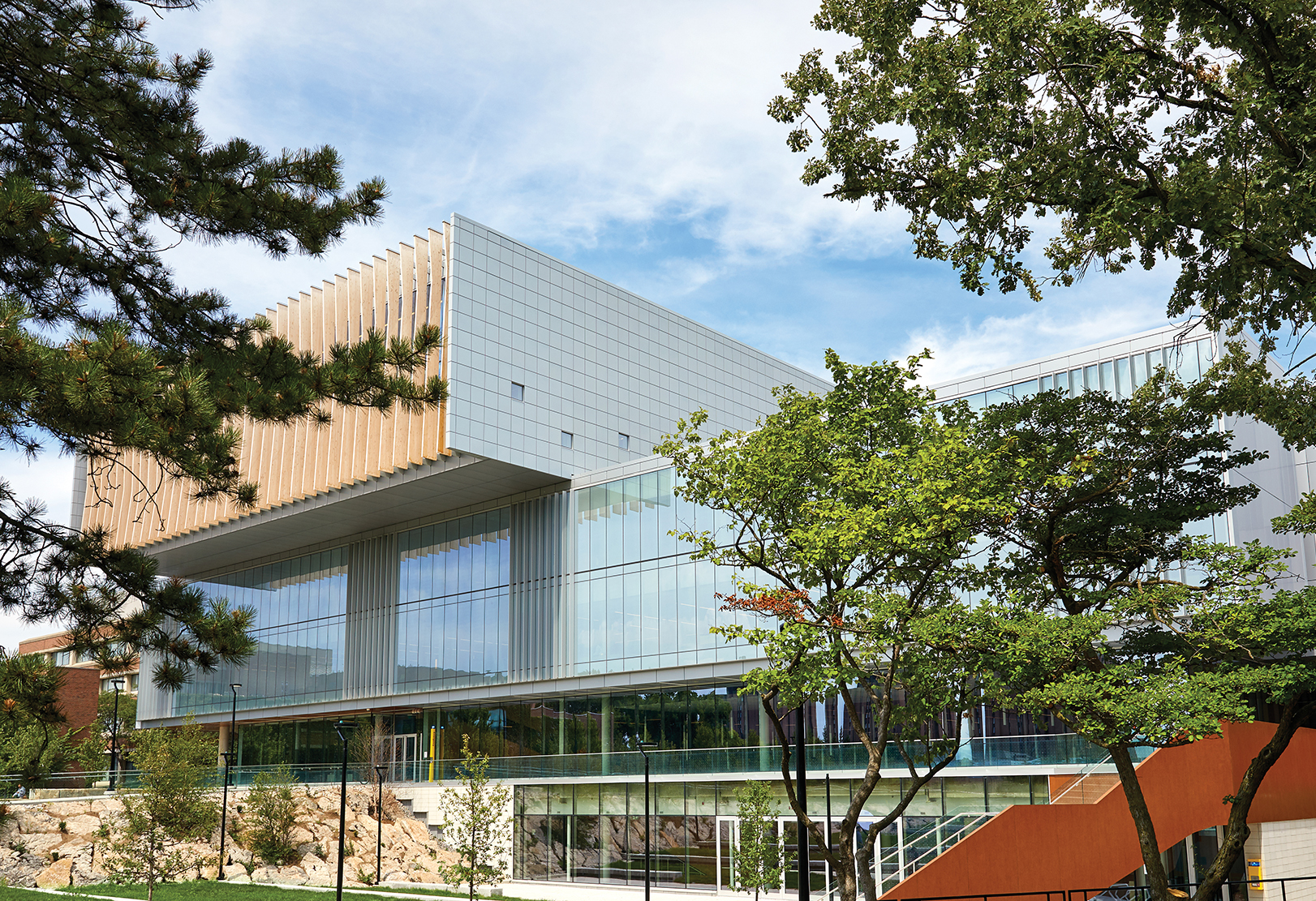 That sense of connectedness is fundamental to the structure that York's highly engaged student population designed, funded and drove to completion all by themselves. Students taking ownership of the buildings they inhabit on campus is a growing trend at Canadian universities, from British Columbia to Nova Scotia, observes Canadian Architect editor Elsa Lam. "It's exciting to see students becoming so involved in the process of fundraising and building places and spaces where they can collaborate and still be on campus," Lam says. "Non-traditional – meaning non-library – study spaces are on the rise. York seems to be doing them very well."
Being proactive and listening to people is a great cost-saving measure
Setting the York initiative apart is the efficiency, speed and intelligence with which York students guided a complex capital project from start to finish. "It's not just that we've constructed a second student centre," emphasizes Vimalachandran, a former Chair of the York University Student Centre (YUSC) Board of Directors who helped lead the new student centre from nascent stage to a formal agreement between York and the YUSC in 2013. "It's that we delivered a project that was under budget, on schedule and with no design changes made throughout construction. Being proactive and listening to people is a great cost-saving measure."
Lead designer Andrew King, a Fellow of the Royal Architectural Institute of Canada and a protégé of Britain's pioneering Zaha Hadid, says that the community consultation process pushed him to create a bold design that would communicate its intent to a large audience. "This is design as an articulation of a strong student identity," says King, a Prix de Rome recipient who today is a senior partner and design principal at Lemay in Montreal. "While the building is orthogonal, or square, it is still very dynamic. It responds easily to meet student needs and the very nature of how they move in and out of the space. The building is not sedate. The building hangs over itself in a way. It's got significant big-scale tensions that are pushing its form around in response to what is happening on campus."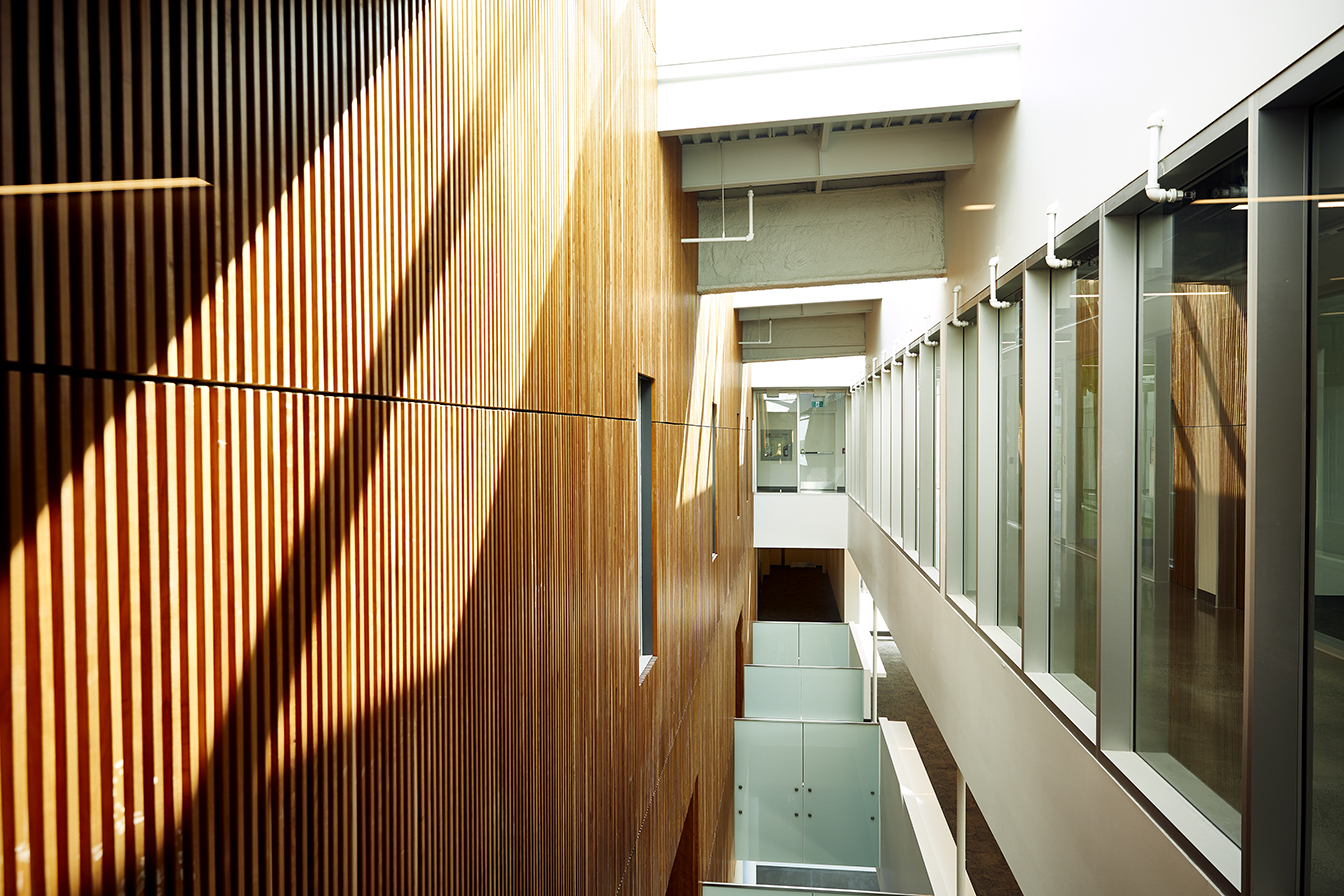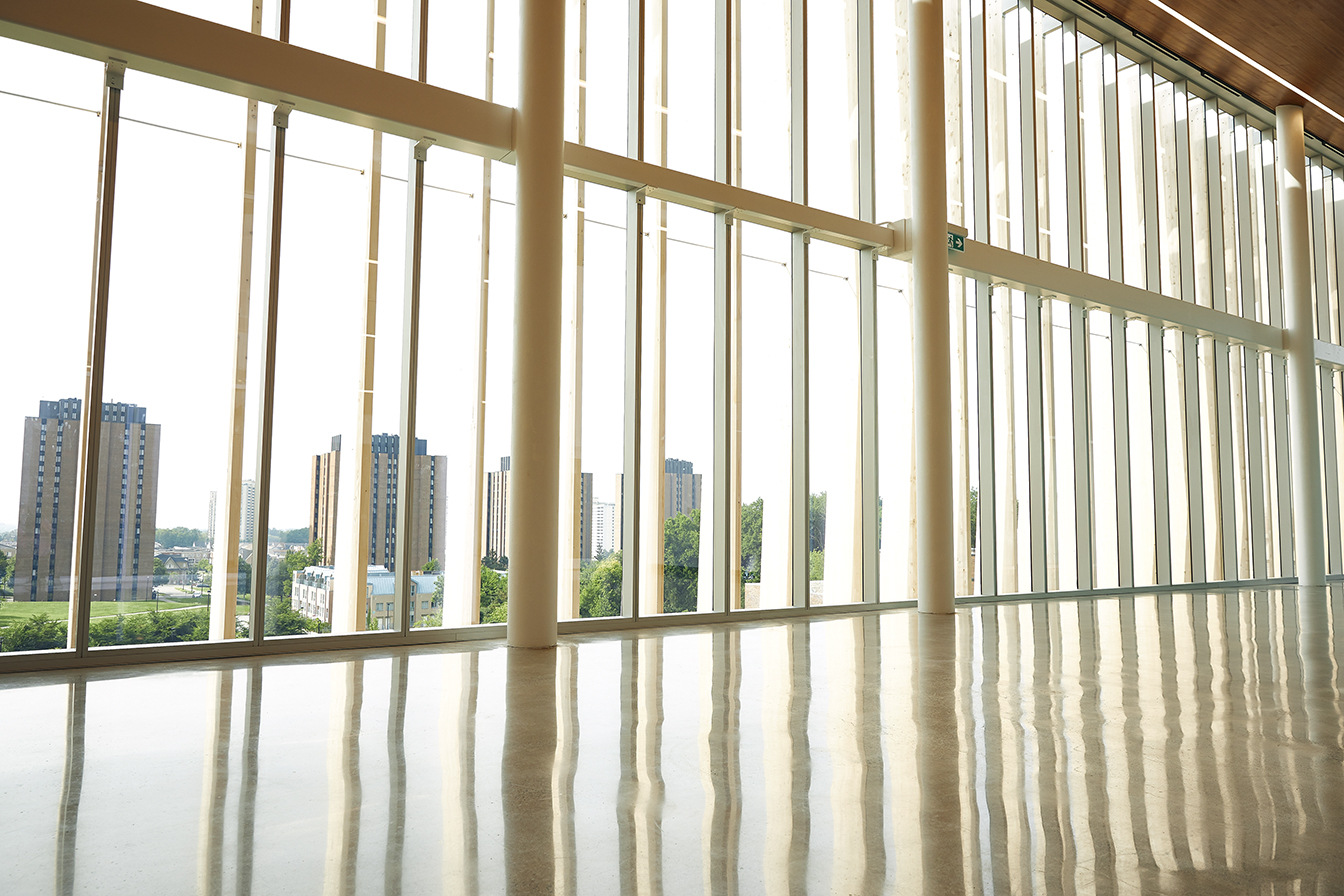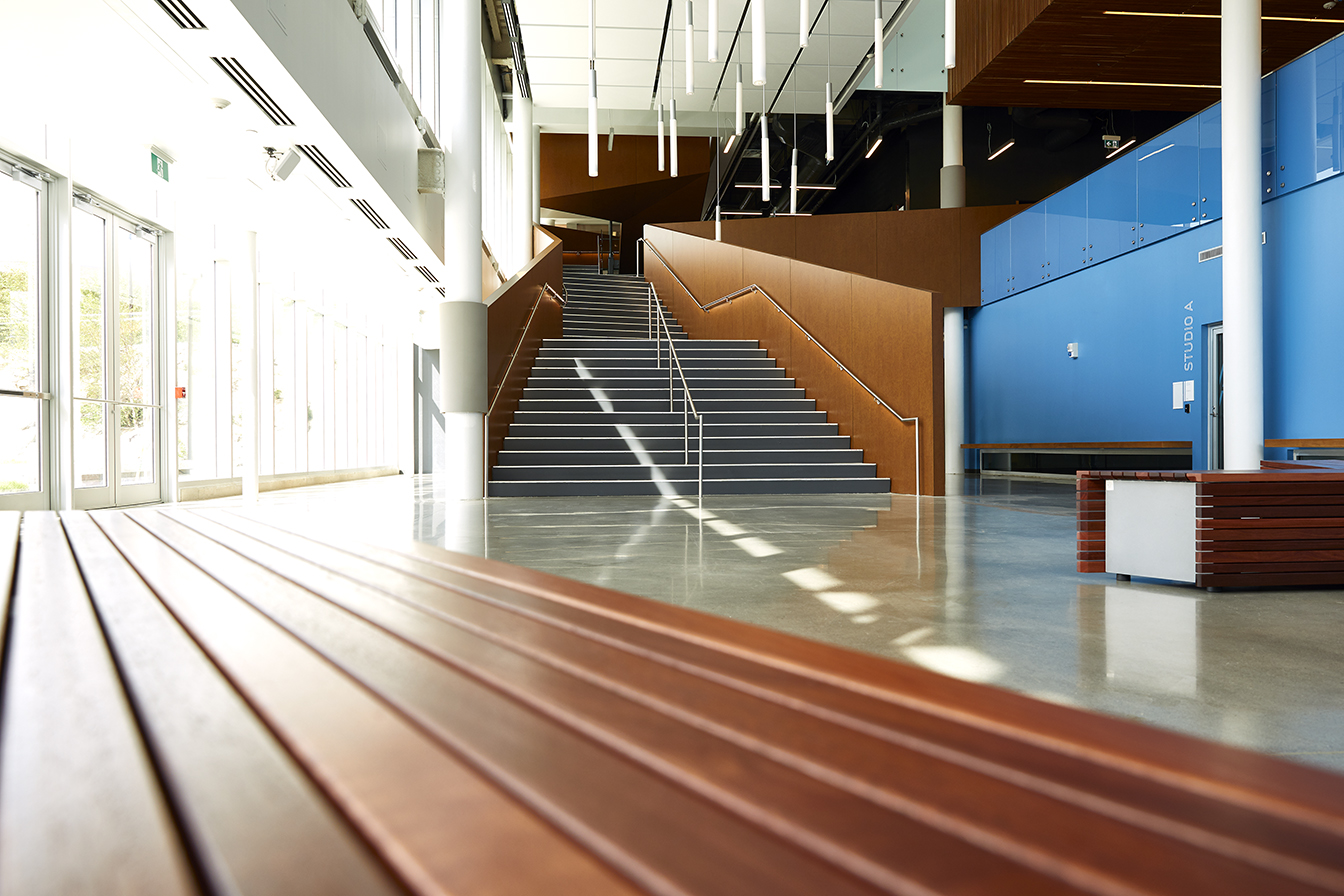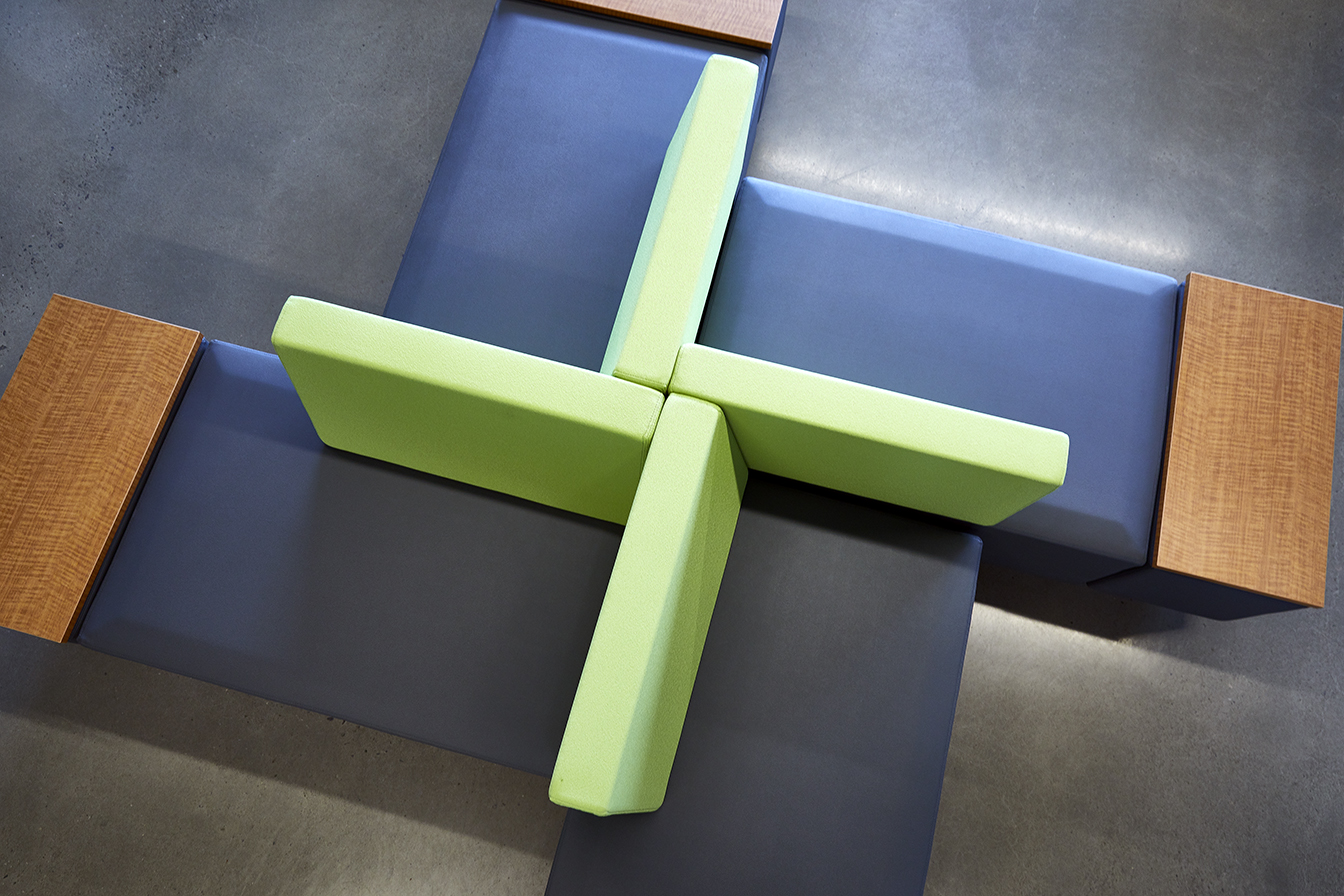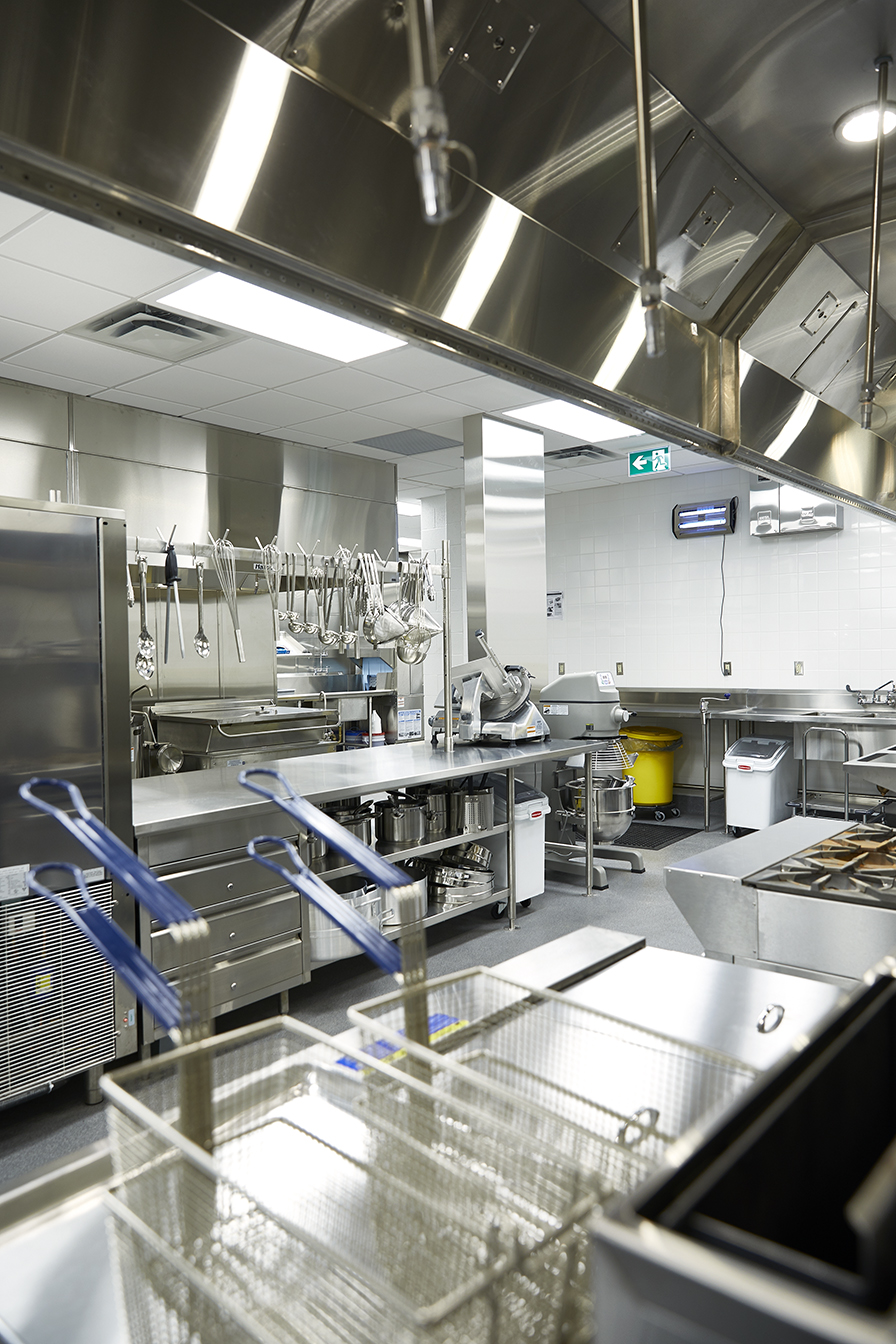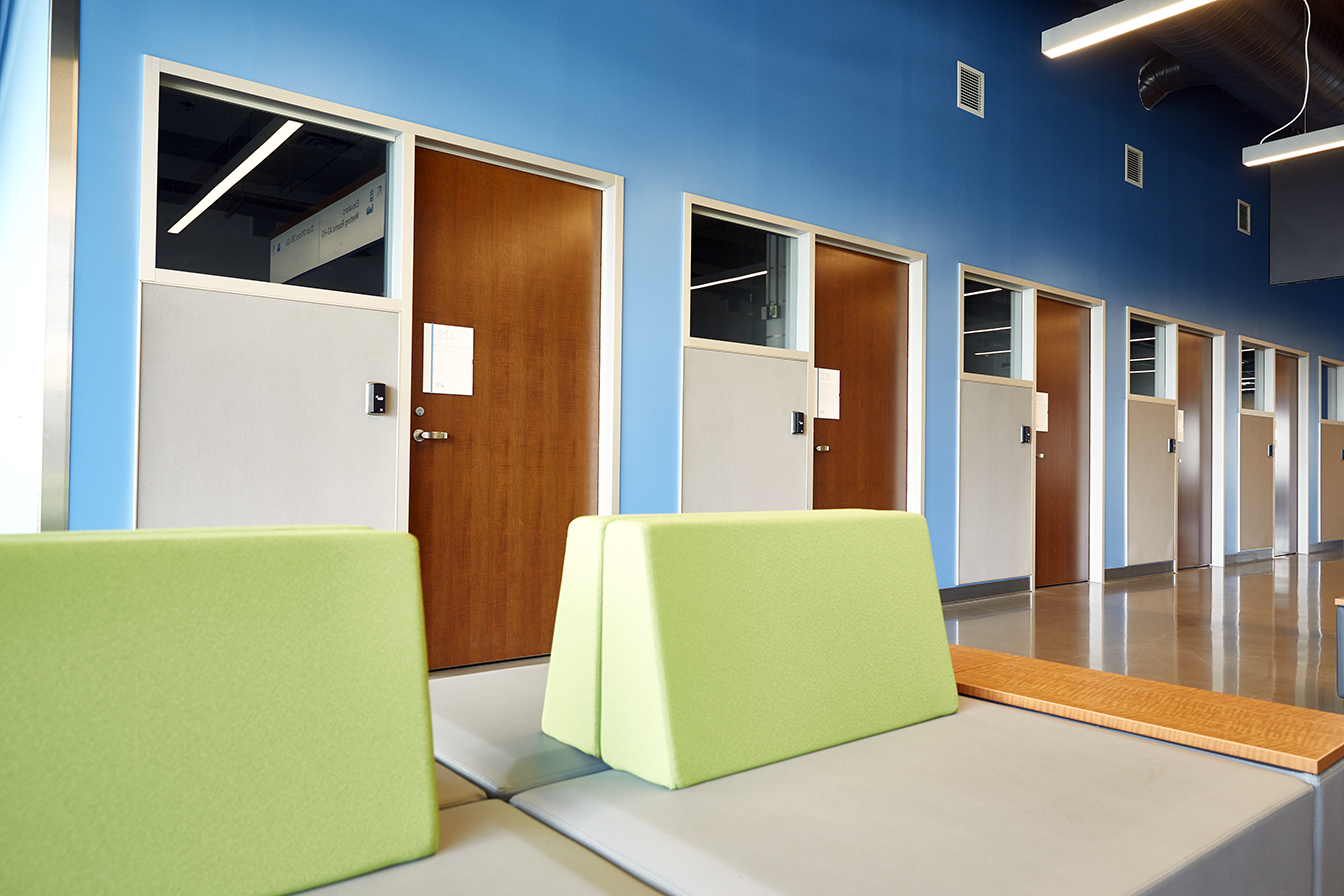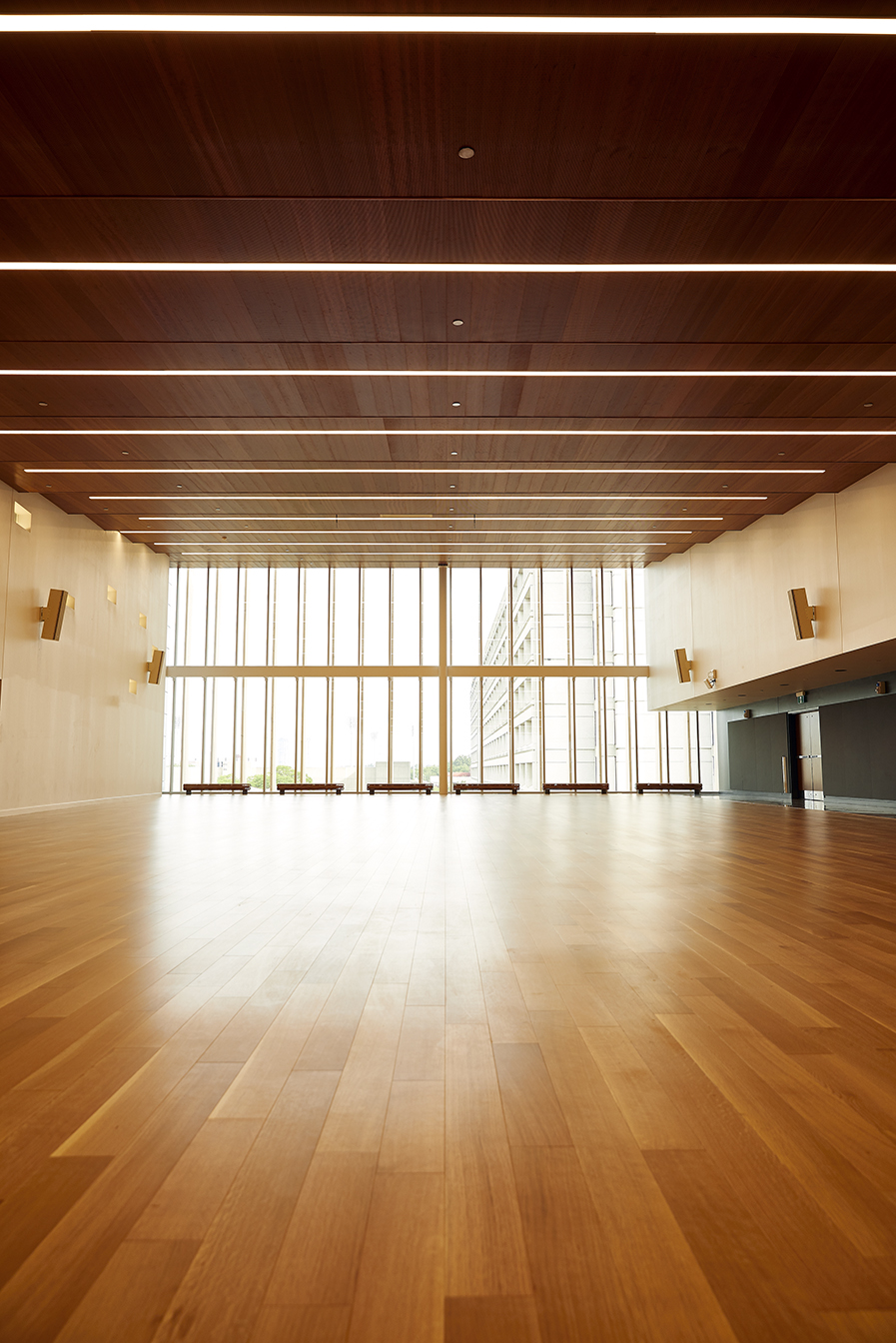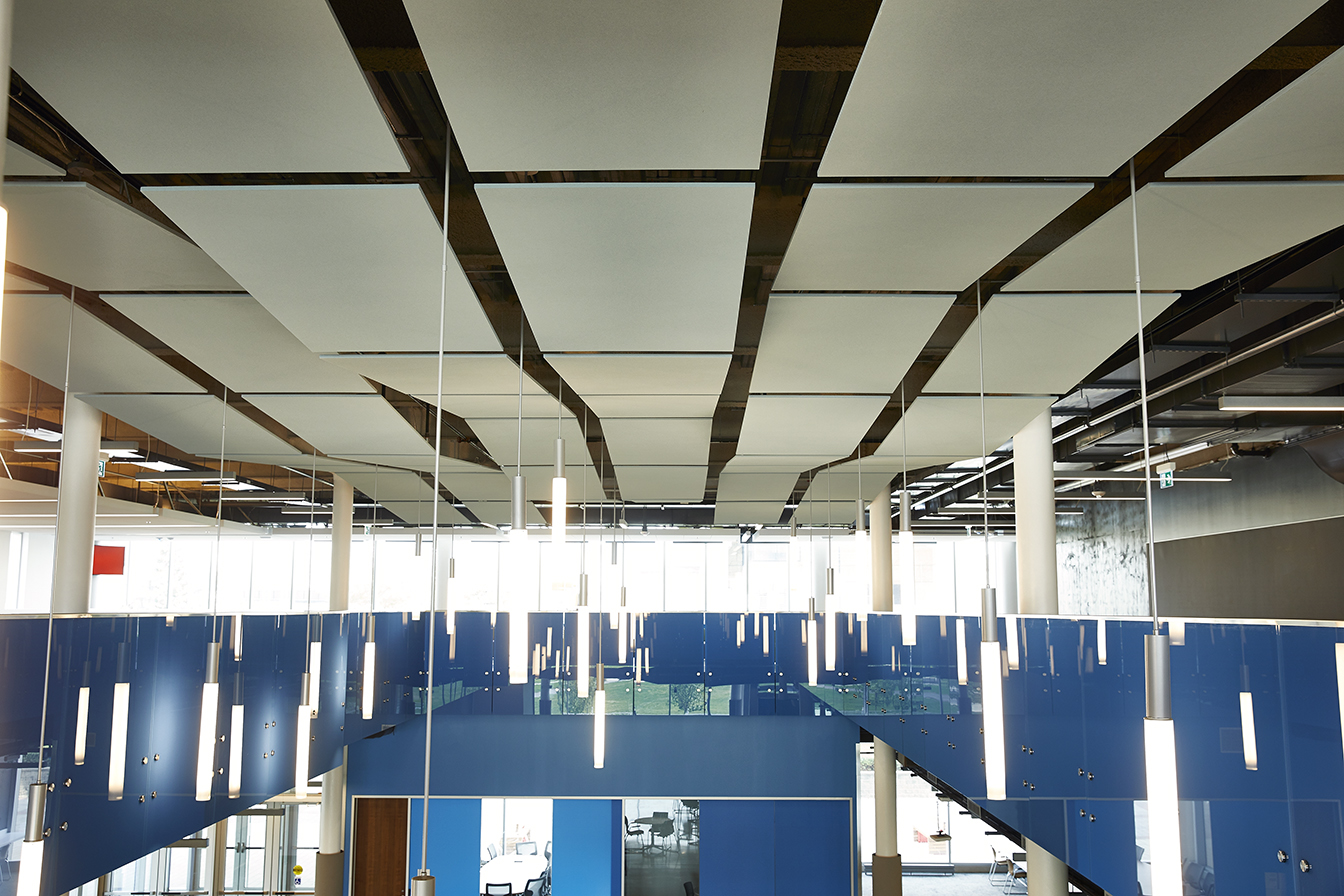 The Second Student Centre also boasts transparency and lightness, a result of a surfeit of glass on the interior and exterior. "Glass is by no means an original idea in Toronto, but if you look closely the glass panes used on the south and north façades are extraordinarily large. It's what truly sets the building apart," says project architect Hector Tuminan, who worked on the building when employed by CannonDesign, the centre's architecture firm of record. He now works for Quadrangle Architects in Toronto. "We challenged the glass manufacturers to use the largest possible glass panes that can be manufactured without an intermediate mullion. This is how we fulfilled the goal of having a building that showcased student life. A true glass box." Most of that glass was specially designed.
The Toronto Green Standard, a sustainable design requirement for new private and city-owned properties, mandates builders to mute external reflections with density patterns applied to windows on the first 12 metres of a façade to deflect birds that might otherwise be fatally attracted. "This is usually addressed by making the façades opaque or adding those ubiquitous white dots on the glass that are commonly seen in condominium buildings. Those standard solutions would not work in this building, where transparency was not only an aesthetic concern, but also a requirement," Tuminan explains. "Through research, we found a glass manufacturer that produces glass with UV patterns that are only visible to birds but not to humans. At the time of construction, this was the first building in Toronto to use an 'out-of-the-box' approach to address bird collisions."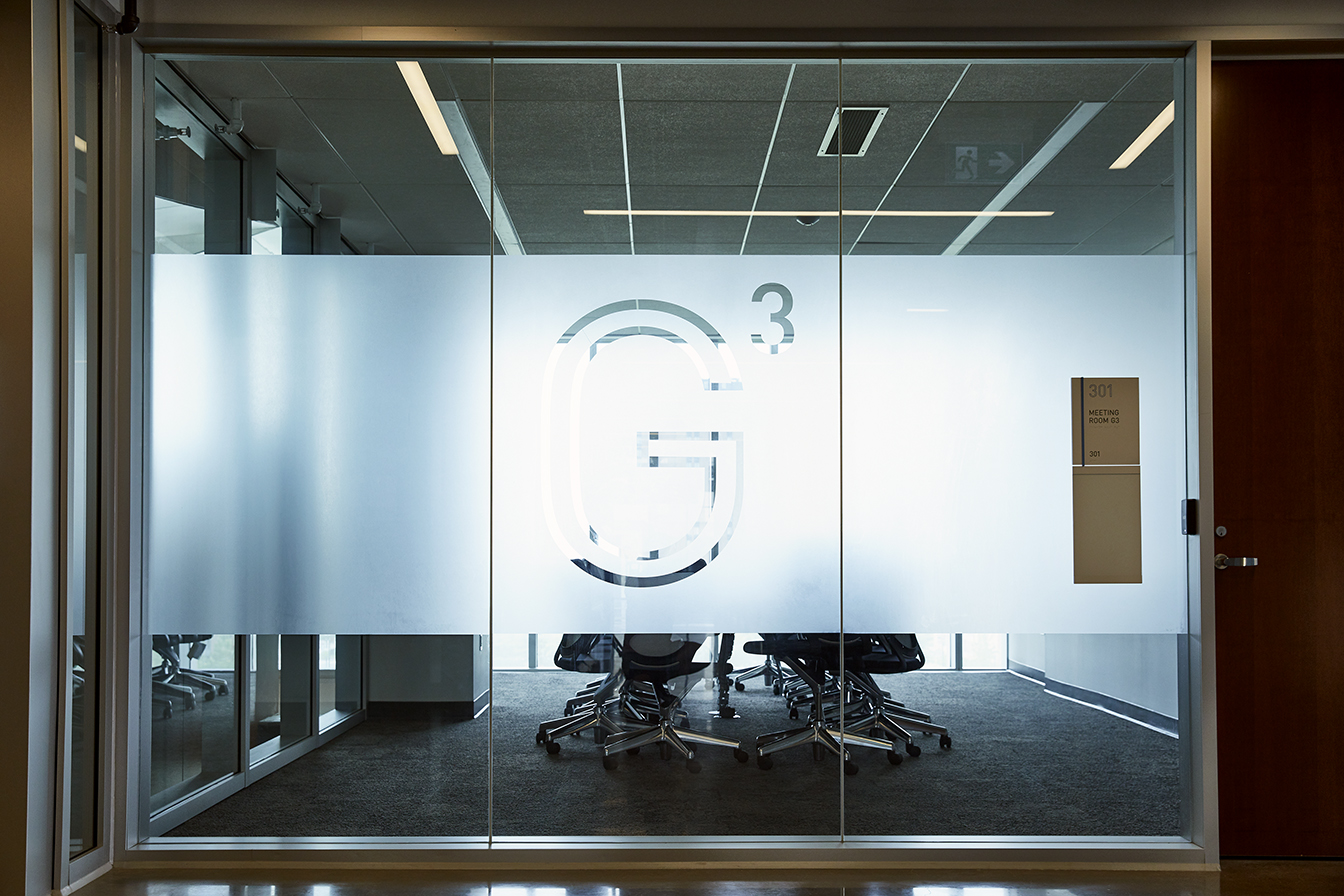 "Out of the box" also describes how the building was first conceived, a result of creative thinking and planning at the grassroots level. In 2013, students held a referendum to approve a levy for creating a second student centre to complement and expand on the first centre built in 1991 (and continuing to serve as a vibrant hub of campus life, with 35 student offices and the Break Room, a recently launched arcade-cum-sports bar located in the lower level where the former event space used to be). When the first student centre was built, students at York numbered 28,000. By 2010, that figure had doubled, rising to 53,000 in 2018, but without an adequate increase in student space.
Perceiving a need for more room, an unprecedented 10,000 students ended up participating in the referendum, 90 per cent of them voting in favour of a levy that would enable York's highly engaged student body to finance the capital project themselves. Over a three-year period, they raised the $56 million for the construction of a new multipurpose facility that would increase the amount of space on campus devoted to food, study, relaxation and prayer – not necessarily in that order. Overseen by construction firm EllisDon, it was completed in a lightening-fast 18 months, opening last spring at the north end of Roy McMurtry Green, adjacent to York's Central Square.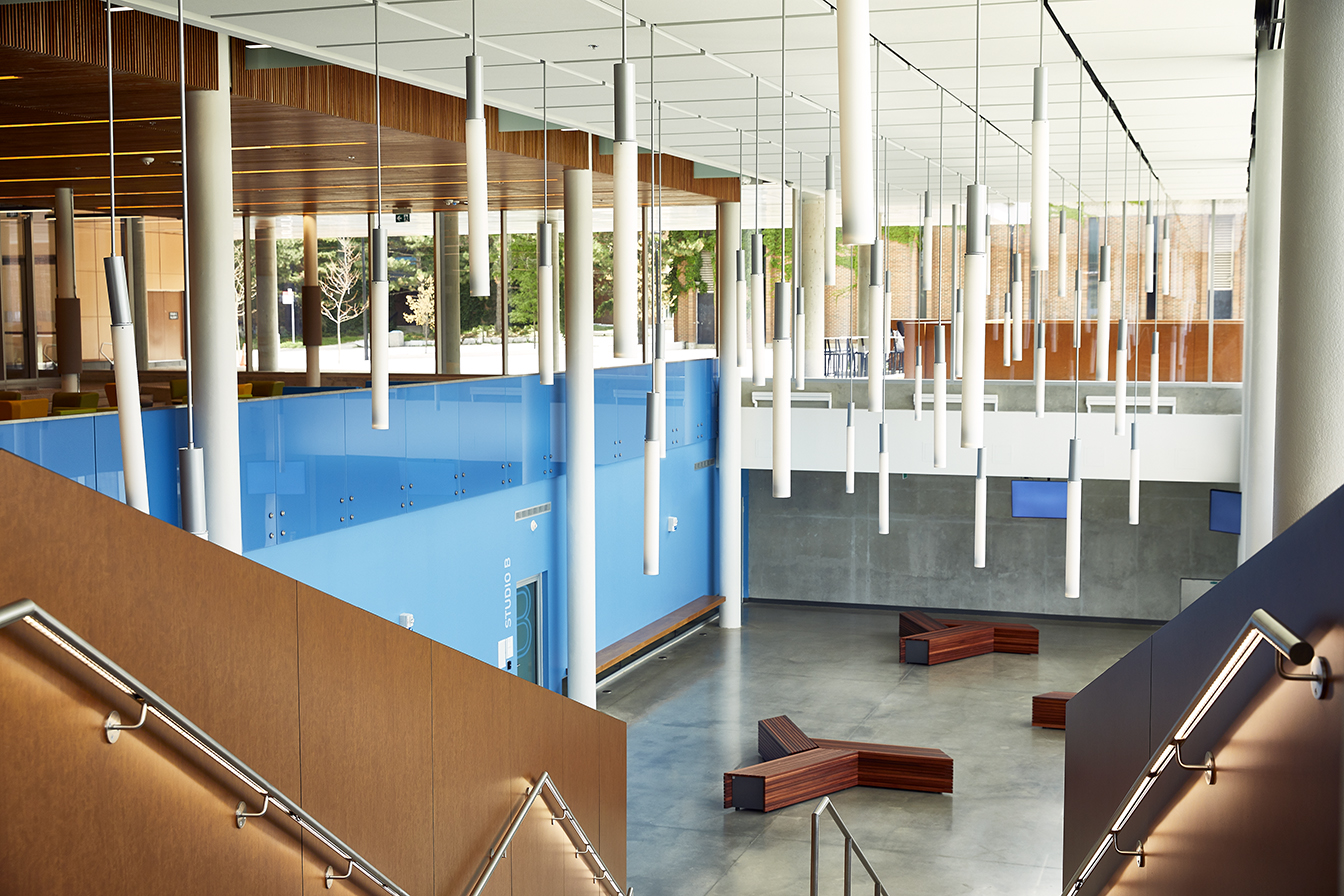 But raising funds to offset the loan needed for construction was not the only priority. Following the 2013 referendum, thousands of students were surveyed on how and what they like to eat, where and how they like to study, and what kind of facilities and activities they wanted to see more of on campus that would let them de-stress and recharge. Their answers helped to inform the design of the Second Student Centre, executed by global design firm CannonDesign in direct consultation with students. The result is a light-saturated structure with a cantilevered upper floor, walls of windows, a green roof, and exaggerated brise-soleil in the form of Alaskan yellow cedar fins applied to the exterior to reduce heat buildup and glare. Extended thresholds and unencumbered interior sight lines visually link the Second Student Centre with other structures surrounding it on campus.
The building … can take on this role with a commanding position overlooking the original heart of the University – the Ross Podium – and the city of Toronto
Project manager Stephen Wong calls it a "beacon" and an "urban attractor" for the surrounding York community. "It aspires to make and accentuate existing public areas and walkways while also promoting new spaces for community activity in a thoughtful and profoundly rational way," says Wong, an architect by profession. "The building will live on as the major activity hub for the campus moving forward and can take on this role with a commanding position overlooking the original heart of the University – the Ross Podium – and the city of Toronto."
Connecting the various elements together is a spiralling stair in the middle of the building. "The stair is literally hanging from the roof and its complex geometry is the expression of the wood ceiling on the fourth level unfolding as it goes down," Tuminan says. "Because of its complexity, it was not easy to convey the design intent using traditional 2D-printed drawings. Its construction required one-to-one mock-ups so the trades could understand how the folding planes and edge conditions would work together."
Other details to note: meeting rooms that open outwards to encourage student engagement; a state-of-the-art catering kitchen supporting the Campus Meal Club, the University's first-ever healthy food ordering and pickup service that students run online; segregated ablution rooms made of slate and wood that are among the best of their kind in all of Canada; an innovative waste management system using socially responsible technology; tactile braille signage, wheelchair ramps and elevators enhancing accessibility for all.
"The level of excellence is high," says King, "and that's credit to the client, the York students. They didn't pull it back. I've done a lot of buildings in my career, $5 billion's worth of architecture, and this is probably my favourite one."