Fresh Start
by Lindsay MacAdam
photography by Mike Ford
Fresh City is probably as different from a Wall Street investment bank as it gets. A typical weekday afternoon at the Toronto startup's north-end warehouse involves smiling staff clad in sweatshirts and jeans, boxes of farm-fresh local produce lining the walls, and "As Long As You Love Me" by the Backstreet Boys blaring from the back room speakers as two enthusiastic employees assemble Pinterest-worthy salads in Mason jars and jokingly blame the cheesy '90s playlist on their boss (OK, maybe that last part only happened when The ­Magazine was visiting).
So how did Schulich School of Business alumnus Ran Goel (BBA '02) end up here, as founder and CEO of an urban farm and produce delivery service, when only four years ago he was pushing paper as a big-shot lawyer in New York City?
It all began with a routine brainstorming session with a fellow Schulich-grad-turned-Canadian-expat who was equally eager to transition out of his law career. "I remember telling him about this business idea one day, saying, 'Urban farming is where it's at.' I had all sorts of ideas, but this is the one that stayed with me," says Goel. "I kept saying to myself, 'I don't have any farming experience, I have no food retail experience, so it would be crazy to try this,' but it just stuck in my head."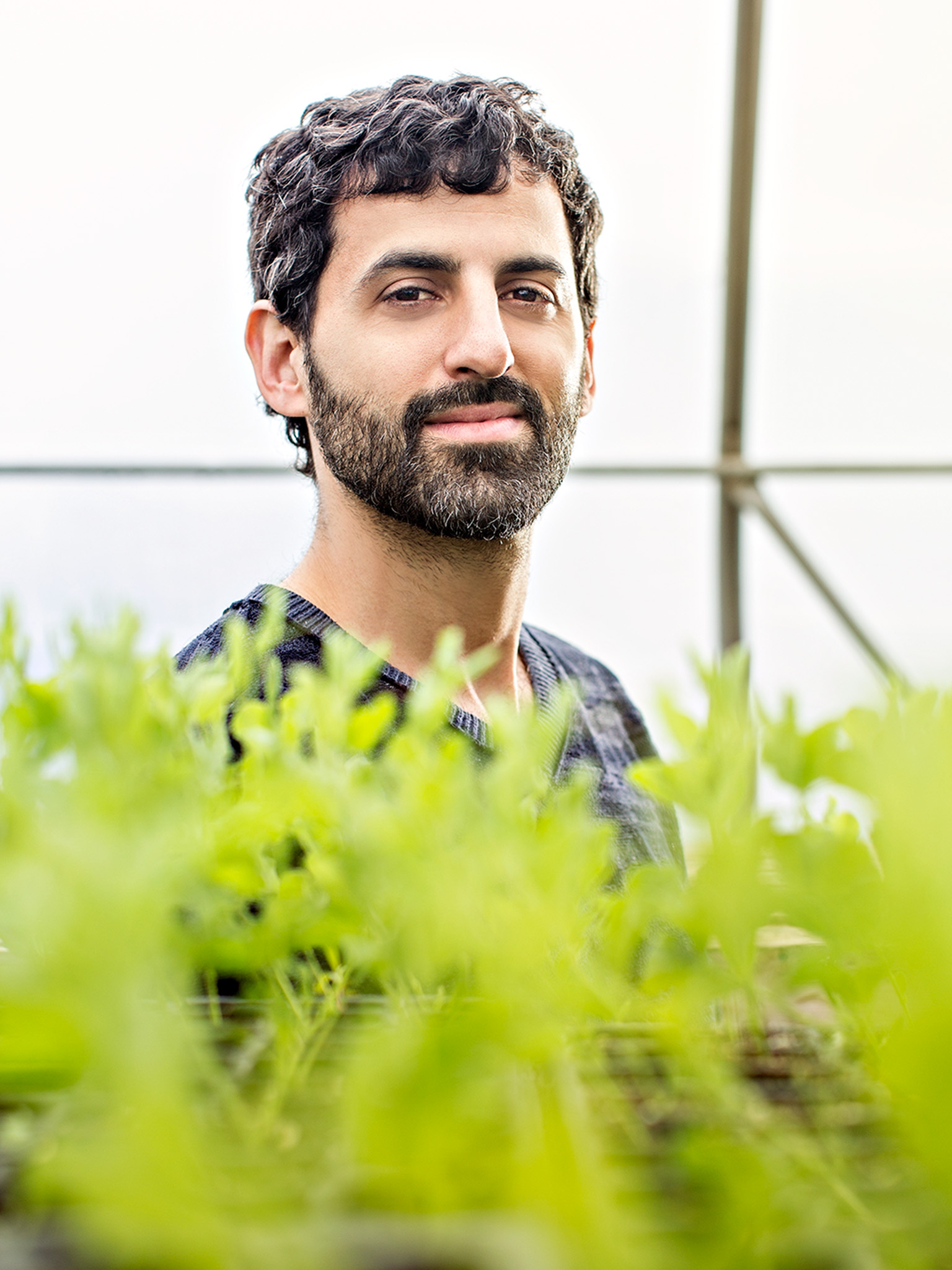 As some young lawyers do, Goel had become disillusioned with the legal career path he embarked on. But what set him apart from others considering a job change was that he had an undergraduate degree in business – plus a certificate in applied business ethics to prove his eventual segue wasn't completely random after all. "I thought, where in the world could I make the most difference? And the more I read about the food industry, the more I realized it's a huge area of need right now," he says. "For me, it worked out well because food brought together a lot of the things I was passionate about – how farm labourers are treated, and the climate change and public health impacts of food production. Even on a social level, we're not spending enough time eating together anymore."
From an entrepreneurial standpoint, it also seemed like a smart move to Goel. He'd noticed a growing consciousness around local, organic produce and eating seasonally, but at the same time people were leading busier lives and had more limited cooking skills than previous generations.
Goel's leap of faith came in 2012 when he quit his job and moved back to Toronto to start fresh – Fresh City, that is. With no food industry background to speak of – only stories from his Israeli grandparents about how delicious eggs used to be and how good tomatoes used to taste when they were freshly picked – he was determined to create a meaningful career for himself using nothing but the life experience he had gained up to that point. "I really found myself, almost daily for a period of time, constantly thinking about all the things I learned in accounting and marketing and finance [at Schulich]," he says.
I kept saying to myself, "I don't have any farming experience, I have no food retail experience, so it would be crazy to try this"
Recognizing that urban farming would be difficult economically given the competition against much larger farms, and not wanting to rely on government grants to fund his passion project for fear that the cash flow would stop once the farming craze faded, Goel knew he needed to come up with a unique business model to differentiate his startup. He wanted the farm to become not just a production space, but a place where he could meet his customers face-to-face. "We used the farm as a platform by bringing people in to experience it through workshops and tours and events," he says. "Every June, we have an Open Farm event for families – last year we hosted almost 1,000 people."
He further distinguished his business by offering not just the bare-bones produce bags for those who are comfortable in the kitchen, but services to suit people who might not have as much time or cooking experience – recipe kits for easy-to-prepare, healthy meals, and the aforementioned premade, vacuum-sealed salads. "I didn't want to sit there fighting other farmers for the same slice of the pie, because then we're not really broadening the market," says Goel.
He also aimed to make his company as "green" as possible, an evolving process that continues to this day. "I always say what we're really trying to do is create an alternative food system," he says.
Almost all packaging the company uses is reusable and/or recyclable, including the ice packs, cooler bags and salad jars. The company even donates $1 to charity for every three jars that are returned. Most of the small farmers the company orders from deliver their goods in reusable containers, and roughly 30 per cent of Fresh City's deliveries are completed with zero emissions, using electric vehicles, electric-assist rickshaws or bikes. "We're really trying to rethink how food gets produced and how it gets delivered to you," says Goel. "And the cool thing is, many times it makes economic sense, too. Our bags are reused up to 15 times. Our bikes don't get parking tickets downtown because they can be parked on the sidewalk; you don't have to pay insurance on them and they don't require gas."
Four years later, Fresh City now has two sites: a farm and greenhouse at Downsview Park, and a warehouse and administrative office at Keele and Lawrence. The company grows a lot of its own food, especially in the summer months, and also brings in produce from other local growers and makers, including bakers, dairy farmers and organic butchers. More than 2,500 homes across the Greater Toronto Area now receive Fresh City deliveries, and the company drops bags off at various pickup locations for people who prefer to save the $3 delivery fee. With its 25-person staff of environmentally conscious go-getters, Fresh City now offers much more than weekly and biweekly grocery delivery. Customers can add extra items to their bags through a virtual farmers' market and completely customize their produce deliveries if they so choose.
World domination probably isn't in the cards for Fresh City, but the planet could certainly use more food industry entrepreneurs like Goel. Rather than trying to expand as quickly as possible, he is determined to stay true to his original vision and use it to guide every decision he makes. "Our raison d'être is to foster more sustainable farming, and that takes deeper relationships with farmers," he says. "My hope is that we'll be delivering to the entire Golden Horseshoe within the next couple of years, serving the entire area where we source our food."
From an environmentally conscious university student with dreams of becoming a human rights lawyer to an ethical businessman reimagining the world's food system through his sustainable farming startup, Goel's path may have been an untraditional one, but he wouldn't have it any other way.  ■