Bright Spot
by Neil Armstrong
photography by Sofie Kirk
Owning a tablet is a godsend for Beverly Wayne, 63, who lives alone in the Jane Street and Sheppard Avenue area and had been missing her seniors' meetings at the Jane/Finch Centre since the onset of COVID-19. Now, thanks to this gift from the Centre, she gets to see her friends and has been busy in virtual painting workshops. Some of the paintings hang on her walls.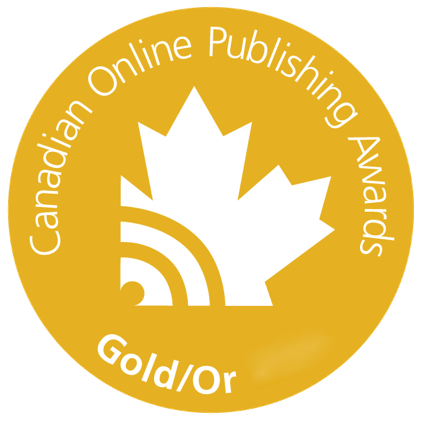 After the pandemic stopped face-to-face sessions, the Centre grappled with how to connect with its members. That is when the Jane Finch Family Centre collaborated with Dr. Shital Desai from York University to think through an innovative idea. The University is collaborating with groups in the Jane Finch Community to find innovative ways for the community to adapt to life during the pandemic.
This comes as Dr. Eileen de Villa (MBA '03), Toronto's medical officer of health, noted that COVID-19 hits hardest in economically disadvantaged places, and that racialized Toronto residents are especially vulnerable. "Current data shows that 30 per cent of people in Toronto are classified as living below the low-income threshold, but they accounted for 50 per cent of COVID-19 cases. My team determined that, over the course of the pandemic so far, northwestern Toronto stood out for having higher rates of COVID-19, lower testing rates, and higher positivity rates in comparison to other parts of our city."
Confronting this reality head-on, the York University-TD Community Engagement Centre decided it needed to do things differently. It called for proposals for the 2020/2021 Catalyst Grants to focus on the current COVID-19 situation and to create partnerships between York University and the Jane and Finch community.
The Jane/Finch Centre–York University collaboration to help seniors access virtual programs through technology is backed by a $5,000-funded co-designed community-based study led by Dr. Shital Desai, assistant professor in the School of the Arts, Media, Performance & Design, and Pablo Vivanco (BA '05), director of programs and community development at the Jane/Finch Centre. It seeks to help people like Beverly Wayne and 99 other area seniors impacted by COVID-19.
A second Catalyst-funded project focuses on the financial wellness of students at Emery Collegiate Institute, and is led by Jennine Rawana, associate professor in the Department of Psychology, and Mazen Hamadeh, associate professor in the School of Kinesiology and Health Science, the heads of Calumet and Stong colleges respectively.
The University is collaborating with groups in the Jane Finch Community to find innovative ways for the community to adapt to life during the pandemic
Alongside Maria Palermo, principal of Emery Collegiate Institute; Simi Sahota, a peer leader in her fourth year; and Agata Stypka (BA '06; SPOA '07), student success co-ordinator in the Faculty of Health, Calumet and Stong colleges, they seek to improve students' transition to post-secondary education during the pandemic using participatory videos to improve their finances.
These Catalyst Grants are just one of the ways that the York University-TD Community Engagement Centre is working to deepen university–community partnerships in Jane and Finch.
Since 2014, approximately $100,000 has been awarded to partnership projects supporting access to post-secondary education, community-based research and experiential education opportunities for students.
BEFORE COVID-19, activities for seniors happened in groups, but since the outbreak, the Centre has struggled to find ways to meet their needs virtually. "The pandemic has really affected our ability to bring people together, and I think no demographic feels that more than seniors, because they were also the ones that, from early on, were identified as being most at risk," says Vivanco, noting that seniors in that part of the city have issues of familiarity and comfort with technology, and sometimes even access to it.
Luckily, the organization received funds to buy tablets for a significant number of seniors, and for training with the technology. This allows them to do their banking, make doctor's appointments and stay in touch with family and friends. Working with three other agency partners, they distributed the tablets in October.
Dr. Desai's research looks at assistive technology and older adults. She also examines various aspects of aging, such as chronic pain, cognitive impairments and how technology can help seniors. Her focus is on older people who are still in their homes, rather than long-term care facilities, in the hope of delaying the shift from one to the other. She explores such questions as how seniors can live independently, and how technology can support autonomy and avoid dependence on government, family and caregivers.
Knowing that not everyone has access to modern technology, Dr. Desai seized the opportunity to work with Jane/Finch Centre to study these older adults. "I was very keen to explore the experiences of older people living in marginalized communities where access to this technology is minimal. We already know that older adults in general face a lot of barriers in terms of social isolation, and it is the primary reason they develop different kinds of impairment, cognitive as well as physical."
Staff at the Centre had to find a way to get seniors to access the technology remotely. Dr. Desai uses human-centred methods and design-thinking processes to inform her work, helping older adults to "remain socially engaged and find interventions to deal with social isolation, which is connected to their mental and physical well-being." She notes that the project is not only about understanding their needs, but also co-designing with the older adults and staff at Jane/Finch Centre. The Centre is confident that the research will have a real impact both for the seniors in its program and for a larger group in northwestern Toronto.
Dr. Desai uses human-centred methods and design-thinking processes to inform her work, helping older adults to "remain socially engaged and find interventions to deal with social isolation"
LAST SUMMER, SIMI SAHOTA, a fourth-year York student majoring in psychology with a business minor, read Robert Kiyosaki's book Rich Dad Poor Dad. It completely changed her view of money, and she came up with the idea for an animated video project to help high school students with financial wellness.
With a supportive team of professors, a principal and a student co-ordinator, Sahota will bring together students from the University and Emery Collegiate to produce three or four videos. "I want them to feel financially competent, and I want them to view money as a tool, instead of aspiring to spend money on things that probably won't set them up for success."
Palermo says Emery Collegiate is always open to whatever new resource it can put in place to support the financial health of its students and alleviate their stress, especially during the pandemic. The plan is to have 10 to 15 students in grades 11 and 12 write and film the videos, working with student mentors from York. Once done, the videos will be used in grade 10 careers classes, viewed by students in grade 11, and used at information sessions for grade 12 students and their parents. This would help to reduce their anxiety, while the students involved in creating the videos would be building leadership and technical skills, she says.
For Professor Rawana, the $3,000-funded project adds to similar programs, such as Agents of Change, in which donors in the Faculty of Health supply funds for students to work in the community, build partnerships and try to become agents of change.
"In talking with the school, it seems possible that we can align some of the things we are doing around finances and supporting students to get to university with their curriculum," she says, noting that these create resource materials and teaching notes that not only support Emery, but are also available on YorkSpace, a platform that allows anybody in the world to access them.
MEANWHILE, Cheryl Prescod, executive director at Black Creek Community Health Centre, heard from residents and knew that the Jane Finch Community would be hit hard by COVID-19, as the area has a high number of essential workers, many of them personal support workers (PSWs).
Toronto Public Health says the risk of illness is linked to how and where people live, work and play. The reasons racialized and low-income groups face elevated risk of COVID-19 are unclear, but could include existing health disparities linked to social and economic factors, stress caused by racism and other forms of discrimination, and obstacles to participating in the public health response to COVID-19 – including difficulties in limiting their exposure to COVID-19, due to being an essential worker, and in physical distancing, due to overcrowding. It also identified inequitable access to healthcare and social services.
Prescod says when the alarm sounded on the outbreaks in long-term care homes, what they saw at the Heath Centre was that some of their clients – Black women from the Caribbean who are PSWs working in private or long-term care homes – were most at risk, and showed early signs and symptoms.
Acting on this anecdotal evidence and working in collaboration with Toronto Public Health, they set up the first testing site at a Christian Centre Church near Steeles Avenue and Jane Street. Approximately 150 people were able to get tested on a Saturday and in the evenings.
There are many myths about COVID-19 in the community, and this was a signal to Prescod that the Health Centre had to do community education to "get our people to understand safety measures, including getting tested if you're sick and staying home." She was also aware that not everyone could stay home, because some had jobs where, if they did not go to work, they would not be paid.
Between July and November, Prescod and her team held 10 community-led testing sessions at local organizations. The Health Centre advocated for data collection from the province, and Prescod says the first data they saw showed that racialized people – Black, Middle Eastern, Latin – were disproportionately impacted. Their numbers were higher even though they represented a smaller proportion of the population. There was also a higher number of cases in those with incomes under $50,000.
"We all know this; it's not rocket science to understand why. Poor people, racialized people, most of the reasons they don't get the high-paying jobs, racism, all of that. These are systemic factors that cause disproportionate illness – not just COVID-19, but things like diabetes, high blood pressure and all the other illnesses that pop up in poor communities."
She says it is not surprising that areas like Rexdale or Jane and Finch show up in the Toronto map as having higher infection rates and lower levels of testing.
The executive director has also helped to recruit Black Canadians in Ontario for antibody testing and data collection to assess COVID-19 prevalence and risk factors among Black Canadian communities. Dr. Upton Allen, division head of infectious diseases and senior associate scientist in the Child Health Evaluative Sciences Program at SickKids, is the lead investigator in partnership with Ontario universities and Black community groups. The study will examine the intersection of race and socio-economic status.  ■