Cause and Effect
by Ira Lamcja
photography by mike Ford
Being from the Jane and Finch community, Talisha Ramsaroop (BA '14, MA '17) has always been surrounded by negative stereotypes. 
"When you're from Jane and Finch, higher education and opportunities aren't what people think of when they think of you," Ramsaroop says. 
There were times, she says, when these stereotypes made her question her self-worth. There were times when she never thought she would have the opportunity to go to university. And there were times when she didn't dare to imagine she would ever make an impact on her community. 
All she wanted was just to finish high school. She was an absentee student and didn't dare to dream of anything more.
Everything changed for Ramsaroop when, in grade 11, she went on a field trip to York University organized through the Advanced Credit Experience program, which gives high school students from the Jane and Finch neighbourhood a chance to experience life at York. That program prompted her to imagine herself going to university. 
"I looked around me and I thought, OK, I can actually do this. I can see myself here," Ramsaroop says. 
The next year, she enrolled at York, completed her undergraduate degree, earned a master's degree and eventually committed her career to inspiring local youth to pursue a post-secondary education. 
Today, Ramsaroop is a community project co-ordinator at the York University-TD Community Engagement Centre (TD CEC), where she connects with local high school students to empower them to pursue their dreams.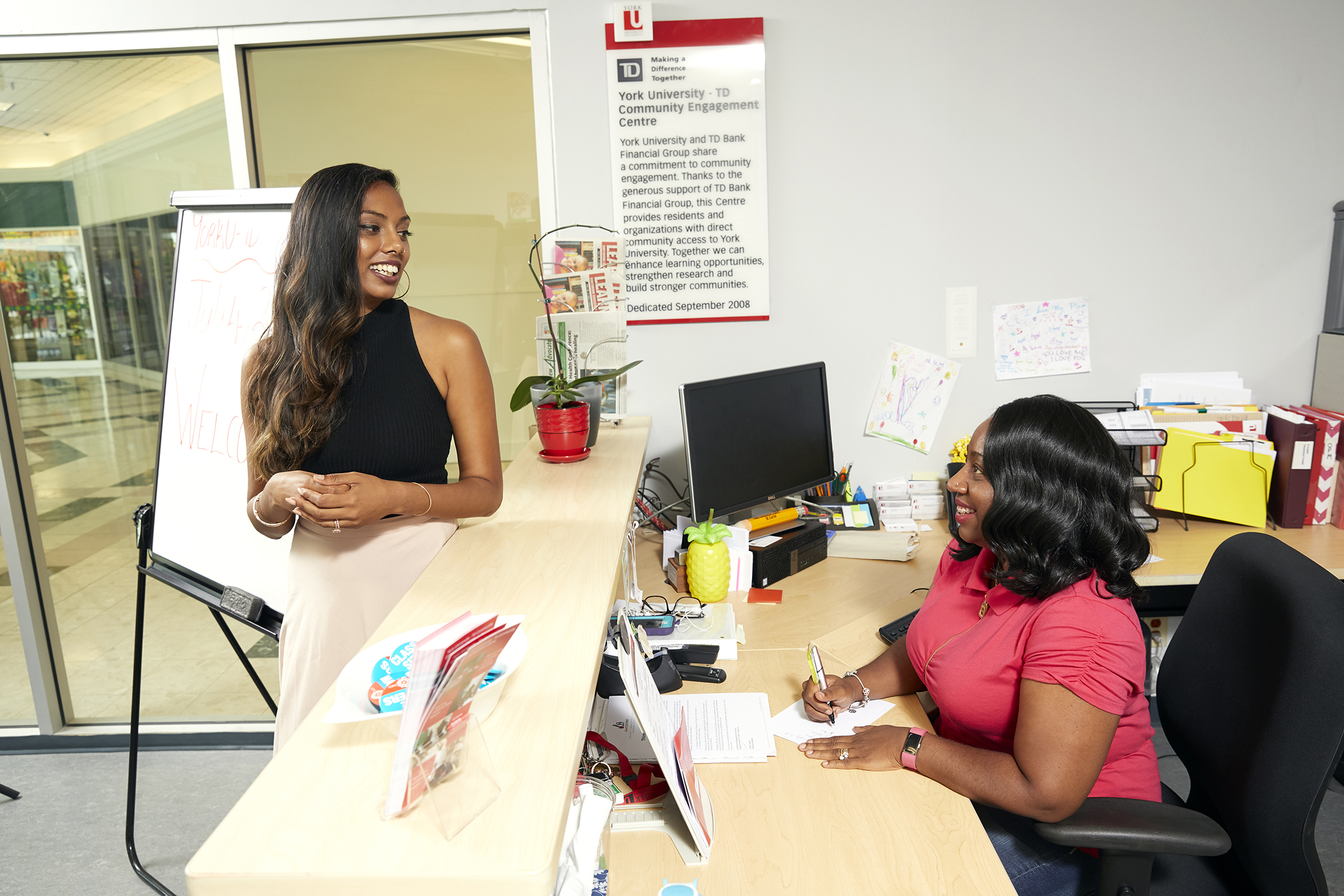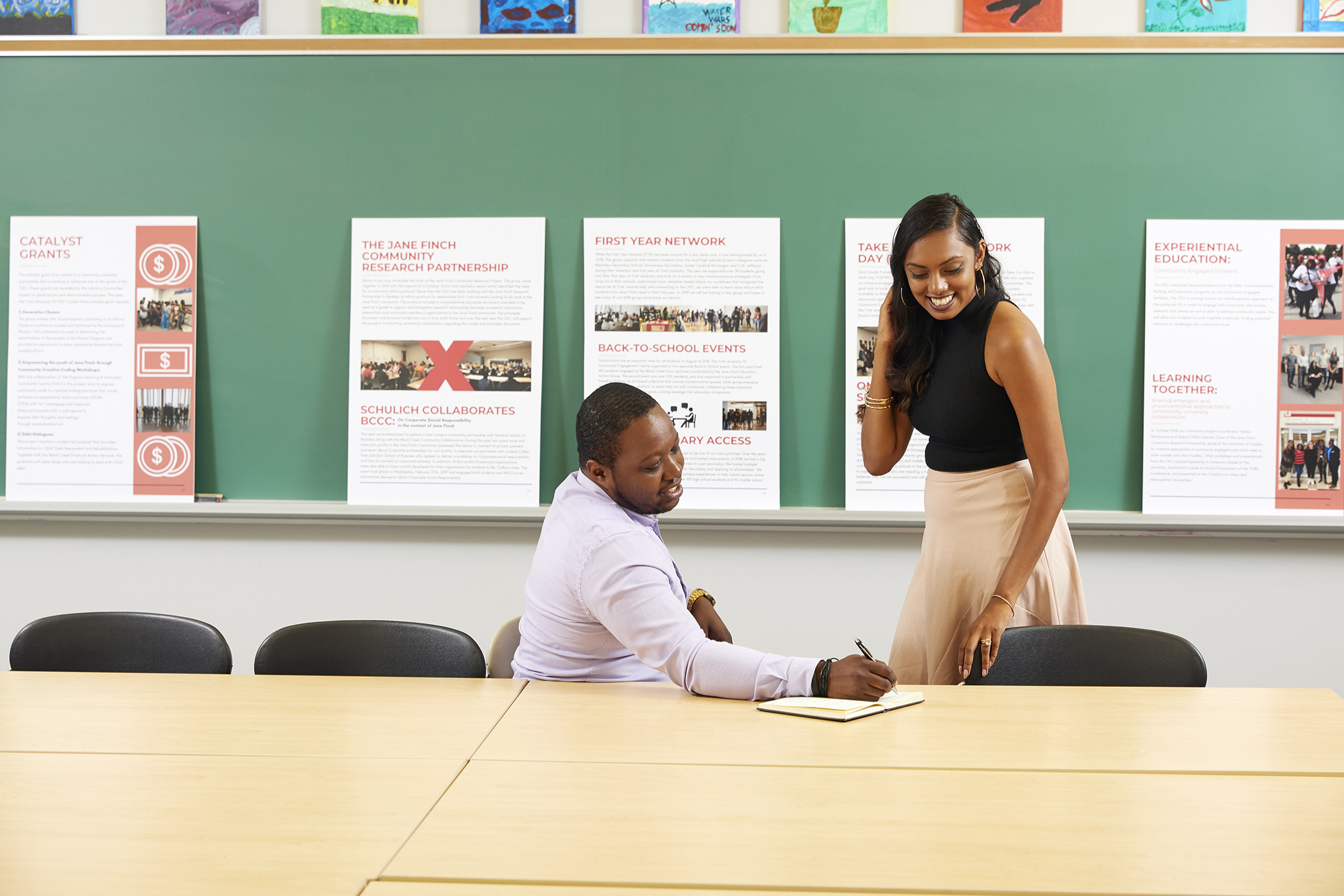 A Decade of Impact
Walking around Yorkgate Mall, you might not notice the TD CEC. Surrounded by retail shops in the heart of the Black Creek community, the centre's storefront in the mall looks small and unassuming. But inside lies a world of possibility, connections, deep knowledge and love for Jane-Finch.  
Since the TD CEC first opened its doors in 2008, it has served nearly 70,000 people from Black Creek and has become a catalyst for breaking barriers and changing stereotypes. 
"York University has transformed from community participant, to leader, to a fully engaged institution in the Black Creek community," says York University President and Vice-Chancellor Rhonda L. Lenton. 
"As part of our commitment to access and connection, we have brought together community, university and civic partners in a spirit of inclusion and empowerment," says Lenton. "We couldn't have done it without the TD Bank Group and look forward to the next 10 years of breaking down barriers through university-community-private sector partnerships."
York University and TD Bank Group recently celebrated a decade of impact with a funding commitment of an additional $1 million from The Ready Commitment, TD's newly launched corporate giving strategy. With this new infusion, the centre will be equipped to evolve its services to meet the changing needs of Jane-Finch.
The TD CEC has changed significantly since Lorna Schwartzentruber worked there. As the former manager of the centre, Schwartzentruber recalls her struggle to forge partnerships in the community and at York University. 
"At that time, people just didn't even know that this centre existed," Schwartzentruber recalls. Her team worked tirelessly to forge partnerships, build relationships and provide programming.
"The TD CEC is such a hidden gem at York," Schwartzentruber says. "When we first started, no one had any idea what we did. But that has changed as the community becomes more involved in the centre and more people at the University learn about what a fantastic resource it is."
A New Way Forward
This new gift will help people shift from precarious work to promising career opportunities. 
"The skills needed for jobs today are vastly different than five years ago," says York alumna and TD Bank Group head of customer and colleague experience Norie Campbell (LLB '95, LLM '03). 
"It is critical that there are resources and places where individuals can seek assistance to learn and upskill to thrive in the economy," Campbell says. "I'm so proud of the work that the TD CEC is doing, offering programs and leadership to ensure that in-career workers can feel confident about their future." 
As manager of the TD CEC, Byron Gray's ambition is to strengthen and solidify the university-community partnership. 
And to this end, Gray has a public call for the York community.
"We want you to know that we are here, we are a great resource and we are willing to work with anyone who is looking to do any kind of community-based work," Gray says. "Come work with us."  ■