Edible Action
by Rita Simonetta (BA '99)
photography by Chris Robinson
In 2020, the concentration of Canada's food network – and its vulnerabilities – hit home after a COVID-19 outbreak at a Cargill meat-processing plant in High River, Alberta. The plant processes one-third of Canada's beef supply. When the outbreak forced it to close, there was a domino effect: farmers suddenly had no place to sell their cattle and consumers were confronted with soaring beef prices.
That same year, Sarah Rotz (MES '11) and Ian Mosby (MA '06, PhD '12), York grads now working as academics in the fields of food history and security, co-authored a national newspaper editorial about the issue wherein they highlighted sobering statistics: three meatpacking plants account for 95 per cent of the nation's beef processing, four corporations control almost all of Canada's beef production and five companies own 80 per cent of the retail grocery market.
They also discussed the need for stronger inspection protocols and health standards for plant workers, a great many of whom often work in crowded conditions. That's only part of the issue. Racialized communities are also less likely to have the means to purchase and access food, particularly at increasing prices, says Rotz, an assistant professor who teaches in the Department of Environmental and Urban Change.
In addition to their jointly written opinion piece, in 2020 Rotz and Mosby worked together on Uncertain Harvest: The Future of Food on a Warming Planet, which they collaborated on alongside Evan Fraser, a food security specialist at the University of Guelph. The book tackles the challenging questions of how to feed a growing population (expected to reach 10 billion by 2050) while also facing rising temperatures as a result of climate change.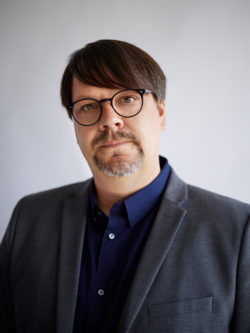 All three scholars bring various disciplines and viewpoints to the endeavour: Fraser is in tune with technological advances, Rotz focuses on equity and sustainability, and Mosby (an assistant professor of history at Ryerson University) uses his skills as a food historian to gauge what's in store for the future.
The information is accessible, and a witty tone underscores much of the book's content. And it's not all doom and gloom. In fact, there's plenty of optimism and hope to go around as the authors examine a variety of subjects, including automation and local farming, all of which have the potential to play a role in a sustainable food network for generations to come. But above all, the authors note that "creating the future food system that we all want will mostly come down to good public policy."
It's not just government action and regulation that's essential but consumers' willingness to look at their own behaviours. For centuries, we've been disconnected from the food we eat, and that detachment has meant we're no longer aware – or care – about what's happening around us. "Our attitudes have to change," Mosby says. It's a theme that has informed much of his work.
In 2013, Mosby received nationwide attention when he brought to light a dark chapter in Canadian history. In the '40s and '50s, the Canadian government supported nutritional experiments on Indigenous children at residential schools with the intent of studying the effects of malnourishment on children. Malnourishment and hunger were already concerns at residential schools and in Indigenous communities – a direct result of government policies and inadequate conditions.
Consequently, the children were considered optimal test subjects. Consent wasn't obtained, and neither the children nor their families were informed of the studies. In some cases, the researchers simply didn't intervene and allowed the malnutrition to continue; in other cases, they deprived the children of vitamins and minerals. But there are other troubling discoveries: Mosby learned that the experiments were led by a team of researchers that included Lionel Pett, a doctor and biochemist who went on to help create the precursor to Canada's Food Guide.
"It really changed the direction of my work," Mosby recalls. "It changed my priorities."
And it changed the direction of the lives of these children, who went on to become adults with a plethora of health problems. After the release of the study, survivors approached Mosby, wanting to discover more.
"They asked, 'What happened to me because of this? What were the health effects?' "
With these questions encouraging him forward, Mosby co-authored a 2017 study that had startling results. "The experiments led to a whole range of long-term health effects, including higher incidences of type 2 diabetes, higher rates of obesity, a higher risk of a whole range of different health outcomes that disproportionately impact Indigenous people in Canada."
Rotz shares this commitment to examining the link between Indigenous communities and food systems. She's a proponent of small-scale farming and works as an activist with various organizations, including the Relational Accountability for Indigenous Rematriation Collective. RAIR supports a grassroots reconnection to land and food sovereignty grounded in feminist methodologies.
A self-described scholar–activist, Rotz is also involved with A SHARED Future project, which focuses on Indigenous peoples' leadership in renewable energy conservation, efficiency and development. "I became interested through my work on climate justice," she says. "I wanted to know what it means to grow and produce food in ways that are in balance with ecological systems."  
With an eye to the past but a step toward the future, both Rotz and Mosby are hopeful that positive change is possible.
"Technology is not going to save us," Mosby says. "We need to work on creating a more resilient food system." Rotz agrees, adding that, in order to do that, a deeper examination of our relationship to food is essential: "It's important to understand how we got here."  ■