Giving
Love of Learning
by Amy Stupavsky
Growing up, Rayan Rafay (iBBA '08) heard these words over and over from his father, Syed Tahir Rafay: "Study whatever you want to study, as long as you study." His passion for education inspired Rafay to create a memorial scholarship in his father's name.
"For my dad, higher education was paramount, particularly the experiences and friendships one develops in university," says Rafay. "He trained as a doctor in Pakistan, and during his studies he built lifelong friendships across countries and oceans."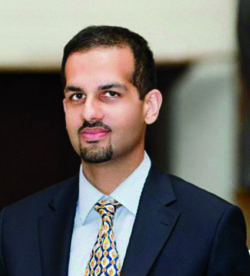 When Rafay was in his first semester at the Schulich School of Business, his father was diagnosed with terminal cancer and passed away four months later. The importance his father placed on ensuring Rafay and his sisters were well-informed citizens who read the newspaper and volunteered with political parties deeply impacted Rafay.
"My father had a profound love for Canada," he says. "Coming from Pakistan and Saudi Arabia, he saw what countries could become if their citizens didn't protect democracy. "
Rafay established the Syed Tahir Rafay Award to benefit undergraduate students who are actively engaged in helping their community and working towards making Canada a better place. Although Rafay studied business at York, the scholarship is preferential to students pursuing degrees in political science, human rights and equity studies, social work or law and society.
"People study these disciplines because of passion and desire to make the world better, not to make money," says Rafay. "I'm happy to make a student's academic journey easier while they're working to change society."
As a young alumnus, Rafay upends the notion that philanthropy begins only when one is older and established.
"I'm hyperconscious that circumstances can change at any time," he says. "Part of that realization came from graduating in 2008 and starting my career in Hong Kong; I was on the trading floor watching the world disintegrate. I feel a responsibility to use my current success to help others."
Now based in California as the managing director, head of portfolio management at Unison Home Ownership Investors, he and his wife, Nida (BBA '08), have volunteered with The Citizens Foundation charity to build gender-equal schools in Pakistan. Rafay also serves as vice-chair of the board of the Frontier College Foundation, a Canada-wide literacy organization.
"My dad is the reason I'm passionate about educational initiatives," says Rafay. "There's not a day that goes by that I don't imagine what he'd do or think in certain situations, and it always seems to come back to the importance of education."