Ignat Kaneff
by Peter Weibe
"People were very good to me when I came to Canada. I didn't have an education, so this is my way of giving back." — Ignat Kaneff
THE LATE DR. IGNAT KANEFF truly lived his deeply held values. He expressed his commitment to others through extraordinary generosity – with his time, resources and spirit. His start as a proud immigrant to Canada who went on to build a real estate empire was "a quintessential Canadian immigrant success story," said his family.
Mrs. Kaneff and daughters Kristina and Anna-Maria agree that what motivated his investments in education most was "seeing his hard-working student beneficiaries thrive and have a chance to experience the learning spaces that were created for them." The deep impact he left will be long felt by future generations of students.
To recognize his vast legacy of philanthropy in building Canadian communities, his support of access to education and, in particular, his tremendous influence on the future of legal education in Ontario and Canada, York awarded him an honorary doctorate of laws from Osgoode Hall Law School in 2010.
In appreciation of Dr. Kaneff and his family's generous support of the University, Kaneff Tower was named in their honour in 2013. At that time, then–York University President and Vice-Chancellor Mamdouh Shoukri said, "Dr. Kaneff's commitment to education that meets the future needs of our students and our society is consistent with his outstanding contributions over decades as one of Canada's great builders and philanthropists."
And there is much more.
A long-respected and beloved friend of York University, "Iggy" Kaneff was always an active supporter.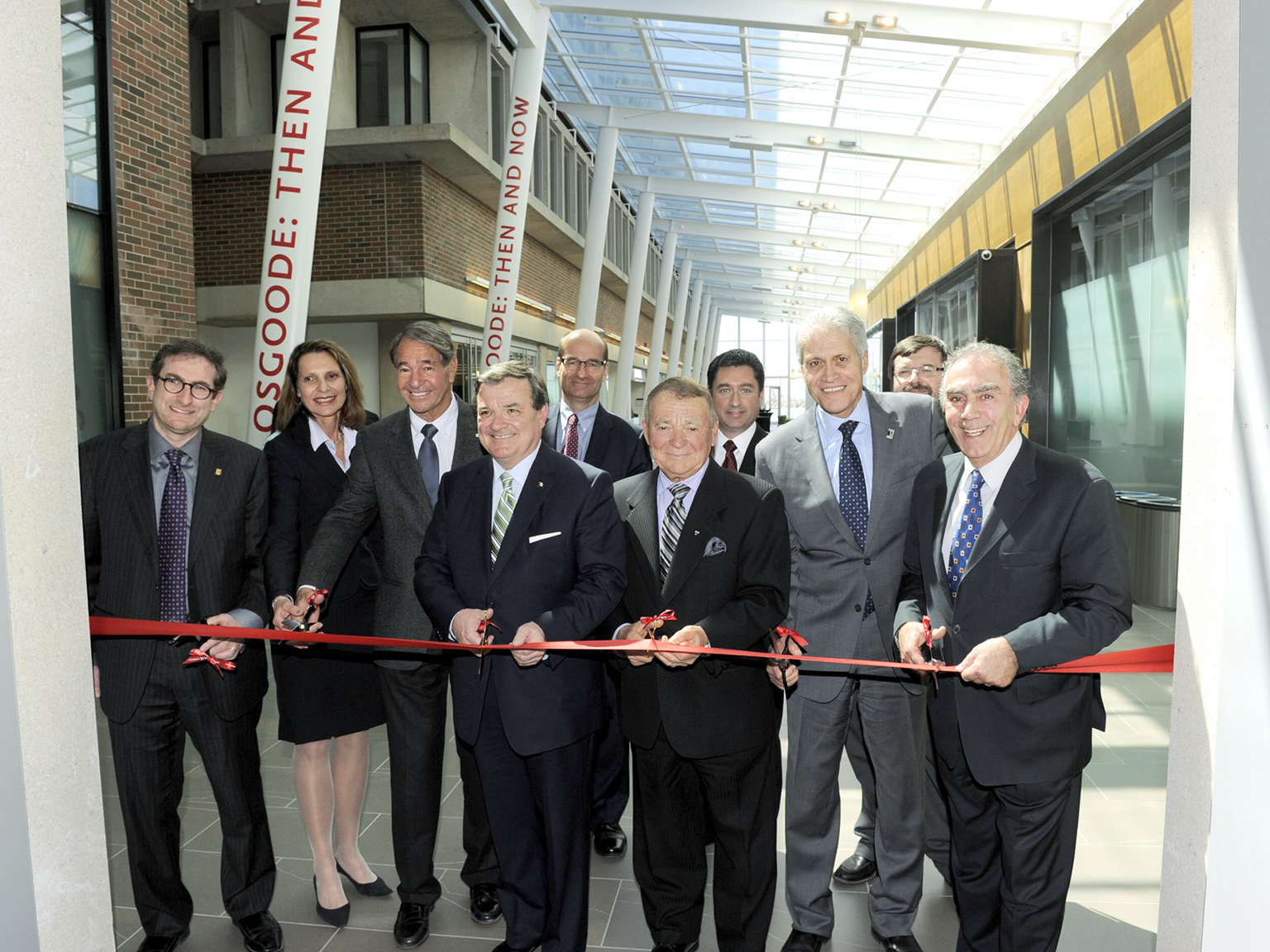 His leadership gift toward the development of York's Lassonde School of Engineering is building new opportunities for the next generation of engineers with the Kaneff Research Chair in the Department of Mechanical Engineering.
The elegantly renovated and expanded Ignat Kaneff Building at Osgoode Hall Law School was an over–$50 million project; without leadership and seed money from Dr. Kaneff, the building campaign would not have happened. His support unlocked matching funds from the federal and provincial governments, and contributions from other donors.
As well, Dr. Kaneff contributed to Osgoode Hall Law School's Winkler Institute for Dispute Resolution, and he provided financial aid for law students through the Ignat Kaneff Scholarship for Academic Excellence, which was matched by the Government of Ontario.
In honour of all of these and many, many more achievements, Dr. Kaneff received the Order of Ontario in 2010. In 2017, he received the Order of Canada, a prestigious honour that recognizes "outstanding achievement, dedication to the community and service to the nation."
In addition, he received numerous awards and distinctions in Canada and Bulgaria during his lifetime. These included Her Majesty Queen Elizabeth II's Diamond Jubilee Medal and the Order of Stara Planina, Bulgaria's highest civilian honour.
Rick Drennan, writing in online Brampton publication The Pointer, said, "He impacted a multitude of people and associations during his long life, and the tributes in the wake of his death ran the gamut from friends and family, political leaders, academics, those in the building trades, charities, former employees, and the golf world to the men and women on the streets."
Kaneff's great legacy is an extraordinary example of a deep social conscience and thoughtful generosity that addresses the needs of today while building a brighter future for everyone.
"Dr. Kaneff is a big part of the York family," says York University President and Vice-Chancellor Rhonda Lenton. "He was always deeply interested in the success of our students, and his inspirational personal story spoke to the positive impact made possible by a lifetime of hard work." President Lenton continues, "His memory will live on in the many opportunities he created, and in the many people he loved and supported."  ■