Giving
"When you change one life, you change the entire world"
by Ira Lamcja
photography by Mike Ford
Kiara Mavalwala recalls that day in spring very well: heightened anxiety, pacing around the room, speaking out loud to herself, trying on dozens of different outfits. She was preparing for her interview with the Schulich Foundation as a candidate for the prestigious Schulich Leader Scholarships.
"I was so nervous," Mavalwala recalls, able to laugh about it now, all these months later. "And between all the nerves, I never allowed myself to imagine that I would get it."
But all Mavalwala's preparations worked. This past summer, she and incoming York student Aryan Soni were announced as two new Schulich Leaders who would be receiving $100,000 and $80,000, respectively, to attend York's Lassonde School of Engineering.
"I was shocked," says Mavalwala, recalling the moment she got the news during a Zoom meeting. "I screamed. I ran and told all my family, all my friends, and all my teachers. I couldn't believe it.  
"It's beyond anything I ever dreamed of."
WHEN CANADIAN BUSINESSMAN and philanthropist Seymour Schulich founded the Schulich Leader Scholarships program 10 years ago, he wanted to give young students the same opportunity to excel that he was given when he received a scholarship that allowed him to pursue post-secondary education. This scholarship program is his way of paying it forward.  
"It's gratifying that this important and meaningful investment in the future of Canada is off to a strong start," Schulich says. "Schulich Leaders will be the engine that drives prosperity for our country. We look forward to supporting exceptional students pursuing their STEM education for many years to come."
Today, the Schulich Leader Scholarships program is the largest undergraduate STEM (science, technology, engineering and mathematics) scholarship opportunity in Canada, with more than 570 recipients across the country.
Out of a pool of approximately 1,500 high school students, 100 are chosen to receive a scholarship based on academic excellence, demonstration of leadership and financial need. Since its launch a decade ago, the program has continued to increase the value of its scholarships, culminating in the January 2020 announcement of Schulich's additional and extraordinary investment of $100 million.
"For more than a decade, the Schulich Leader Scholarships have provided forward-thinking students with the opportunity to advance their learning in STEM disciplines and develop their skills as entrepreneurial-minded technology innovators," says Rhonda Lenton, President and Vice-Chancellor of York University. "York is grateful for Seymour Schulich's visionary investment in Canada's youth, and proud to partner with the Schulich Leader Scholarships program to support the next generation of STEM leaders."
IN SEPTEMBER 2013, Yaakov Green stepped onto Keele Campus as part of the very first cohort of Schulich Leaders. Growing up as one of six kids in a large, tight-knit family, he was drawn to the sciences from a young age.
"I remember I had a fascination with physiology and genetics," Green says. "I was drawn to York because it was a large school with so many different opportunities that could foster my aspirations."
Applying the first year that the Schulich Leader Scholarships rolled out, Green doubted he'd be one of the first to receive the prestigious scholarship. 
"I was with my family in the car, driving to visit my grandparents. All of a sudden, I got a call from a number that I didn't know. When I picked it up, the voice on the other end said it was [then] York President Mamdouh Shoukri." Green laughs a little when recalling this moment.
"When President Shoukri introduced himself, I just did not register it. So what I said was: 'Oh, hi, what's going on?' I remember thinking to myself, 'There's no way that happened. That must have been a prank call.' " That's when Green called the number back and found out that it really did belong to York University. "It was legit."
Studying biology at York, Green pursued courses that would lead to a career in medicine. He is now entering his fifth year of a dual MD/MBA program at Yale University's School of Medicine, which combines a medical degree with a business degree. For Green, going to Yale wouldn't have been possible without the help of the Schulich Leader Scholarships program.
"This scholarship was so important in so many ways. It's been invaluable," he says. "It had allowed me to use my time to fully explore and learn, and that is huge. As well, it has given me access to an incredible network of people. My goal is to be a leader in health care, and the Schulich Leader Scholarships have helped to really shape that aspiration."
Recently, Green had the opportunity to work for the U.S. Federal COVID-19 Health Equity Task Force, which has a mission to provide specific recommendations to the U.S. President for mitigating inequities resulting from the COVID-19 pandemic.
"It's remarkable work with remarkable people," Green says. "We're working towards minimizing or eliminating health barriers in the context of the COVID-19 pandemic, whether it's vaccinations or mental health impact, and much more."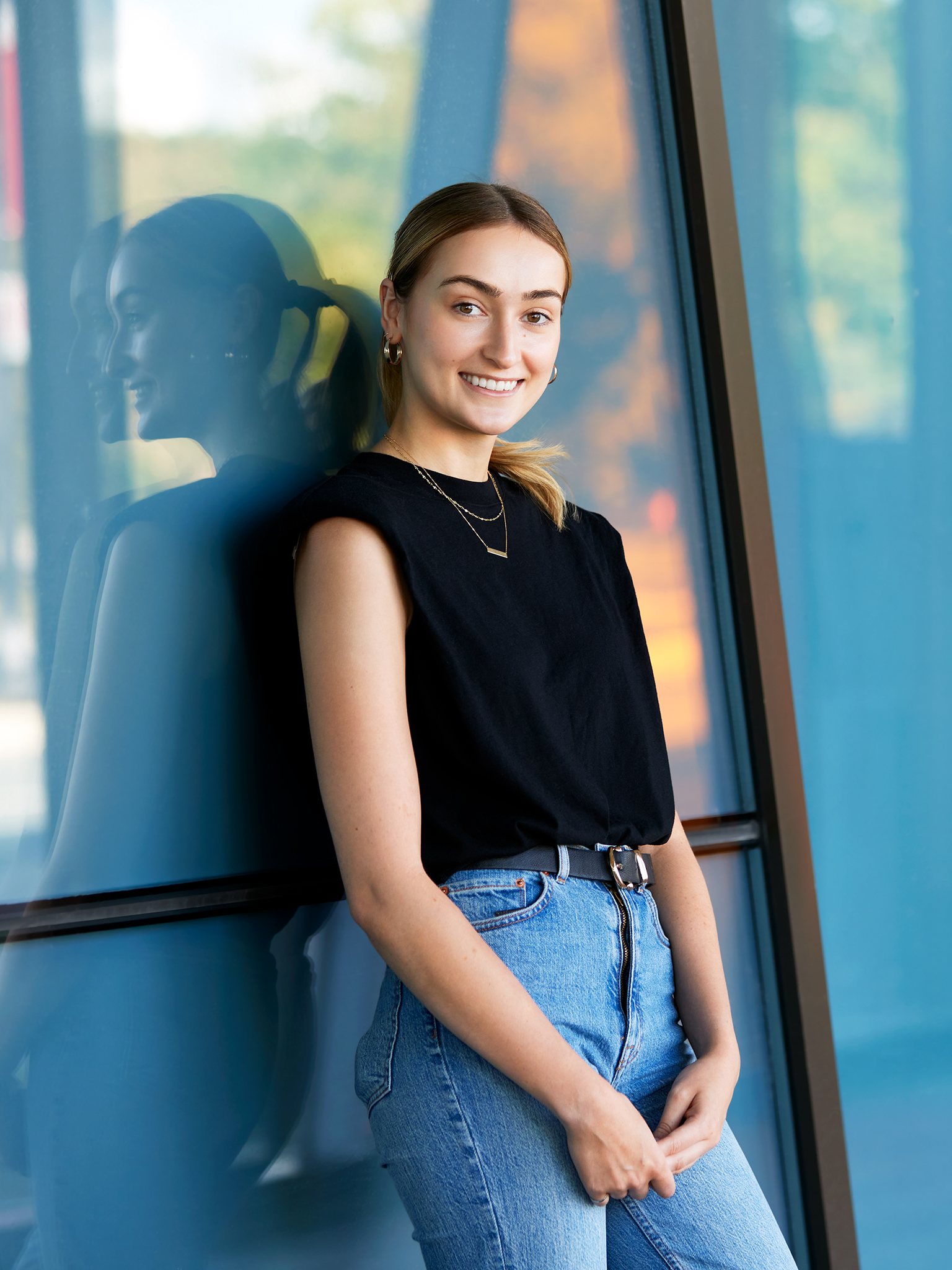 AS A YOUNG GIRL, Kyra McLellan had a deep love of science and technology. But growing up in the small town of Melfort, Saskatchewan, she didn't have science clubs to join.
"I used to make my parents take me to different science events," she says. "So this scholarship was my chance to expand my horizons and go somewhere I could pursue my dreams of working in science."
In 2015 – her last year of high school – McLellan was at a dance competition one weekend when a family member told her she had a voicemail from York University.
"But it was so busy that weekend, with the competition, that I didn't have time to check. I found out on Monday morning that I was going to receive a scholarship."
McLellan remembers it as a surreal moment. "I was freaking out," she says. "I yelled upstairs to my mom to let her know. I told all my friends the next day at school. I couldn't believe that I was going to school in Toronto."
Today, McLellan is a graduate student at the University of Toronto, where she is completing a master's of applied science in mechanical engineering. Most important, though, is the confidence it has given her.
"When I was applying to science and engineering programs, I didn't think I could do it. I thought I was going to fail out of school," she recalls. "But then I got this scholarship. And that was a wake-up call. I told myself, 'You can do it. You deserve to be here. You belong.' "
AS VICE-PRESIDENT of the Schulich Foundation, David Goodman has had the privilege of meeting many scholarship recipients in the past. What surprises him most has been the incredible ecosystem of networks and support that has developed among students.
"Part of what makes the Schulich Leaders special is the sense of community," he says. "It wasn't the initial intention to have this incredible unity among them all, but it's naturally come about, and we've helped facilitate that."
As the Schulich Foundation continues to support and attract the top students to the program, what Goodman is excited about is that Schulich Leaders collaborate with each other on complex challenges and support each other in advancing their careers.
"When you change one life, you change the entire world," says Goodman. "It's so nice to see that we're not just helping incredible students, we're helping their families, their communities, and changing the world by being a part of their career paths. It's nice to be along for the ride and see them advance."
This new cohort of Schulich Leaders is no exception.
"Now it's finally starting to sink in, I'm going to be a Schulich Leader," Mavalwala says. "I'm so excited for all the doors that will open for me. I can't wait."  ■