Noteworthy
Rowing Machine Reboot
by Deirdre Kelly
On a mission to end boring home workouts, Andy Hoang (MBA '13) has created an immersive, experience-driven rowing machine equipped with a gaming platform to drive motivation and mental engagement. Combining strength training with entertainment, calorie-burning with interactive multiplayer video games, Aviron offers "short bursts of engaging workouts" with a competitive edge.
Users can match strokes with a virtual Olympian or work up a sweat while being chased by hungry wolves or zombies. They can also compete in online workout rooms, participate in strategy games, be ranked on a global leaderboard and, for a change of pace, glide through scenic rows while listening to music on a 22-inch Wi-Fi-connected touchscreen.
A machine costs $2,199 plus a monthly $25 membership fee for access to new content and software updates. Forbes, Toronto Life and the Los Angeles Times have already inked endorsements, each calling Aviron a killer home workout with the potential to change the fitness industry.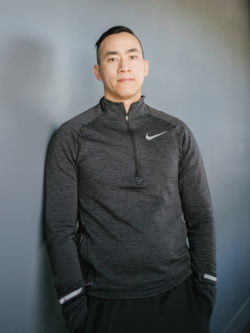 "We are the only connected workout platform that taps into the competitive camaraderie of gaming psychology via high-quality video game programs," says Hoang, 34, who worked in his Vietnamese family's CCTV manufacturing business before becoming CEO of his own company. "Users keep users coming back for competitive and interactive rowing workouts because they find them fun as well as addictive."
When it launched in 2018, Aviron made machines for corporate gyms. It switched to the consumer market after the pandemic forced the closure of most communal workout facilities in 2020. Today, the company is seen as a major player in the red-hot $100 billion connected fitness market.
After raising US$23.5 million from investors like Samsung Next and American technology startup accelerator Y Combinator, Aviron is reporting a 700 per cent increase in year-over-year revenue. Membership has also increased, despite the reopening of gyms.
"Our tremendous growth drives home that Aviron is tapping into an unmet market," says Hoang. "People don't want to die of boredom when they work out. They want to feel connected and alive."  ■