Alumni
Centre Ice
by Deirdre Kelly
On the day after the Los Angeles Kings lost to the Winnipeg Jets in overtime, Mike Futa is smiling.
"It's so close in the playoffs race right now," says the California team's Canadian-born assistant general manager on a quick trip home to Toronto to visit family in March.
"As long as you get a point, you can't be complaining."
Accumulating points, methodically, until they add up to something big, is how Futa (BA '91, BEd '92) has tended to manage his own success with the game.
The 50-year-old NHL executive has climbed steadily through the ranks since first joining the York Yeomen hockey team during the 1988-89 season. It was an auspicious start.
The University's prized squad was then on a winning streak, snagging three consecutive Ontario University Athletics (OUA) championships from 1986 to 1988, and two national titles in back-to-back seasons, 1987-88 and 1988-89. Futa, who played left wing, contributed to that success.
"He was a rookie but a key guy for sure," says Bill Maguire (BA '89), a former team captain who went on to be York's head coach from 2006 to 2008.
"His passion as a player was always second to none. He'd play hurt but would never show it. Only when he'd take his shoulder pads off would you see just how cut up he was. But nothing ever deterred him."
Playing there for York really helped those of us who went on to have careers in professional hockey. It really did
Least of all the York team's less-than-stellar working conditions.
"We called it the Ice Palace back then, but it was a shack. It could not have been much fun for the visiting teams," says Futa, shaking his head in bemusement.
"The bathrooms were the public toilets and it was always jammed to the roof – with both players and fans. But it was an incredible atmosphere. The Palace was a rocking place, and playing there for York really helped those of us who went on to have careers in professional hockey. It really did."
"Mike always was a winner," says Graham Wise, who recruited and then coached Futa for the four years he played hockey at York. "He put all his energy into whatever he was doing, as a player, as a coach and as a manager. From a student-athlete to where he is today, he has always been a great leader."
After graduating from the Faculty of Education in 1992, Futa moved to Europe to play pro hockey for two seasons each with Denmark and Germany until a dislocated shoulder forced him to reassess his playing career plans. "I knew I was going to face problems if I were to have surgery," he says, "and so I thought I had better get on with my teaching."
Call it divine intervention because when Futa returned to Canada in the late 1990s, he moved instead into coaching after a Basilian priest put in a good word for him at St. Michael's College, the Toronto boys' school from which close to 200 professional hockey players, several Hall of Famers among them, have come.
At the time, Father Ted McLean was principal of Father Henry Carr Catholic Secondary School, located close by the Rexdale neighbourhood where Futa had grown up. The late priest was well known for having chased pucks before committing himself to the religious life.
Father Ted was so sharp on the ice, Detroit had offered him a contract. But he had turned it down for the priesthood, dedicating the rest of his life to nurturing a love for hockey in his students, Futa included.
"Before he passed," says Futa, growing emotional, "he recommended me to the St. Mike's Majors, which is where I started my coaching career. I owe it all to him. He kept me focused on the big picture."
That big picture started small, with Futa, then 27, arriving on the scene as the youngest coach in the history of major junior hockey. "I was extremely passionate but grossly underprepared for the job," chuckles Futa at the memory. "I got fired. But while it lasted it was good. It was a great experience."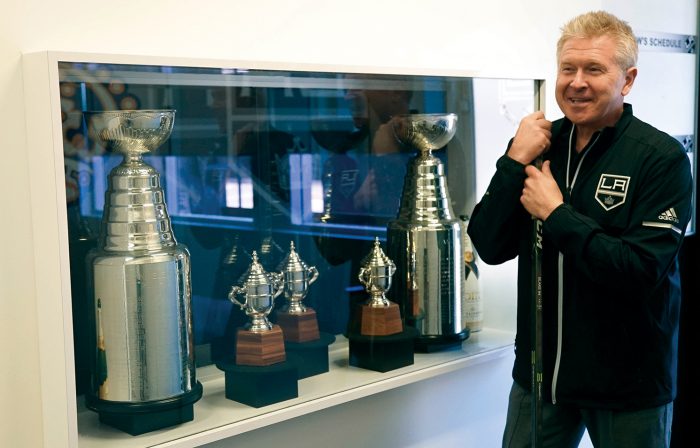 And it led him to bigger and better things, starting with a successful stint as assistant coach and assistant general manager of the Oshawa Generals and then progressing in 2002 to the position of general manager of the Owen Sound Attack, a role Futa commanded for five highly productive years.
Named the OHL's Executive of the Year during the 2004-05 season, Futa developed a reputation for unearthing hidden talent.
While in Owen Sound, Ont., the Georgian Bay city where each of his three school-age daughters was born, Futa had early on pegged Wayne Simmonds for greatness. He recruited the Scarborough, Ont., native for his OHL team before Simmonds, then playing for the Brockville Braves in the Ontario Junior Hockey League, could cross the border and skate as a scholarship recipient for a U.S. college team.
Futa promised Simmonds future success, and then personally mentored the then 18-year-old along his professional path.
"He was always there for me, always in my corner, that's the kind of man he is," says Simmonds, today a first-line right winger and alternate captain for the Philadelphia Flyers, and one of only a handful of black players in the NHL. "He always keeps his word." The admiration is mutual.
"I always believed in the guy," says Futa. "He didn't come from very much, but I got to know him well both on the ice and off, which is how you can really determine if a player is great or not. Do they project strength not just in the game but in all aspects of their life? Do they do the hard work required when no one's watching? That was Wayne. He was on no one's draft list at the time. But when I moved to the NHL I wasn't leaving him behind."
That move happened in 2007, when the Los Angeles Kings first hired Futa as the team's co-director of amateur scouting. He quickly proved his mettle. Not only did Futa bring in Simmonds, drafted by the Los Angeles Kings in the second round of the 2007 NHL Entry Draft as the 61st overall pick, he also recruited Kyle Clifford, Dwight King, Jordan Nolan, Tyler Toffoli, Slava Voynov and Drew Doughty, key players who helped the Kings win the Stanley Cup in 2012.
"Don Cherry took to calling the L.A. Kings the best OHL all-star team," Futa says. "We got the accolades but at the same time this wasn't a unilateral decision. I suggested the players but the management had to agree on them."
Still, there was push back.
"I remember people questioning Doughty's commitment to fitness," says Futa, smiling with the satisfaction of one of who gets to say I told you so. "But today he's arguably the best hockey player in the world."
In 2014, some of Futa's picks helped the Kings win a second cup. Perhaps as a thank you, that same year, the team named him VP of hockey operations and director of player personnel, a step up the corporate ladder.
Last April, the Kings again promoted Futa, this time to assistant general manager, an important prerequisite to someday becoming a GM of an NHL team in the future, which is the top of the hockey pyramid.
Several teams have already come calling. They include the Vancouver Canucks, the Buffalo Sabres, the Toronto Maple Leafs and, more recently (and assertively, as Sportsnet, TSN and "Hockey Night in Canada" extensively reported in March), the Carolina Hurricanes. Bets are on that Futa will soon hold sway over his own hockey universe.
After having earned a place on Sports Illustrated's Stealth List in 2011, Futa is an industry secret no more.
"He's put his time in to get to that point where he's mentioned in those circles," says Maguire, observing his former teammate at York with discernible pride. "He's really prepared himself for this – it's just a matter of time before he becomes a GM, in my opinion."
Still, Futa is in no rush to change teams.
He loves his Kings, and his new home on the Pacific coast overlooking Manhattan Beach. He loves the players he has nurtured, the colleagues he has befriended and the fact that on the occasions when Bobby Orr has reason to call him on the phone he gets all goosebumpy while forcing himself not to gush. Futa is and will always be a true hockey fan. He is planning his next move carefully.
"It's like being traded. You have to make sure it's the right place for you, for your family. It's all got to work.
"Because your ultimate goal," he says, "is to win."