Piece by Piece
by David Jager
photography by Chris Nicholls
To first witness the obsessively detailed sculptures of Ekow Nimako is to experience astonishment. You are plunged into a world of mythical figures and futuristic cityscapes almost too fantastical to be believed. Yet at the same time, they feel oddly familiar. Sorting out your impressions, you can detect elements of science fiction, a touch of the Marvel and DC universes, strong aspects of African culture and folklore, and some elements of wild, dreamlike reverie.
Then it hits you:
Wait, they're made out of LEGO?
Nimako, 43, is a self-styled Afrofuturist sculptor who works exclusively in the universally beloved building toy known as LEGO. Black LEGO, to be precise, which he uses to construct cities, masks, animals and figures from Afrocentric folklore and fantasy. Yet none of his sculptures have the blocky, pixelated aesthetic that one might recognize in the window of a toy store.
The married father of two grown daughters (one now works as his assistant) is walking me through his Toronto studio, a repurposed basement apartment where eight or more sculptures are under meticulous construction on scaffoldings of metal and wood. Floor-to-ceiling plastic drawers with thousands of LEGO components neatly line the walls. It looks wonderfully impressive, providing a view into another world of miniature bits and pieces to be patiently put together over long stretches of time. But that's not what matters to him. "To be honest," Nimako says, "the material is secondary to what I do."
Seeing these creations up close, it's easy to understand why he says so. Nimako – who studied visual art at the University from 2007 to 2010 – makes sculptures that transcend their material in much the same way past sculptors (Michelangelo or Rodin, for instance) created marvels that transcended wood, clay or marble. Nimako's figures are so imbued with physical presence as to be animalistic, vibrantly alive. Using the visual language of Afrofuturism – a cultural aesthetic combining history, mythology and fantasy to explore themes of the African diaspora – they overflow and crackle with energies expressed in undulating lines and curves.
His world-making projects envision new ways of understanding African and diasporic identities – carrying us on journeys through time, space and imagination
"I'm always struck by the level of detail, patience and creativity that go into Ekow's work, but this is just characteristic of who he is and the kind of artist he chooses to be," says Alyssa Fearon (BBA '09, MA/MBA '14), director and curator of Regina's Dunlop Art Gallery, which recently presented an exhibition of Nimako's sculptures. "His world-making projects envision new ways of understanding African and diasporic identities – carrying us on journeys through time, space and imagination."
These kinetic tensions are evident in Nimako's studio. They are in the writhing tentacles of an African water god under construction, and in the drawn bow and flank of a centaur archer. They are in the multi-limbed figure of Anansi the spider, one of the reigning tricksters of folklore from Nimako's native Ghana.
"That is part of the challenge," he says, pointing out different details on the boy-spider sculpture. "Looking at a standard piece and repurposing it entirely as a bicep or a cheek. This is part of the LEGO car kit that I really love to use, but you wouldn't recognize it until I pointed it out."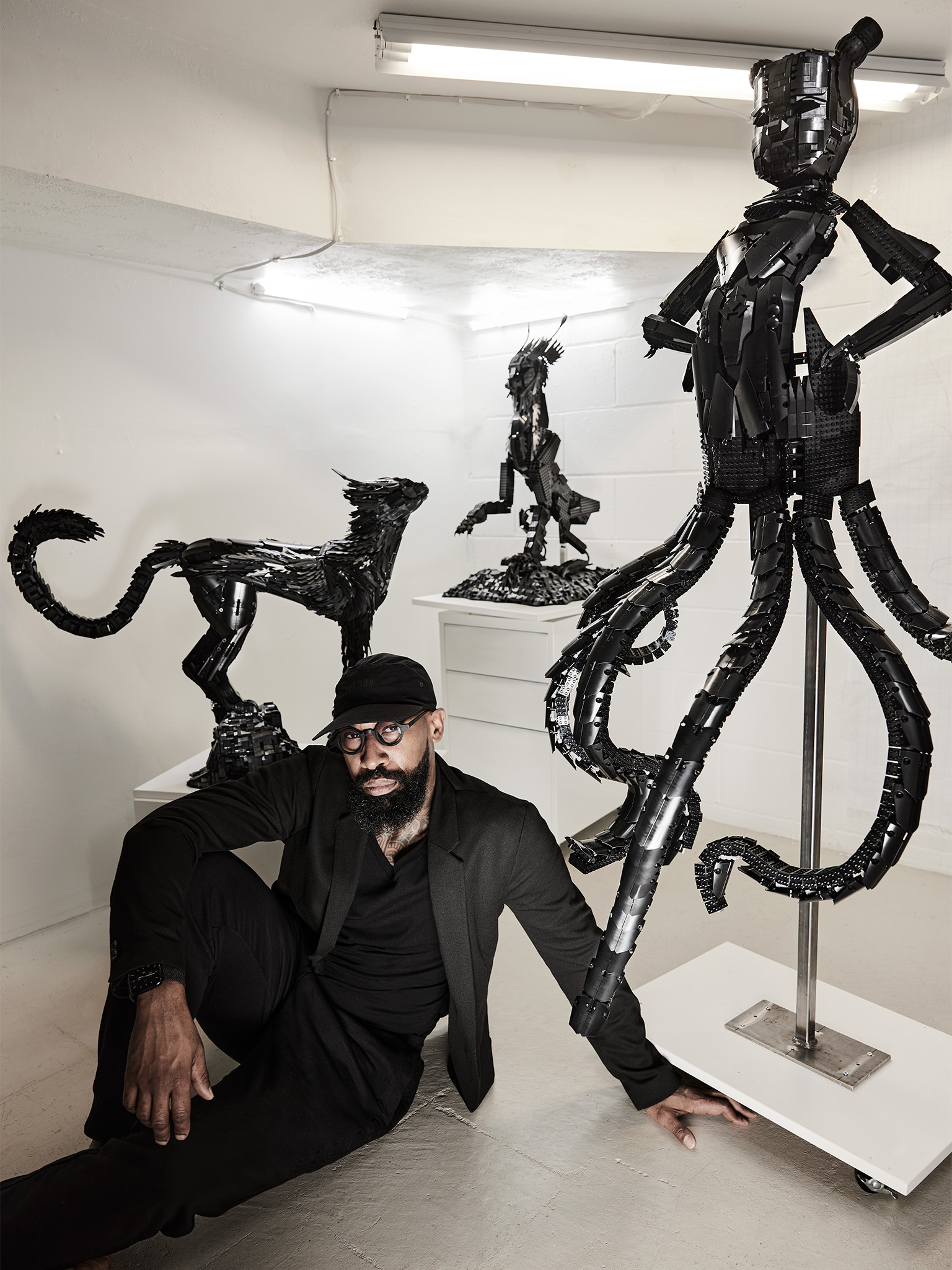 Jenn Goodwin, a Toronto curator, choreographer and arts producer who supervised Nimako's 2018 sculptural presentation at Scotiabank Nuit Blanche, sees his work as transformative on different levels.
"Ekow's work utilizes but then transforms and transcends the seemingly simple LEGO block to connect any and all ages to a deeply powerful message: the beauty, power and majesty of Blackness in form, structure, narratives and futures," Goodwin says.
To understand why Nimako would choose to struggle with a material not normally associated with contemporary art is to understand the history of African art and music in diaspora. Black artists and musicians in Canada and the U.S. have always "made do" with the materials at hand, especially when resources were scarce. Salvaged cigar boxes and baling wires were transformed into early blues guitars. Junked stereo components were reconfigured into the early sound systems of Caribbean dance hall. Dusty R&B record collections were deconstructed and woven into the first tracks of hip hop. In this way, Nimako belongs to a long and storied tradition of Black artists who build new, Afrocentric art forms out of whatever mainstream commercial materials are at hand. But in his case, his art is also inspired by his upbringing.
Born in 1979 in Montreal to Ghanaian parents, he grew up in Toronto's Scarborough district, where the other Black families were mostly of Caribbean descent. He always felt that his African heritage marked him as different and has spent much of his career exploring that identity.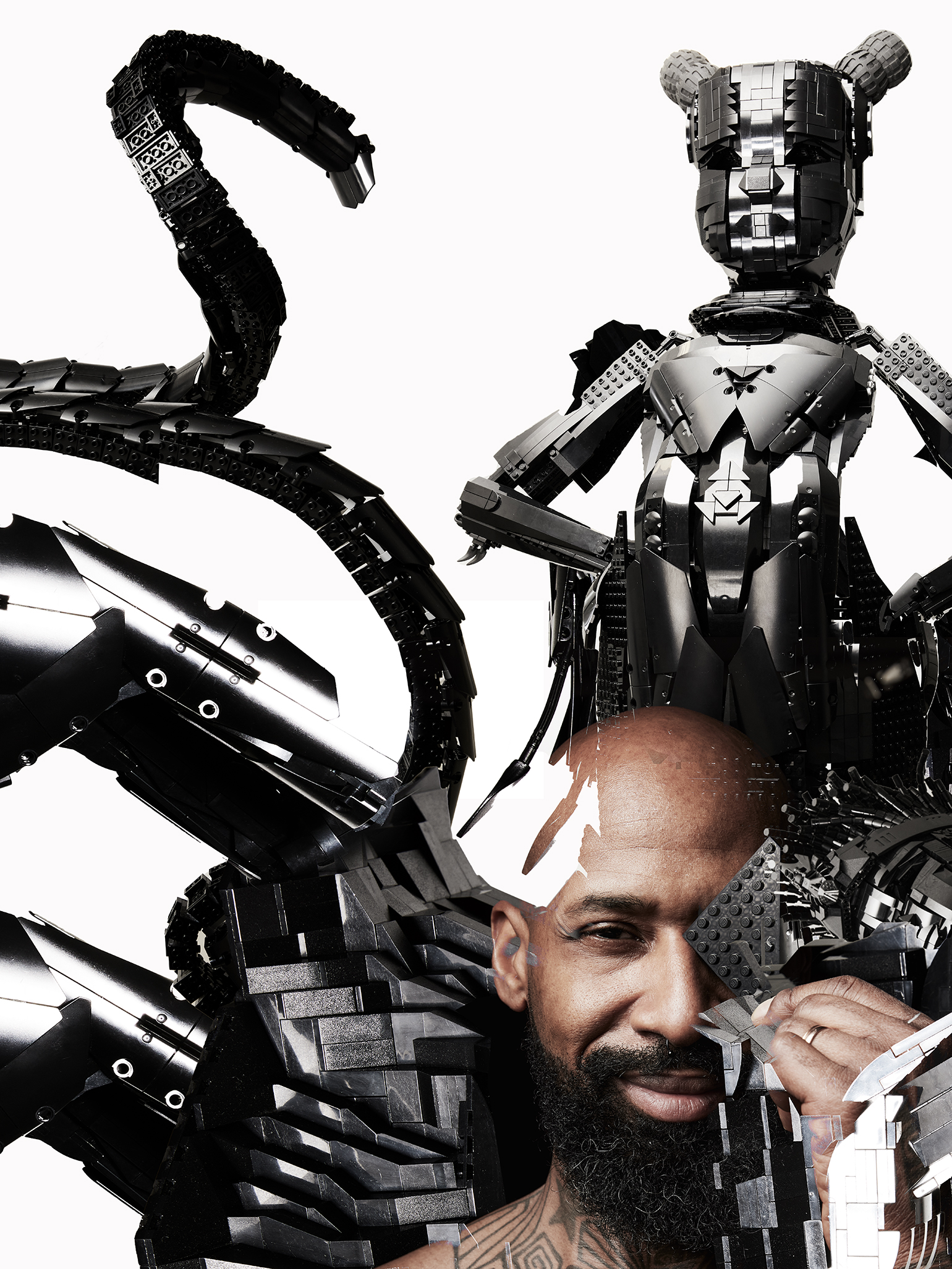 "I remember how my being seen as 'African' set me apart from the other Black Canadians I knew growing up," he says. "It was strange to see how they made these distinctions, and so I always felt myself to be a part of two separate cultures, an African and an Afro-Canadian one."
This feeling of bifurcation (and a series of questions about Black identity in general) led Nimako to Afrofuturism, a movement that he expresses an allegiance to but continues to question.
Some scholars trace the core concepts of Afrofuturism to eccentric 1960s jazz musician Sun Ra, who forged a vision of a new Black identity built on Afro-Egyptian cosmology. It was his belief that diaspora and racism had erased Black identity and a new one needed to be constructed from elements of history and fantasy. It was also the thinking driving Rammellzee, a pioneering 1980s artist and rapper who built futuristic warrior suits out of detritus from the streets of New York City. Nimako most definitely belongs to this eclectic tradition.
I decided to call my suppositional process of cultural recovery 'speculative reclamation.' This is one way powerful Black identities get built – not just from written histories but from traditions of oral and visual storytelling
This is why his art continues to tread a fine line between African history, folklore and unabashed fantasy. "That was my thinking when I made my figure the Bandit Queen of Walatah," Nimako explains, showing me the figure of a striking caped woman holding a bow, with a horned mask on her head.
"She's not a confirmed historical figure but one I imagined," he says, adding that she first came to him as an idea. "One day, I thought, 'It would be really amazing if there had been this strong African warrior queen who attacked and liberated slave caravans on the Silk Road in the Middle Ages. And, considering the complex history of colonialism, what if she was the original inspiration for the English folk hero Robin Hood?' I decided to call my suppositional process of cultural recovery 'speculative reclamation.' This is one way powerful Black identities get built – not just from written histories but from traditions of oral and visual storytelling."
Nimako also cites the work of sci-fi author Nnedi Okorafor as an inspiration. Like Nimako, she is caught between two worlds. In her own work, she blends her strongly rooted Nigerian identity with a vision of a futuristic Africa awash in speculative possibilities.
We're building, which is why I portray these ancient African deities as children. They are still growing and evolving into something new. But we are honouring the legacy of the ancestors as well
"Okorafor's term is 'Africanfuturism,' which in her own words is 'concerned with visions of the future,' " he says, quoting verbatim from the author's website. "It is centred on and predominantly written by people of African descent (Black people)," he continues, "and it is rooted first and foremost in Africa. It's less concerned with 'what could have been' and more concerned with 'what is and can and will be.' " For Nimako, it's the guiding principle behind his art.
"It's why I refer to this new series as 'Building Black,' " he explains. "We're building, which is why I portray these ancient African deities as children. They are still growing and evolving into something new. But we are honouring the legacy of the ancestors as well."
Nimako's unique blend of fantastical creations, combined with his commitment to his African roots, has already attracted attention across the GTA and abroad. Toronto's Aga Khan Museum, with its mandate to represent local artists rooted in Islamic and African culture, staged Nimako's show Building Black: Civilizations, a handsome retrospective that featured figures such as the Bandit Queen of Walatah, along with his depictions of cities, desert caravans and fantastical creatures – work that museum curator Michael Chagnon describes as "fusing technical and aesthetic finesse with conceptual depth."
More exhibitions are on the horizon. Nimako now appears to be at the edge of a wildly successful international career. He's already exhibited in the U.K., the U.S., the U.A.E., Germany and Korea. Future projects include a touring show (the details of which are still to be announced) that is expected to travel the world when it launches in Europe in 2024. Closer to home is a new public art commission from the City of Toronto, a series of four stand-alone artworks that together will be entitled Children of the Rouge Valley. A continuation of Nimako's Building Black MYTHOS series of sculptures, they will be erected on site at the yet-to-be-built North East Scarborough Community and Childcare Centre, located close by the Malvern neighbourhood where Nimako grew up. Both the building and the artworks are expected to be completed in the fall of 2024. "I'm really excited about this project," Nimako says. "For me, it will be like a homecoming."
One that will be rendered in a particular colour
"This is what I love about the aesthetic of black as a material," Nimako says, while standing next to one of his ebony-like LEGO sculptures. "It contains something very fundamental that goes to the source. It is everything and nothing at the same time. Ultimately, though, my main emphasis is not to highlight the medium – it's to portray life, to express form and life." ■
With additional reporting from Deirdre Kelly