Renewed Optimism
by Samantha Edwards
photography by Mike Ford
After a year-long search, the Toronto District School Board has a new leader: Colleen Russell-Rawlins (BA/BEd '91, MEd '00), the first-ever Black female director of education in the history of the TDSB.
Russell-Rawlins is charged with steering the school board as it works to improve diversity and transparency across hundreds of schools. It's a daunting challenge, but one that Russell-Rawlins is uniquely qualified to handle. She knows the TDSB inside and out.
Growing up in Scarborough, she first attended George P. Mackie Junior Public and graduated from Albert Campbell Collegiate. As part of her concurrent bachelor of education at York University, she completed placements in TDSB schools in North York, Scarborough and Etobicoke. Most of her teaching career was spent in North York elementary schools, not too far from York University.
For nearly three decades, Russell-Rawlins worked her way through the TDSB, first as an elementary school teacher, then as vice-principal and principal, eventually making her way to superintendent and associate director of education. Then, in August 2021, she became the director of education, becoming the first Black woman to hold the position.
"We were proud and excited to welcome Colleen back to the Toronto District School Board in August," says TDSB Chair Alexander Brown. "She has brought a renewed sense of optimism to education and to our system as a whole, especially as we continue to navigate the pandemic. Every day, we see Colleen's commitment to student learning, achievement and success in action."
I would hope that we're on the path where you don't have to know how to "fit in to school," but rather school fits into the child's personality and builds on each student's interests and academic potential
Russell-Rawlins is now at the helm of one of North America's largest school boards – 247,000 students and 38,200 staff members across more than 600 schools – an undertaking comparable to running a mid-sized Canadian city. The director's job entails working with staff and the board of trustees to ensure that the TDSB's programs and policies are effectively implemented.
But Russell-Rawlins has also been tasked with two pressing challenges. The first is overseeing the TDSB through the pandemic as it navigates virtual learning, school closures and reopenings, vaccine mandates and ever-evolving public health measures. The second is the longer-term goal of increasing diversity, inclusion and transparency across the board.
"When I entered teaching, I never thought about roles outside the classroom," says Russell-Rawlins. "In my first year, my mentor said to me, 'You know, you could be the director of education one day,' and I said, 'I'm not even sure what that person does.' I think people have always seen something in me that I didn't necessarily pay attention to myself."
Now, as director, her mission is to ensure that every student's potential is seen, too.
AS A BLACK STUDENT in a new suburb in the north end of Scarborough, Russell-Rawlins was aware that she stood out among her classmates.
"In most of my schools, I was one of a few racialized students, so I experienced the sort of isolation and exclusion that comes with having an identity that isn't shared by the majority of the students," says Russell-Rawlins.
While painful, those experiences were an important part of her education. "In order to create sustainable, responsive and equitable system change, you need to learn what it feels like to experience some of those things, and maybe in not a positive way," says Cynthia Grundmann, senior policy advisor and manager at the TDSB's Early Years program. "Without that experience, I really don't think [she] could be as effective in [her] leadership role."
During those difficult years, Russell-Rawlins was supported by her single mother – who instilled in her a strong work ethic – and buoyed by a large extended family dedicated to ensuring she excelled in school.
"My mother was, shall I say, an active participant in my education. She had expectations for how well I would do on tests and worked with me to develop my skills. I was very fortunate in that way, although I didn't always feel fortunate at the time," she laughs.
Russell-Rawlins realizes she was lucky to have a mother so deeply invested in her education, but is also keenly aware of the universality of wanting your child to succeed.
"I don't believe there's any parent [or] caregiver out there who doesn't want their child to do well in school. The discrepancy often is how students are accepted in school and their familiarity with what school requires of them," says Russell-Rawlins. "I would hope that we're on the path where you don't have to know how to 'fit in to school,' but rather school fits into the child's personality and builds on each student's interests and academic potential."
In addition to her family, Russell-Rawlins also had teachers who encouraged her to pursue her interests, whether it was playing volleyball, indulging a love of books or helping out in the library and kindergarten classrooms.
In high school, she thrived in English, chemistry and biology, and wanted a career in child psychology and speech language pathology. In a co-op class, she had a placement in an elementary school, which opened her eyes to the different roles and positions within education.
But the idea of actually going into teaching didn't occur to her until she was sitting in a York University lecture hall. A friend was applying for the Concurrent Education program and suggested that Russell-Rawlins tag along; back then, applicants had to write the entrance essay in person in one of the lecture theatres. "The [application] question still stays with me: 'When within your schooling experience have you had the opportunity to work with others to achieve a positive outcome and learn tremendously in the process?' That really centred me on why I wanted to make a difference for kids – and here I am."
We have a tremendous amount of work to do to ensure that the sifting and sorting of students based on perceptions of their ability – based on bias and discrimination – gets interrupted and stopped
Even though she was a commuter, Russell-Rawlins formed deep connections with her classmates and course directors, which she credits to the small size and professional nature of the program. At York, she learned the importance of effective pedagogy and an educator's obligation to their students, and was taught to love research and constantly improve her practice.
During her teaching placements, Russell-Rawlins saw first-hand the range of TDSB schools. She taught at a school in a recently build suburb of Scarborough, at a North York school that had a higher population of racialized students and served families facing financial insecurity, and at a mostly white school located in a wealthy Etobicoke neighbourhood.
"I was able to see the different ways in which educators engaged with parents," says Russell-Rawlins. "That's why I feel confident saying I've never met a person who doesn't care deeply about their child's education. As educators, we need to be able to provide different resources and supports to students."
THROUGHOUT HER TEACHING CAREER in TDSB's elementary schools, Russell-Rawlins was passionate about early literacy and mathematics, the foundations that give students the ability to explore a variety of career options. As her career progressed, the early development of literacy and numeracy remained a core mandate.
Her talent for impacting students' lives hasn't gone unnoticed. "She has a natural ability to connect with students," says Brown, TDSB's Chair, "and it is clear that their voices resonate with her as she helps move the system forward and make changes that support all students."
For one, Russell-Rawlins has been a long-time advocate for destreaming, and was a part of the TDSB's destreaming plan, which started in 2014.
Streaming, in which high school students are forced to choose between two different academic tracks, has disproportionately affected Black and low-income students. Research has shown that students from low-income families and Indigenous students are more likely to be enrolled in the applied streams and less likely to earn a high school diploma than their peers.
"We know that streaming starts early. Office referrals for behaviour and low levels of literacy all predict what students will choose and how successful they will be in high school," says Russell-Rawlins.
In November 2021, the Ontario government announced that it would be ending streaming for all grade 9 courses in the 2022 school year.
"While this structural change that the government has put in place is important, we have a tremendous amount of work to do to ensure that the sifting and sorting of students based on perceptions of their ability – based on bias and discrimination – gets interrupted and stopped," Russell-Rawlins says.
In February 2021, the TDSB released the Human Rights Annual Report 2018–2020, a first-of-its-kind evaluation within the school board and the province. "The data clearly indicates that the Board continues to have a serious racism problem," the report states.
"We have more evidence than ever that students who self-identify as Black, Indigenous and Indigenous Spirituality-practising, and gender non-conforming are much less inclined to feel that school rules are applied to them fairly," the report continues. Students with disabilities, Black students, Latin American students and LGBTQI+ students also reported feeling less like they belonged in school.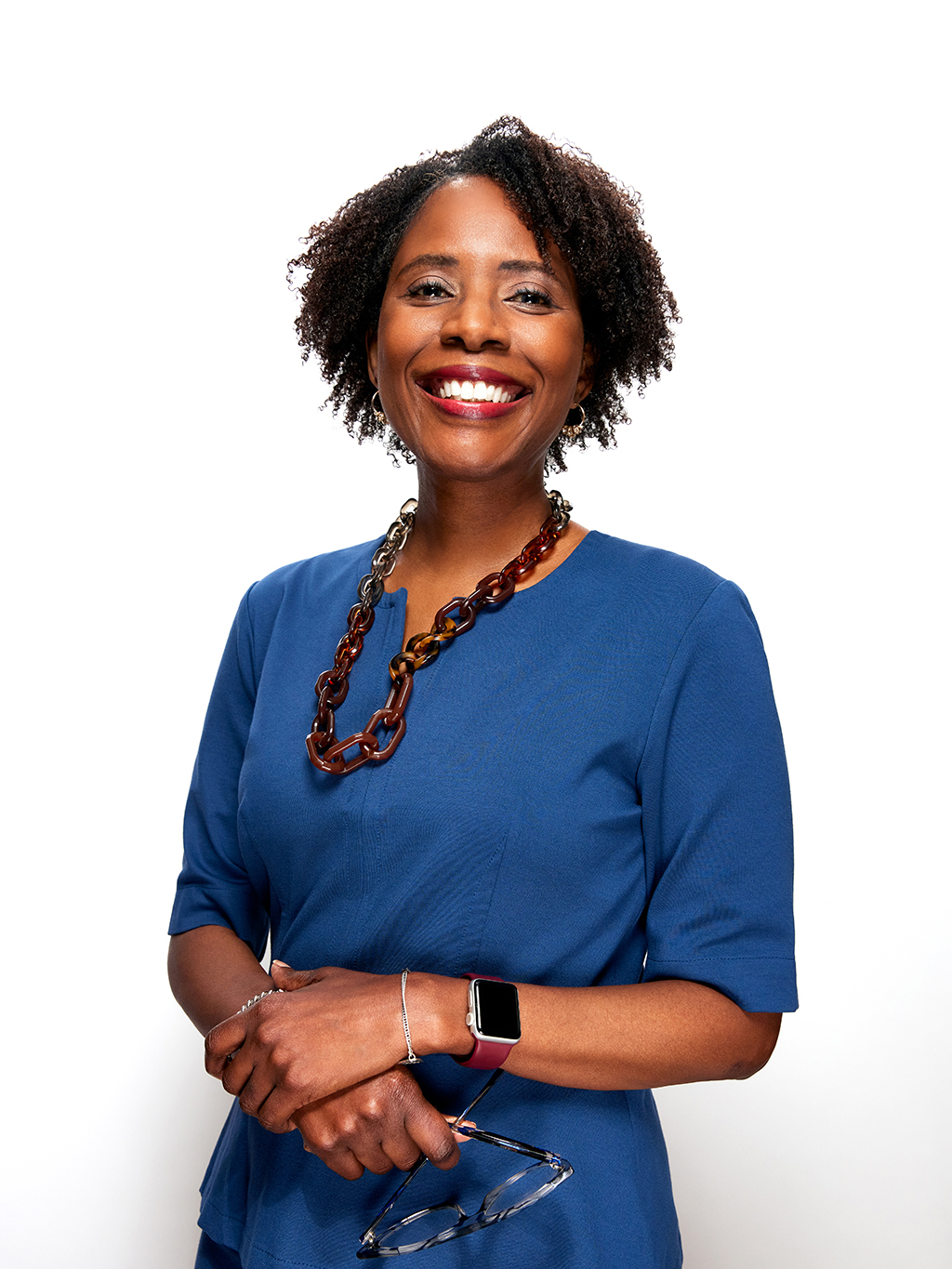 According to Annie Kidder, executive director of People for Education and a long-time education policy expert, Russell-Rawlins is just the person to oversee some much-needed change. "I think that hiring Colleen Russell-Rawlins is a perfect next step for the Toronto District School Board. Her passion for equity, her determination to address systemic racism in education, and her deep knowledge and intellect are exactly what the TDSB needs right now. And it's not just good for Toronto. Systems across the country are learning from the TDSB's great research and commitment to change," Kidder says.
Russell-Rawlins points to the TDSB's Urban Indigenous Education Centre, which infuses Indigenous perspectives into the curriculum as a way to close the opportunity gap that Indigenous students often face. "I want us to think about how we create the conditions in classrooms where students can talk about who they are and connect it to what they're learning," she explains. "[The Centre] is producing resources for use in classrooms so that we're actually teaching the truth about Canadian history and Indigenous peoples in Canada."
The school board is also helping teachers create environments where students can "talk about their family's lived experience and connect it to their learning in meaningful ways."
Still, the report found that staff members who identify as disabled, Black, Latin American or Muslim are less inclined to feel that "all backgrounds are treated fairly in our workplace."
That's an issue Russell-Rawlins says the school board is also attempting to address. "We have to do work in ensuring that there's employment equity, and that we are able to attract candidates who hold different identities to jobs that they are interested in and well-qualified for," she says. But for these kinds of changes to happen, transparency is a priority across the board.
"In order to create environments that welcome all students, we have to do a better job of understanding where we are right now," says Russell-Rawlins. "Parents are desperately asking for that. Like, let's be truthful about what's happening in schools. Where do we see discrimination? Whether that's in the over-suspension of Black boys or what gets said among students at recess or in the hallways."
DEEPER UNDERSTANDING of the student experience is only the first step toward permanent transformation – but it's an important one.
"Colleen is a changemaker because she centres students and community," says Karen Murray, TDSB's centrally assigned principal for Equity, Anti-Racism and Anti-Oppression. "And by centring them, she honours those voices in the decision-making process. The work is grounded in her belief in equity, in her understanding that student voices are critical – not just to hear them but to really encourage and build and create a foundation for them. Because the change is coming from those we serve."
The TDSB is currently in the process of developing a self-assessment guide that would be completed by students, staff and families to form a baseline. Russell-Rawlins says the questions could include "Do the resources used in school and in classrooms represent the diversity of the city?" and "Do they tell multiple narratives about student experiences?"
"Until you actually name and identify where you are in the process," she says, "your efforts won't be focused and tangible and have an impact on students."
The TDSB is about to launch its Student Equity Collective, which will bring students from grades 7 to 12 together to help the school board understand the current equity issues facing students and how it can create a better learning environment. The school board is also focused on its pandemic recovery plan, which includes supporting students' and staff's mental health.
Russell-Rawlins has only been director for seven months, but she's laying the foundation to effect lasting change in the TDSB.
"It's an honour that I'm grateful for each and every day … and I'm proud to challenge the limited definition of leadership," says Russell-Rawlins. "I think because I attended TDSB schools and love the city of Toronto, my goal is to improve education with our staff, our students and our families – and I feel that not just professionally, but personally too."  ■
With additional reporting from Deirdre Kelly