Running While Empty
by Deirdre Kelly
photography by Mike Ford
On March 16, York University cancelled all face-to-face instruction, closing its classroom doors to protect students, staff and faculty from the encroaching COVID-19 pandemic. Normally bustling buildings on the Keele campus suddenly stood empty. Walkways, green spaces, libraries and lecture halls likewise loomed vacant, devoid of the people who only days earlier had been crowding in with no fear of commingling.
The buses continued to roll in and out of Pioneer Village station, but they carried less than half their normal capacity. Only a handful of international students, unable to travel back to their home countries, remained in residence. Otherwise, silence. The sound of the University on pause.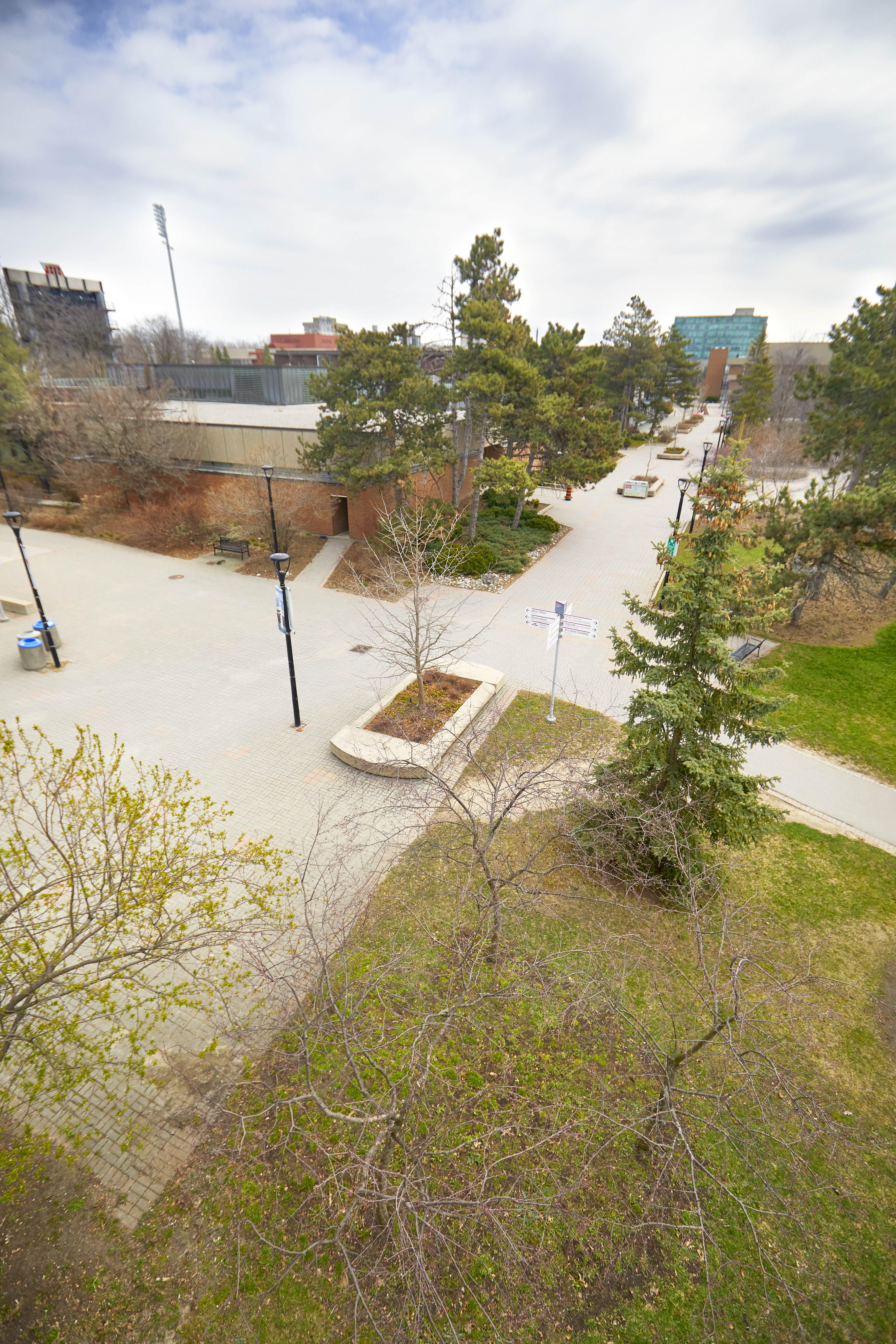 But behind the scenes, the frenetic pace of academic inquiry continued against all odds. Hunkered at home like the rest of us, the University's leadership team worked around the clock to steer York toward a remote working and learning strategy. And they succeeded. Off-campus life now flourishes thanks to a number of bold new initiatives aimed at keeping the University proactive and success-oriented during a time of crisis. These are unpredictable, unrivalled, unanticipated times. But the University is rising to the challenge, drawing on a myriad of resources to stay the course.
Currently, students have enrolled for online summer courses in large numbers, and professors continue teaching with University-assisted technology that enables them to record and share their lectures "on the cloud."
To address the needs of the York community at large, online health and wellness services have proliferated. There are online hubs and links to government ministries and agencies. There's even an online psychology clinic accessible to all who might need it. More about how the University is creating positive change at a critical time can be found at #YUBetterTogether.
The halls may be silent. But the call for kindness, compassion and creative thinking has never been louder. We are in this together, and together we shall prevail. One vision. One singular strength.  ■