Career-Ready Curriculum
by Christine Ward
photography by Mike Ford
A year ago, Paarth Madan had one thing on his mind, and it was all-consuming.
"Our entire class was caught up in final grades and what university we were going to," he remembers. "I was pulling all-nighters and exhausted. It was extremely taxing on my mental state and the way I was living."
Somehow, though, he had determined that this is what it would take to succeed in life – and it's what he assumed success would look like for him in the future.
He was wrong. And he couldn't be happier about it.
Madan is part of the first cohort of 10 York University computer science students participating in a unique new program called Dev Degree. A partnership between York's Lassonde School of Engineering and Canadian e-commerce company Shopify, the four-year Dev Degree combines 4,000 hours of York computer science education with 4,500 hours of paid work experience at Shopify's downtown Toronto offices. Shopify also pays the students' tuition for the full program.
The initiative is part of Lassonde's Industry Partnership Stream, which blends program learning outcomes and experiential education. Students admitted to the stream complete both practicum credits and the course requirements leading to an honours bachelor of science degree in computer science.
"Shopify is one of Canada's great success stories of innovative entrepreneurship combined with outstanding and visionary leadership, and we are honoured to be their first university partner in the GTA," said York University President and Vice-Chancellor Rhonda L. Lenton at the partnership announcement last September.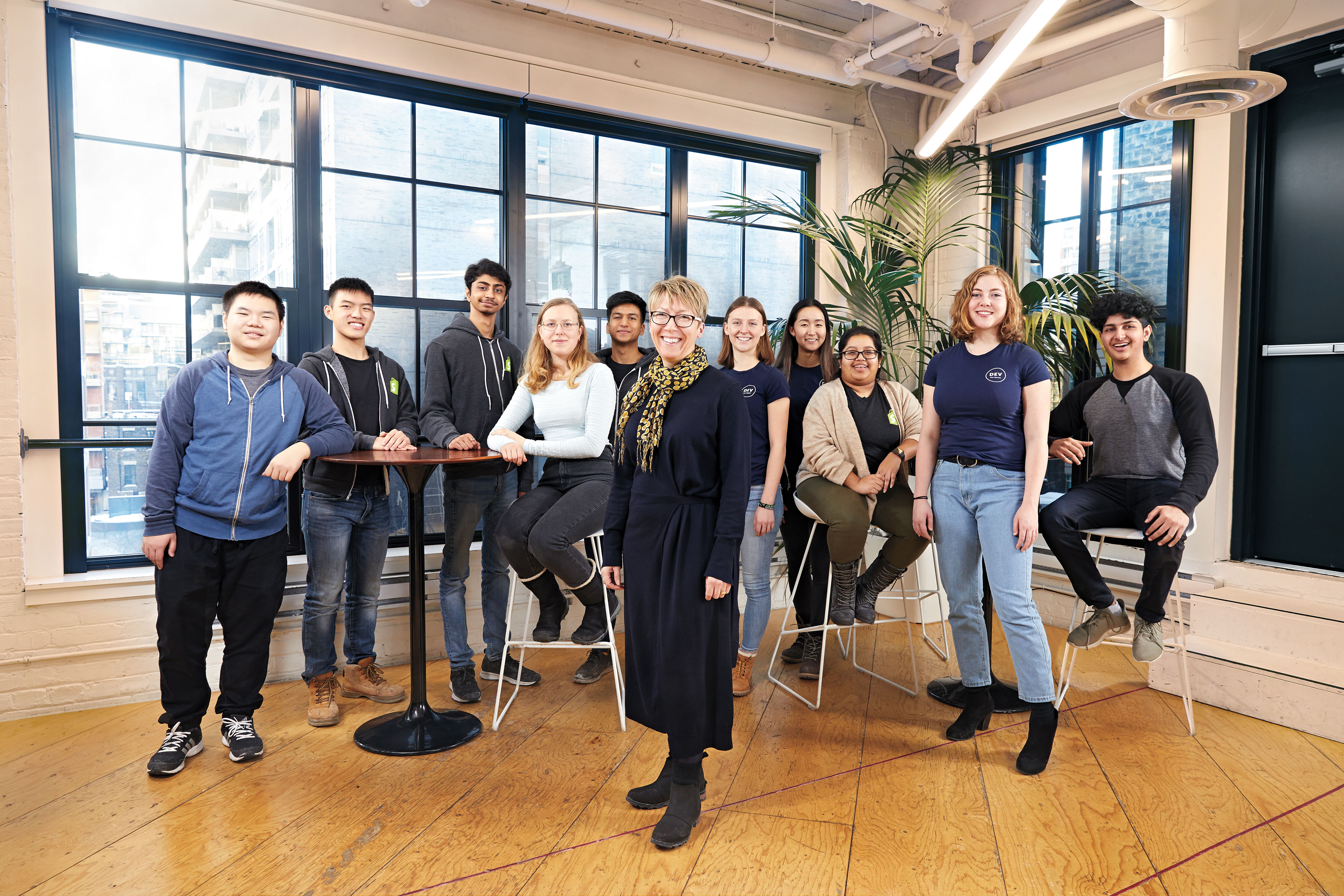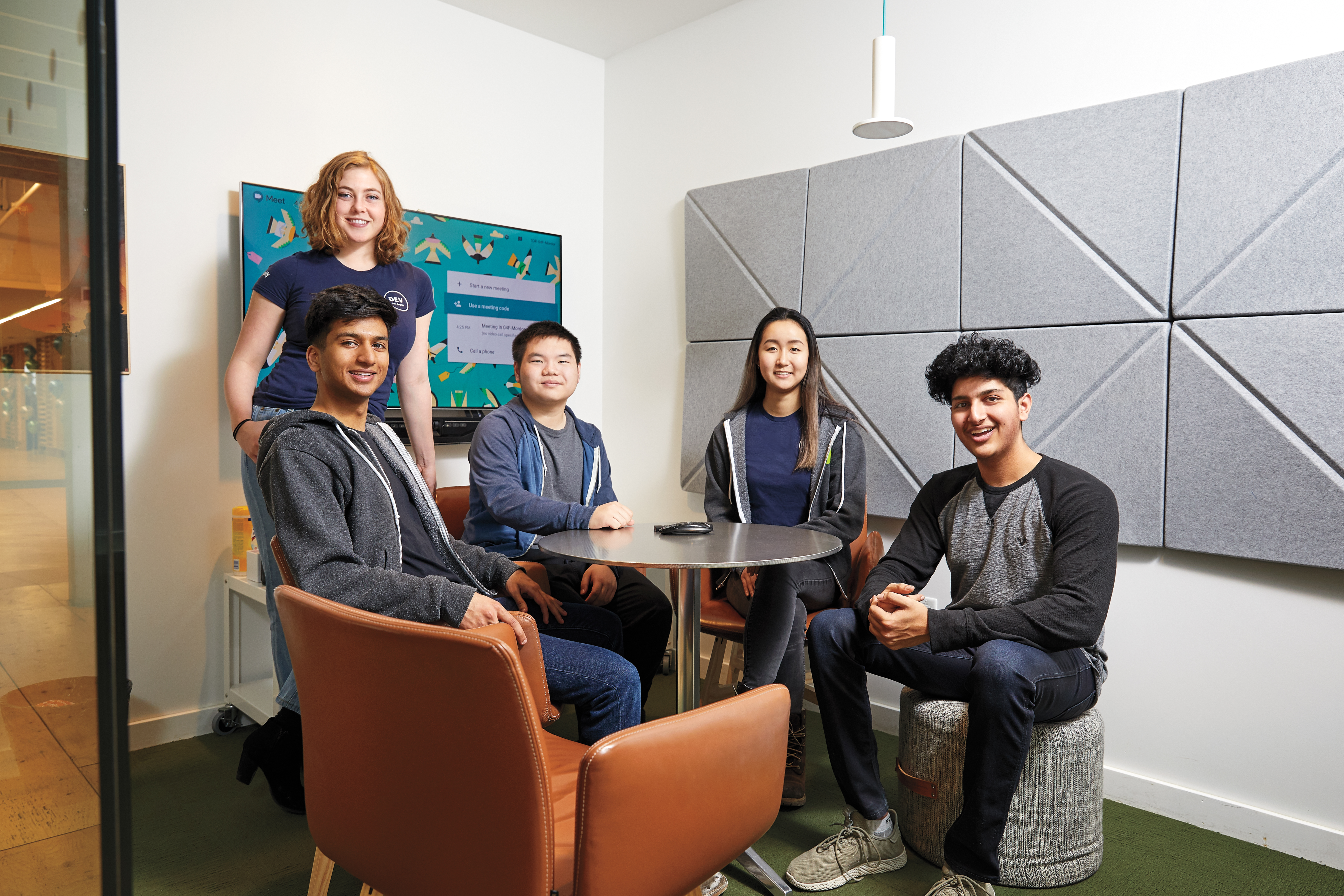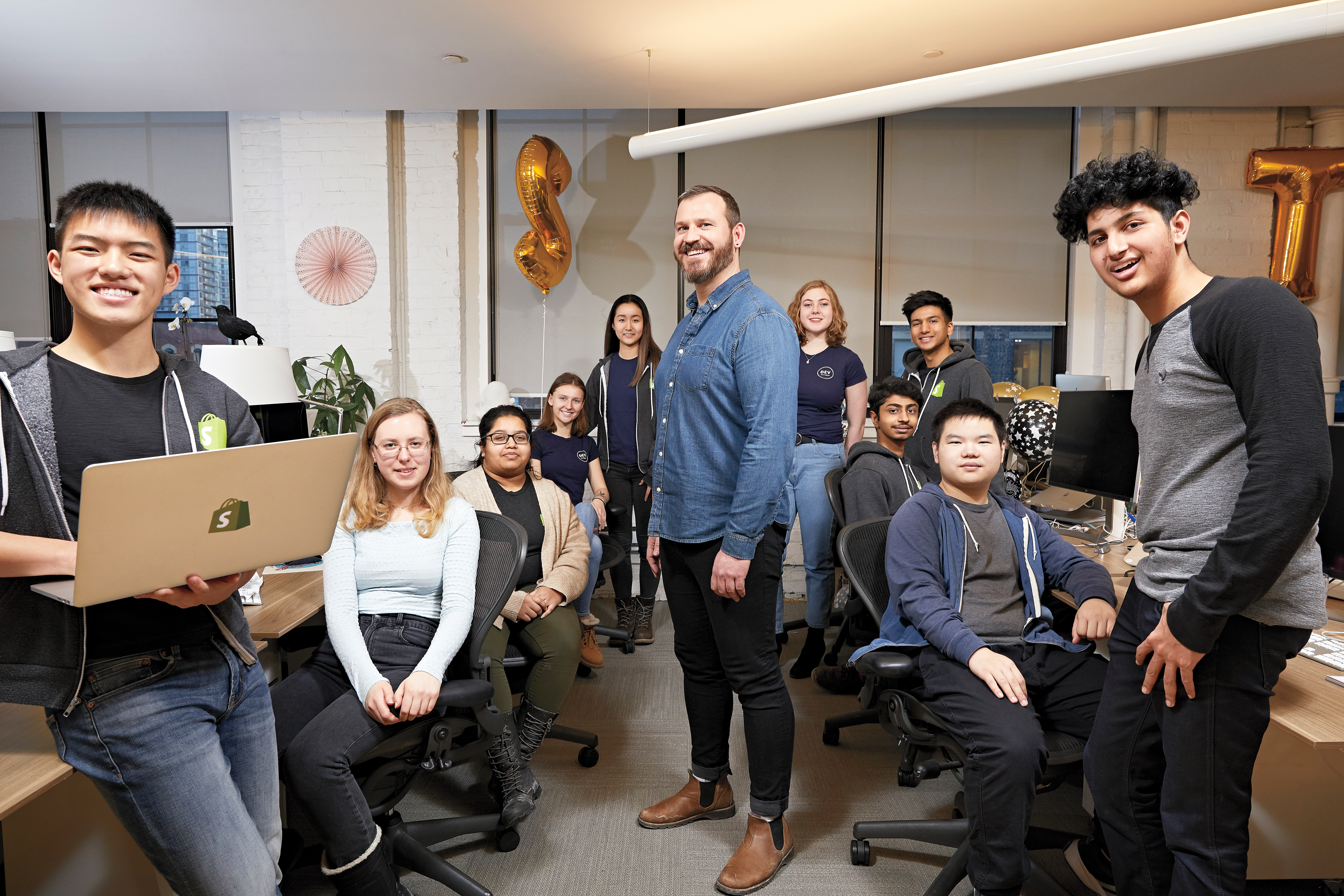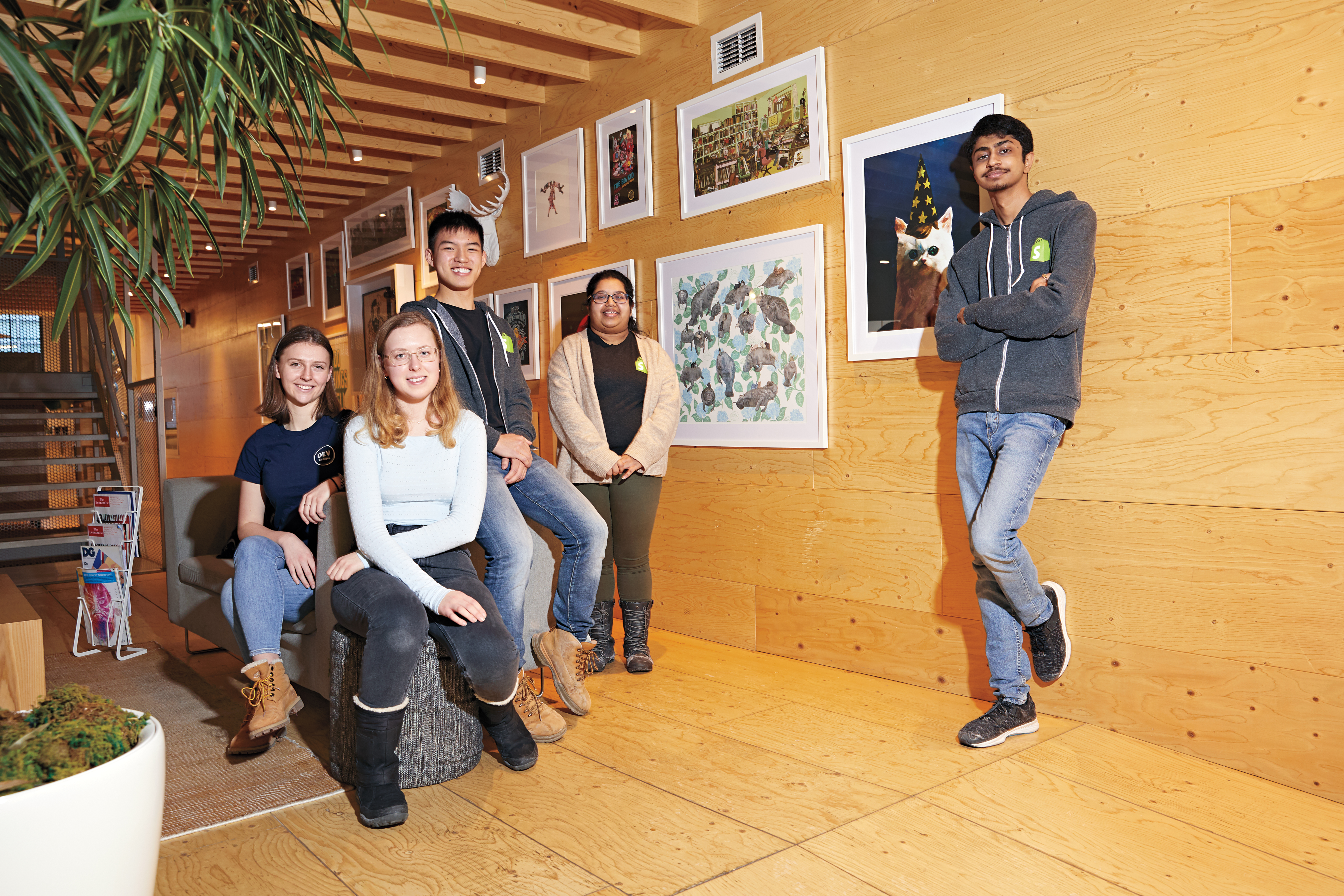 The company launched Dev Degree in 2016 with Ottawa's Carleton University to help bridge the gap between traditional post-secondary computer science programs and industry needs.
"It's no surprise that K-12 software education is lacking and, as a result, students have a crash course in computer science when they start university," explains Jean-Michel Lemieux, senior vice-president of engineering at Shopify. "Instead of a crash course, we wanted a work-integrated learning program that takes first-year university students and puts them on the fast track, not the crash track, to being impactful developers."
An accredited degree plus technical skills
Midway through his first year in the program, Madan agrees the learning curve is a steep one.
Thanks to Lassonde's professors and a team of technical instructors at Shopify, he's experiencing first-hand how the theory he learns in his on-campus lessons applies to real-life software development projects. A morning lecture in Boolean algebra, for example, came to life that same afternoon when Madan's technical instructor explained the logic behind Shopify's coding framework. Madan describes it as "a two-way connection": "The things I learn at Shopify help me progress at school, and the things I learn in class provide context for my work."
That's music to the ears of Jane Goodyer, dean of York's Lassonde School of Engineering. "The driving force behind Lassonde's vision is an understanding that future students, alumni and working professionals are looking for accessible, flexible education tailored to their emerging needs and experiences. In Shopify, we've found an industry partner that wholeheartedly shares our vision."
A commitment to personal growth
The benefits of Dev Degree aren't just technical skills either. Each student is paired with a Life@Shopify mentor to help support their well-being and further their skills in communication, teamwork, and time and project management. Much like the company's 3,000 employees, Dev Degree students are encouraged to reflect on their strengths and how they might continue to grow in the future.
Personal mentors support that journey and because the relationship isn't tied to work performance or evaluations, students can share whatever they want, no strings attached.
For Madan, that's as much about debating last night's hockey game as it is about exploring his personal and career challenges and goals. No matter the subject, "having the ability to be real is empowering unto itself," he says. 
Making a contribution three times faster
Eight to 12 months after starting the program, Madan and his Dev Degree peers will be placed on the first of four Shopify development teams, where they will begin to have a tangible impact on the company's products and bottom line.
"We're seeing students acquire development skills three times faster than in traditional education, which means they're able to become productive team members two years earlier than traditional graduates," Lemieux says, citing the example of the Carleton program, now in its third year.
The goal, he adds, is for every student to become a full contributor before they graduate. While there's no obligation, some will even be offered the opportunity to return to Shopify as full-time employees. 
Big impacts come from taking big risks
If you had told him a year ago that this is what his first year of post-secondary study would look like, Madan wouldn't have believed it. In fact, he admits his application to Dev Degree was a bit of a flyer. He had already been accepted to Lassonde's Computer Science program, but the York-Shopify partnership had yet to be confirmed, and Dev Degree was only slated to accept 10 students in the first year. 
"Fortunately, I like taking risks," he laughs.
He and his fellow candidates were asked to complete a technical thinking application and a video interview with Shopify's Talent Acquisition team, followed by a second round of in-person technical interviews with two of the company's software developers. While there was no expectation of prior programming experience, the students were assessed on a variety of factors, including their aptitude for computational thinking. Gender and ethnicity were never on the table; in fact, the initial applicant screening was blind, meaning Shopify didn't see the personal details of any of the candidates – a fact that makes Lemieux especially proud.
"Women account for more than 50 per cent of all Shopify Dev Degree students – significantly more than the 19 per cent graduating with a traditional computer science degree," he says. "Through Dev Degree, we're seeing a future in computer science that is more inclusive, accessible and impactful." 
Exceeding every expectation
When his admission offer came last spring, Madan knew he had a big decision to make. Six months in, he wouldn't change a single thing.
"This entire experience has exceeded my expectations. Before, if I didn't get 100 on a math test, that would have been a bummer day. Now I'm in a completely different mindset. I no longer feel like I'm in a rigid system with a rigid set of expectations. I can make my own choices in order to learn and grow as much as I can," he says.
"It's not just about becoming a better developer, but a better person."  ■