Switching Gears
by Elio Iannacci (BA '99)
photography by SOFIE KIRK
Reading Sarah Slean's CV is like scanning the script of a rock 'n' roll biopic. There's her dues-paid residencies at Berlin dive bars and small Toronto coffee shops, frenetic and hermetic nights of heartbreak and songwriting in Paris followed by big-break collaborations with world-class conductors, then a surfeit of stages and studios shared with a list of legends that includes Bryan Ferry, Rufus Wainwright, Alanis Morissette and Feist, and – most recently – a return to York, where it all began.
Speaking via Zoom, moments after one of four music classes she's taking to complete her master's degree in composition at York University, Slean is hard-pressed to explain the cinematic arcs of her spectacular career thus far. "The whole thing feels as surreal as some of my most experimental songs," she says in a hushed tone, careful not to wake Abigail, her napping one-year-old daughter. Those songs she speaks of? They often blend opera, pop, classical and musical theatre into their verses with abandon. "I've never been someone who's not had a lot going on – in music and in life."
Slean's life of curveballs and mirror balls began when she signed a multinational record deal with Warner Music in Canada and Atlantic Records in the U.S. in 1998, two years after she first came to York as a scholarship student in Professor Christina Petrowska's master piano class. When the Pickering, Ont., native's career began to take off, she left the University to continue her studies closer to the downtown clubs she was then playing. It was at that tender age that Slean went on to co-produce and record her first major-label album, leaning on a long-time friend, Canadian rock singer–songwriter Hawksley Workman, to co-produce the project (the two briefly reunited last year for a joint EP called These Two).
Universities like York are places where you can get a broader understanding of humanity and the way the world actually works – you can take a step back from the entertainment industry's unreality
Slean's knack for directing string orchestras and her classically trained piano prowess help her amp up the emotions that pervade all her self-written songs. Inspired by O.G. influencers of the stage and literature – luminaries that range from Judy Garland to Leo Tolstoy – Slean's approach to songwriting sets her apart from much of the Lilith Fair canon coming out of Can-pop. Although her instrument of choice is a baby grand Steinway (not a Gibson guitar) and her groupies consist of poetry- and symphony-lovers (not headbangers), the singer–songwriter's career is packed with the kind of larger-than-life moments Hollywood and rock folk live for.
"I've seen so much of the cult of personality in the music industry through the years that it was starting to horrify and disgust me," she says. "It can be repellent if you don't pause from it. Universities [like York] are places where you can get a broader understanding of humanity and the way the world actually works – you can take a step back from the entertainment industry's unreality."
That said, her brushes with fame have not stopped since Slean began her more-than-25-year career in the arts: she's won a pile of awards, including a Canadian Screen Award for her soundtrack work, and appeared on the silver screen in films ranging from indie gems like 2005's Black Widow to blockbusters like Crimson Peak.
Looking at her track record is quite the task, even for Slean, as it spans an 85-plus song output over the course of 11 albums. Her time back in the classroom, however, has urged Slean to look at these many years of performing, making and recording music through a host of different lenses.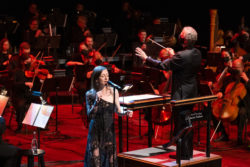 "Artists need books, experience, training and knowledge to keep shedding their skins," she says. "It is so they can take off the masks they wear and get closer to what is real … to what Buddhists call the original face, that non-dual centre where the ego doesn't rule us."
Refracted through celluloid-worthy moments that mirror all the best rock flicks out there – Almost Famous moments (burning out after a five-album streak, getting a divorce and breaking down after over-touring) and hilarious Spinal Tap encounters (a listen to her song "Everybody's on TV" offers many clues) – Slean's personal and professional complexities can be found by the careful seeker. This goes for lyrics that range from such major radio-friendly tunes as "Sweet Ones" (off her 2002 debut, Night Bugs) and "Lucky Me" (off 2004's Day One) to obscure fan-favoured anthems like "Looking for Someone" (off 2008's The Baroness) and "Holy Ground" (off 2017's Metaphysics), all of which deal with her own spiritual conflicts and epiphanies.
Slean says she's in a newfound place of realization – a phase that mirrors moments in the movie Rocketman, wherein fellow piano-playing pop icon Elton John begins to relearn his craft after releasing a plethora of hits and experiencing the Faustian deal that fame may bring.
"I'm trying to figure out a way to contribute and to give what has been of value to people in the past," Slean says. "I'm trying to think of a way to create without pairing it with a persona or personality that I'm supposed to sell."
A section of Slean's "One True Love," a song found on 2011's Land and Sea double album, encapsulates the singer–songwriter's current epiphanous state. Slean says this particular track can be viewed as a premonition, and that it explains why Slean returned to school after arranging for the likes the National Art Centre Orchestra and Symphony Nova Scotia, getting nominated for four Juno awards and performing at the world's most treasured and historic music venues and opera houses. "The lines 'Magic wand of empathy said I am you and you are me / But somewhere on our way we have forgotten who we are and we drifted so far' mean so much to me right now," she says.
"Basically, ['One True Love'] is about my never-ending truth-seeking quest," she says. "I believe education is cultivating your mind enough to try and place yourself in a different reality, in a different perspective," she explains, pointing to he challenges of reaching those ambitions while working within the music industry. "Finding that truth is very difficult to do when you're immersed in a culture that responds to packaging human beings. Also: we are all born in a certain class, in a certain place, so we often can't see beyond that until there's contrast," she says. Due to her love of metaphysics and literature, Slean likens education to a Narnian portal that allows a student to move from one room to an entirely new dimension by way of a book, a theorist, a philosopher or, in Slean's case, a fellow colleague or composer in class.
Interacting with scholars at York has helped me switch gears and rethink some of the ways in which music can be made. York has me re-evaluating my process and has challenged some of my assumptions
"Interacting with scholars at York has helped me switch gears and rethink some of the ways in which music can be made. All the assumptions about how to start a song or end it have been challenged when I'm listening to other students doing a self-study on work that I've made. York has me re-evaluating my process and has challenged some of my assumptions."
Slean says the results of her evolution at York will be the contemporary music she is required to create as part of her degree requirements, a piece that she says will make its way onto her next album, slated for post-graduation.
Although her studies and family life have been all-consuming, Slean is not dropping the mike anytime soon. She has been hard at work bringing to life a theatrical love letter to Joni Mitchell's music. The project – which sees Slean singing and discussing Mitchell's work – has been touring Canada, giving her the opportunity to collaborate with the Regina Symphony Orchestra and the Calgary Philharmonic.
It is Slean's megawatt vocals, powerful vibrato and piano expertise that have allowed her to interpret Mitchell's work in ways that go well beyond the plethora of YouTube and TikTok covers of "River" and "A Case of You."
"When I first heard Joni's Blue album, I was 16," Slean says. "It was like she was sitting in the room with me. She had the same thoughts and the same relationship questions I had … the same longing and confusion and disappointment and wandering."
Although it took more than 25 years, Slean's admiration turned into obligation. "I felt like I have to highlight the hills and valleys of her life, through song, because she was a woman in the dawn of the 1960s and 1970s," she says. "The choices she made were so radical; she had a child, and she chose to give it up in favour of her art. Imagine all of the intensity that came with that – the grief, the guilt, the judgment. She refused to be an accessory and made the music she wanted to make, even when nobody was getting it. That deserves to be recognized."
Slean's next stop with the tour will be October 28 and 29 with the Vancouver Symphony Orchestra, before she brings the tribute to Kamloops in March. The plan is to tour the show with every major orchestra in Canada so Slean can communicate her appreciation and, in turn, continue to learn about her own artistry through Mitchell's music.
"Singing her is like going back to school in some way," Slean says, noting that the performance is more of an exercise in deconstruction than fangirling. "Joni was not programmed by pop radio or the music she'd heard – she was open enough to have her ear go 'Yeah, I like that!' when things were unusual. I truly think her life and the way she leads it is an important lesson we can all keep learning from."  ■