Blowing in the Wind
by Deirdre Kelly
photography by Mike Ford
Made of polished stainless steel and powered by the elements, Four Squares in a Square is gravity, equilibrium and momentum as work of art. Located on the Ross Building podium at York University, it connects with the wind, dancing on the air with a minimum of technological intervention, dipping and somersaulting among the clouds. The enormous engineered structure relies on compound pendulums – objects with weights above and below the pivot point – that move in parallel paths to give it momentum.
The late American artist George Rickey completed this precisely calibrated piece in 1970, a year before York acquired it for the vast outdoor art collection at the Keele campus. In retrospect, it was a prescient, even culturally significant acquisition. Four Squares in a Square has since become the prototype for other square-shaped kinetic sculptures located in art museums and galleries around the world – the Galerie Haas in Zurich, for instance, and Berlin's Neue Nationalgalerie. Other Rickey sculptures animate outdoor sites (including parks and university campuses) in Britain, Germany, Japan and the artist's native U.S. His works are gaining currency.
In September, a major public exhibition of Rickey's kinetic sculptures was installed along the central median of New York City's Park Avenue between 52nd and 56th Streets, where it will remain on view until May 2022. This coincided with the opening of an exhibition of his works at the Kasmin Sculpture Garden in Chelsea, which continues until the end of November. Three large-scale Rickey sculptures installed on the gallery's rooftop, including his iconic Two Red Lines, are visible from the nearby High Line park.
His work helps to meditate on the kinds of freedom we in the art world are looking for, especially at a time when freedom of movement has become restricted
This past September also saw the launch of George Rickey: A Life in Balance, an in-depth biography that further underscores the enduring legacy of the artist, who died in 2002 at the age of 95.
"George Rickey was not only one of the leaders in the field of kinetic sculpture," says Emelie Chhangur, former senior curator at the Art Gallery of York University, "but his work anticipates the turn to choreography and dance in the visual arts that is so prevalent today. His work helps to meditate on the kinds of freedom we in the art world are looking for, especially at a time when freedom of movement has become restricted."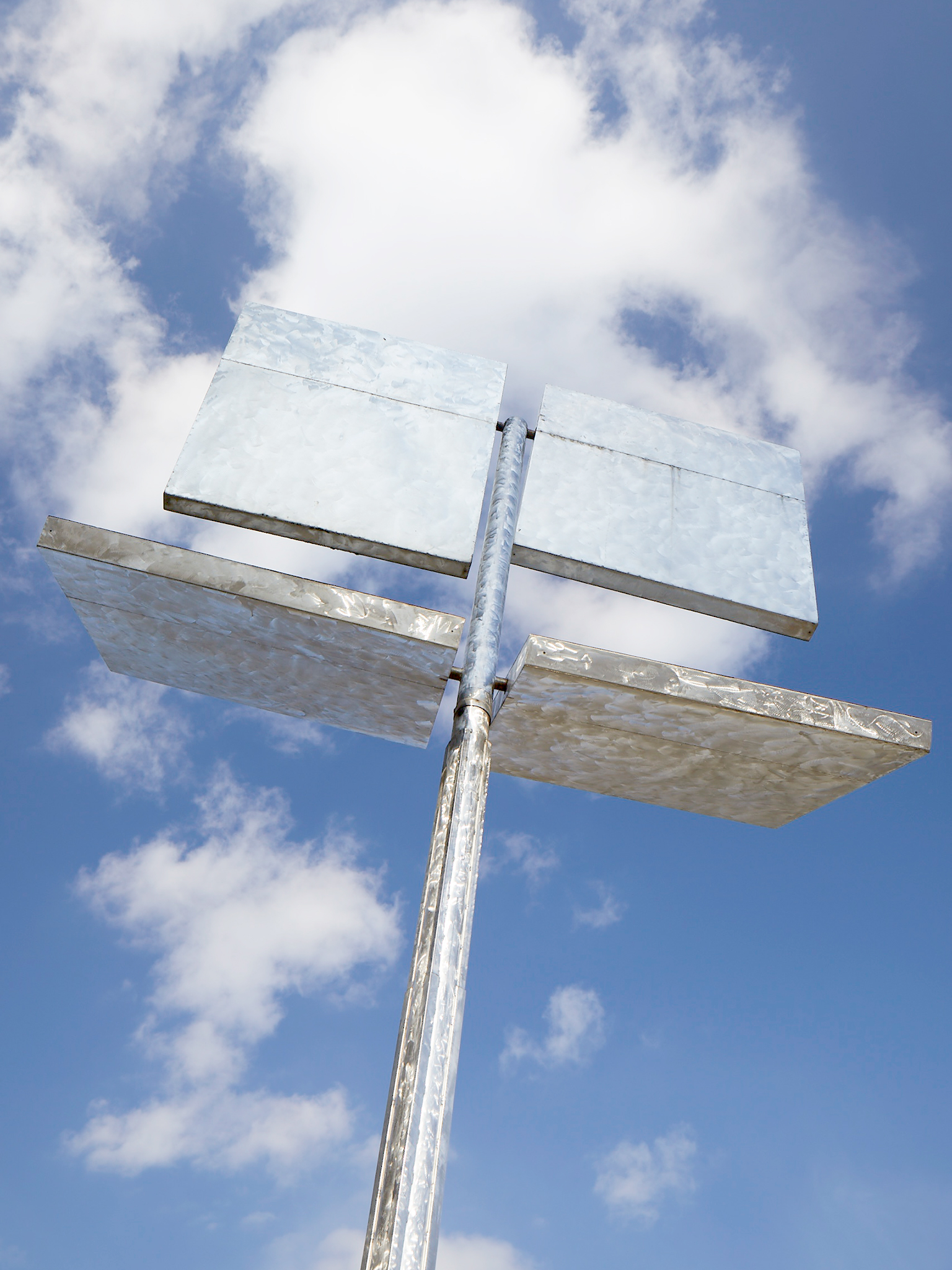 Born in South Bend, Ind., in 1907, Rickey moved at a young age to Scotland, where his engineer father had been relocated (working for the Singer Manufacturing Company, as it was then called). Later in life, he fondly recalled a boyhood spent sailing down the River Clyde after learning how to harness the wind with the sails of his father's yacht – a formative experience, as it turned out. His later work, inspired by the wind-propelled buoyancy and counterweight of ships, would similarly bob and weave with the rolling currents of nature.
Though naturally mechanically minded, when it came to decide on a career for himself, Rickey initially looked to become an academic. Enrolling at Balliol College in Oxford in 1926, he planned to take a degree in modern history. A side interest in art led him to the Ruskin School of Art, where he discovered for himself that he was more artist than scholar. He switched to painting after moving to Paris, where he studied cubism – first at the Académie André Lhote, and subsequently at the Académie Moderne under modernists Fernand Léger and Amédée Ozenfant.
Returning to the U.S. in 1937, Rickey worked briefly as an art critic for Newsweek and teacher of history at the prestigious Groton School in Massachusetts before making the ultimate shift into sculpture. The impetus came from unexpected source: the U.S. Army Air Corps, where Rickey had been drafted shortly after the start of the Second World War.
"It was an event that dramatically altered the course of my life," Rickey later told curator Carla Hanzal, vice president of the Charlotte-Mecklenburg Public Art Program in Charlotte, N.C., and an authority on the artist's work.
Assigned to maintain the computing instruments of gun-control turrets in B-29 bombers, Rickey discovered his latent technical prowess – along with what Hanzal, in an interview with The York University Magazine, described as his innate understanding of "the effects of wind and gravity in ballistics, skills that he would rely upon as he switched from painting to kinetic sculpture."
I wanted their movement to be slow, unhampered, deliberate, but at the same time unpredictable
Once he left the military, Rickey continued his art training – first at the Institute of Fine Arts at New York University, and then, beginning in 1948, at the Institute of Design in Chicago, where he absorbed the Bauhaus ideas of Hungarian painter and photographer László Moholy-Nagy. While in Chicago, Rickey and his wife, Edith Leighton, became acquainted with the Russian artist and constructivist Naum Gabo, whose work strongly influenced Rickey's. After becoming an associate professor at Indiana University Bloomington, Rickey introduced constructivist theories to the light metal sculptures he was then experimenting with, employing a compound pendulum to control and lengthen the precisely balanced arrangement of linear shapes. Soon after, kinetic sculpture would fully engage him.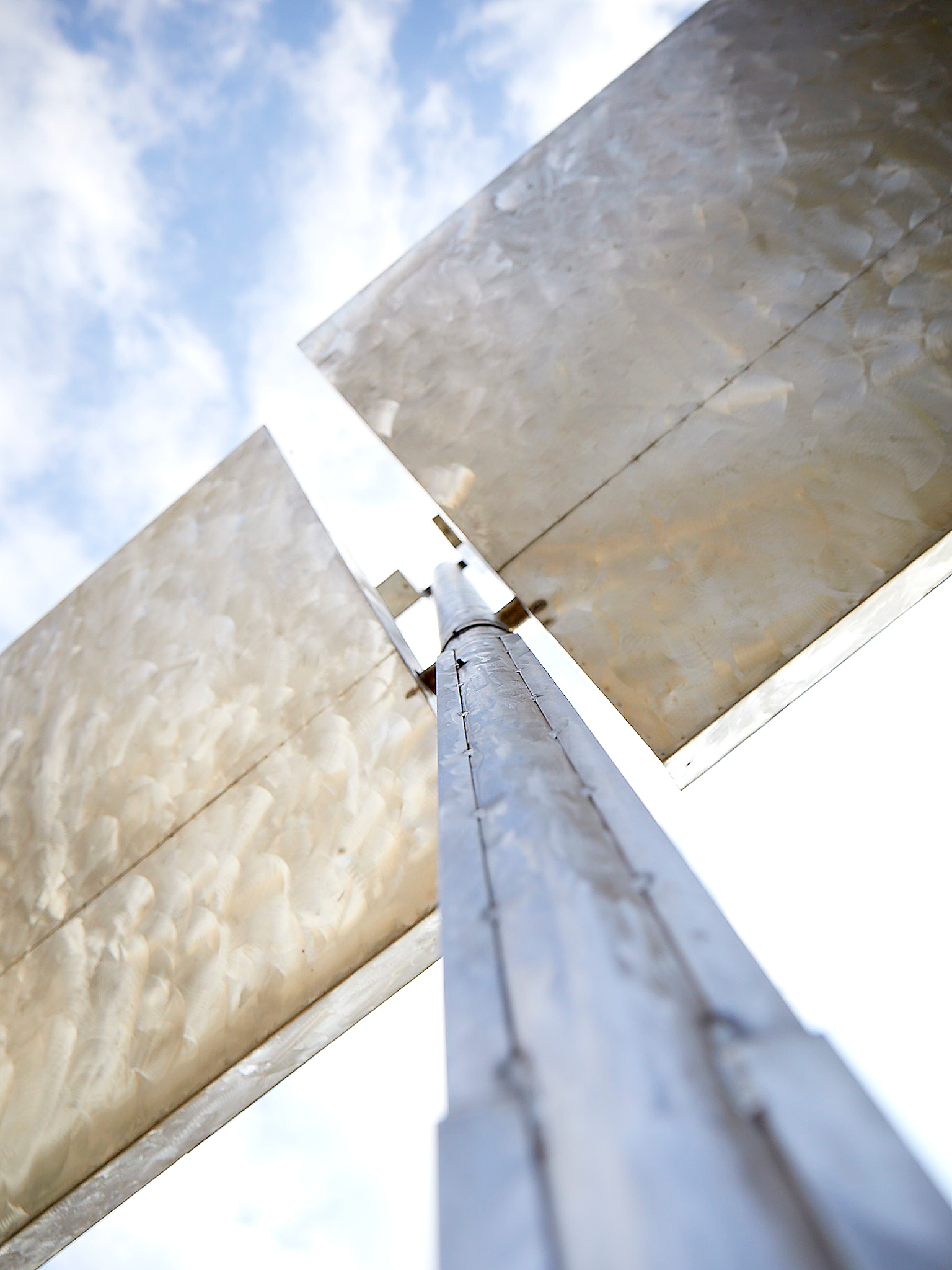 "The object was for the pieces to perform as they could, and I wanted their movement to be slow, unhampered, deliberate, but at the same time unpredictable," Rickey later explained. "As for shape, I wanted only the most ordinary shapes – simple, hackneyed, geometrical. I wanted whatever eloquence there was to come out of the performance of the piece – never out of the shape itself."
Rickey's first pieces, produced in the early 1950s, owed a debt to Alexander Calder (another American artist featured in York's art collection), who similarly combined art and technology in sculptural pieces that move. When Rickey later wrote academic papers on the new art of kinetic sculpture, he studded them with references to his other art influences, including the French conceptualist Marcel Duchamp, and Frank Malina, the American aeronautical engineer who made light-based, motion-themed paintings. By the middle of the decade, he had found his own abstract kinetic vocabulary, using it to fashion pieces with vertical columns, outstretched metal arms and burnished steel pivots that moved with the grace and gravitas of a modern dancer.
For the kinetic artist, nature is omnipresent and is always nudging his elbow
Toward the end of the 1960s, the period in which Four Squares in a Square was first conceived, Rickey had evolved his work from linear forms to planes. Highlighting the motion inherent in the visually streamlined work, critics called his output at this time "drawings in space." Some of his geometric formations lay open, allowing for glimpses of the landscapes into which they were integrated. Others, like those seen on the multi-component Rickey sculpture at York, were closed, reflecting the ambient light. While erecting massive things made of metal, Rickey's aim was to make them seem like delicate and whimsical outgrowths of the natural environment. "For the kinetic artist," he said in 1963, "nature is omnipresent and is always nudging his elbow. For him, it is source book, example, competitor, analogy, tyrant, seducer, and also inexorable adversary."
That relationship with nature informs York's Four Squares in a Square, where engineering techniques combine with the forces of nature to strike a delicate balance. No two patterns of movement are ever alike, making it a thing of continuous wonder. Says Chhangur, "We might look to Four Squares in a Square when thinking today about the way bodies in galleries move through the choreography of contemporary exhibition design. Or we may view the siting of this work on York's campus to consider whether the movement of bodies on a campus is conditioned or unpredictable. His work helps us meditate on the kinds of freedom university campuses can and do afford us."  ■