View
Medieval Compositions
by deirdre Kelly
What was once thought to be the handiwork of the Victorian era has recently been revealed to have originated in the Middle Ages, a stunning discovery carried out by a York University historian studying stained-glass windows at England's Canterbury Cathedral.
Rachel Koopmans' groundbreaking research finds that the dazzling artifact depicting an assortment of people on a religious pilgrimage to Canterbury dates to the 1180s, approximately 200 years before Geoffrey Chaucer immortalized the popular holy expedition in his Canterbury Tales.
"It's one of the most thrilling experiences of my career," says Koopmans, an associate professor in the Department of History and Fellow of the Royal Society of Canada who trained as a religious literary historian in her native U.S. She joined York in 2006, where she presently teaches undergraduate courses on Christianity and medieval and early modern history.
Koopmans first went to Canterbury 25 years ago while researching her dissertation on miracle stories, which she completed at the University of Notre Dame in 2001. For the thesis, she had travelled to England to study the cathedral's stained-glass windows, which glaziers of the Middle Ages had turned into a popular showcase of religious narratives to be displayed in churches for the delight and edification of a mostly illiterate population.
"They were the comic books of their day," Koopmans says. "They were designed as colourful bands to be read and admired by visiting pilgrims."
Canterbury's stained-glass windows had been installed after the death of Thomas Becket, the English archbishop murdered by King Henry II's henchman inside the cathedral in 1170. A bejewelled shrine to Becket, erected in the middle of a stunningly beautiful chapel built in his honour, was originally encircled by a dozen windows telling the story of Becket's life and miracles. Only eight remain.
Koopmans zeroed in on one called nV in reference to its position as the fifth window on the Cathedral's north side. She had become interested in it after noticing discrepancies in published descriptions of the window while preparing her PhD research for publication. She knew all the miracle stories and so was quick to recognize errors in descriptions of the windows published in 1981.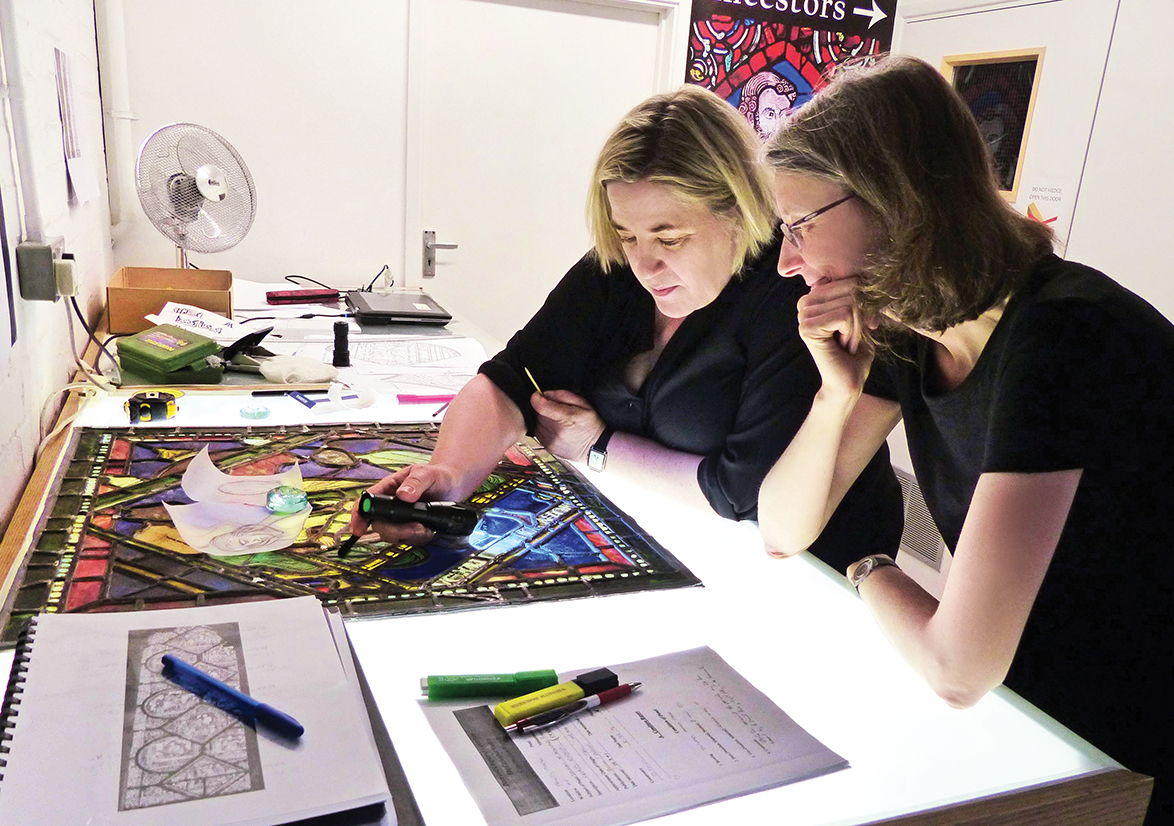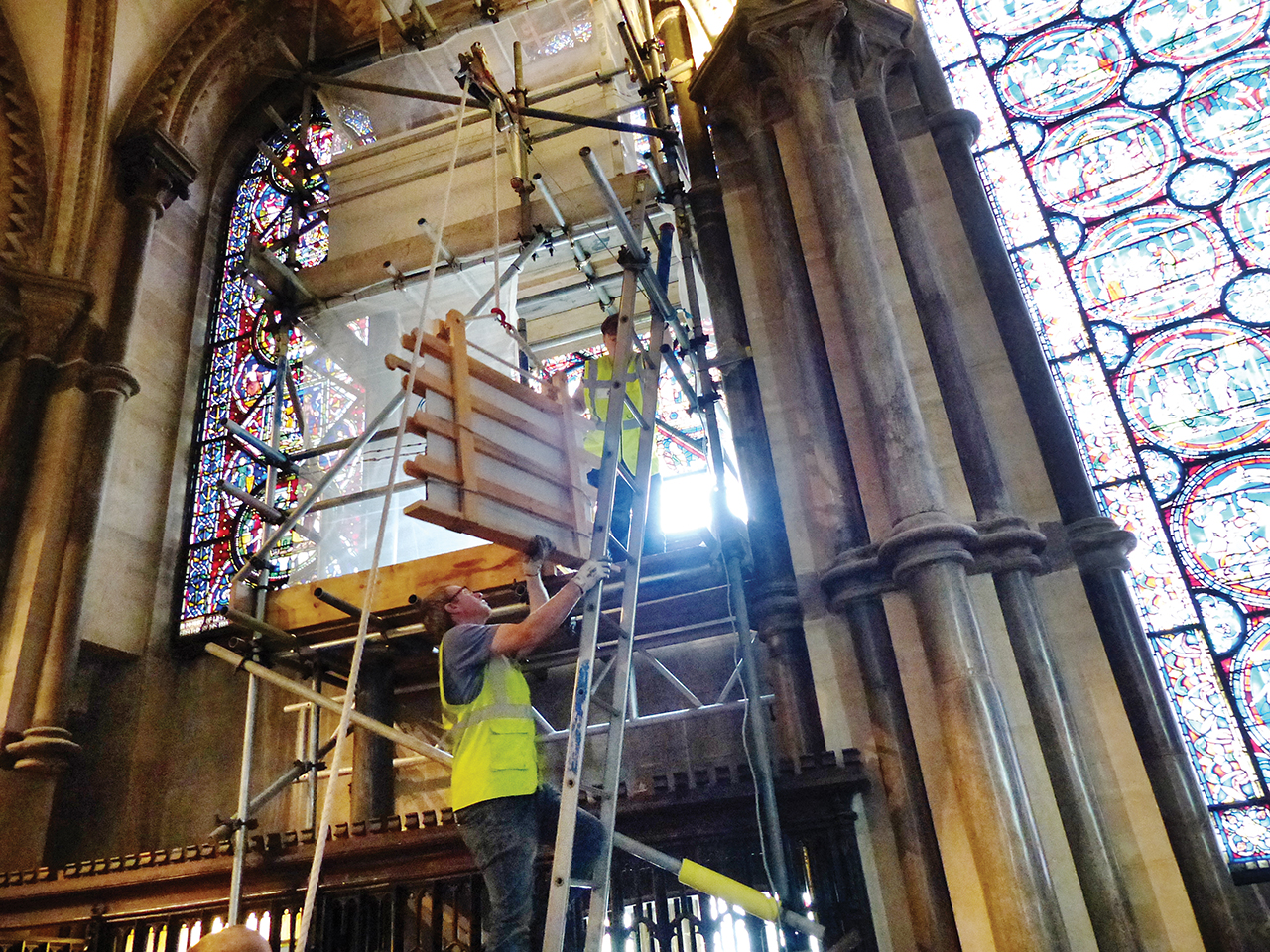 "Then I discovered that some glass written off as Victorian could date to the medieval period," says Koopmans, who based her findings on documents she read in the cathedral archives and an examination of an 1861 photograph of the window in question.
Koopmans presented her findings to Leonie Seliger, director of Canterbury's stained-glass studio, who in 2018 eventually obtained the necessary permissions and funding to remove the window from its armature for a more detailed study.
Aided by microscopes, digital photography technologies and age-verification techniques employing different kinds of light, Koopmans and Seliger spent months scrutinizing thousands of pieces of glass contained in the fragile artifact throughout the summer of 2018. What they discovered surprised even them.
"The glass in question is 800 years older than anyone thought, going all the way back to the 12th century," says Koopmans. "The unique panel picturing travelling pilgrims allows us to see how the earliest pilgrims to Canterbury interacted and what they would have looked like, right down to the pilgrims' wonderfully decorated boots."
The plan is to continue sleuthing through other windows from Canterbury, a project dependent on securing about £1 million in funding from the private sector. That might not be difficult now that the British Museum has announced it will exhibit one of the stained-glass windows Koopmans wants to examine next.
Composed of rondels cut through with diamonds, the nIII window depicts an armature design that in the Middle Ages was replicated in souvenirs that thousands of pilgrims then took home with them as proof that they had made the religious journey.
"It's one of the most beautiful of all the windows," enthuses Koopmans, whose research has earned her a highly competitive award from the British Academy and the attention of the BBC. "It has 22 figures compared to the 10 we just looked at, meaning there's nearly double the amount of content. I can't think of anything more rewarding."  ■