Kicking into High Gear
by Shireen Ahmed
photography by Mike Ford
Any good soccer player knows that knowledge and action go hand in hand. Any great coach knows that the greatest skills to manifest on the pitch are fostered off of it. When excellent playing and solid coaching combine to help a community in crisis, it is difficult to imagine that sport was the catalyst. But in the case of 24-year-old former York Lions soccer star Farkhunda Muhtaj (BSc '19, BEd '21), it is a reality that was brought forth on the world stage faster than a penalty shootout in overtime.
"Far" – as she is often called by her coaches, teammates and friends – is a graduate of York's reputed kinesiology program and Faculty of Education. While she remains a part of York's women's soccer program as an assistant coach under head coach Carmine Isacco, Muhtaj's work as a global citizen and refugee activist came to light after the Taliban takeover of Afghanistan in August 2021. As a player and leader on Afghanistan's women's national soccer team, the attacking midfielder knew first-hand about the effects of this type of regime change.
During the 20 years after the Taliban lost power in December 2001, women's sports in Afghanistan were growing and flourishing. This meant national team camps in soccer and cricket and a burgeoning culture of women's sport within the country. There were programs for mountain climbing, running, cycling and even skateboarding. But this all came to a crashing halt this past summer when Kabul was retaken by the Taliban, ousting the previous democratically elected government. After seizing power on August 15, the Taliban gave evacuees until August 30 to flee the country.
This is where Muhtaj's experience with the furious pace of soccer came into play.
The education I received at York allowed me to look at the world with a different paradigm
She went to work building care packages for the Afghan refugees that would arrive in Canada. She started a humanitarian campaign to support Afghans surviving the crisis; the GoFundMe has raised over $2,000 so far. Muhtaj also reached out to administrative personnel at York and its Athletic Department, as well as her York University team, who supported and encouraged her efforts. "She really pulled all of soccer in Canada into it," Isacco says, smiling.
The Afghanistan women's soccer team is made up of gifted athletes and incredible leaders. Muhtaj's teammates from the Afghanistan women's national team sprang into action in August and began coordinating evacuation missions. Members of the senior women's national team, along with some family members, were quickly evacuated to Australia and are currently in the resettlement process.
The junior team had to wait longer but had a force behind them; that force was Farkhunda. She organized with former White House staffer Robert McCreary and other U.S. government officials, as well as representatives from the Portuguese government, to provide emotional support and translation services to the group over WhatsApp. She was a trusted figure with the group, and during a time of intense crisis and emotional stress, her presence and reassurance undoubtedly led the way. "I was working 24/7," Muhtaj says.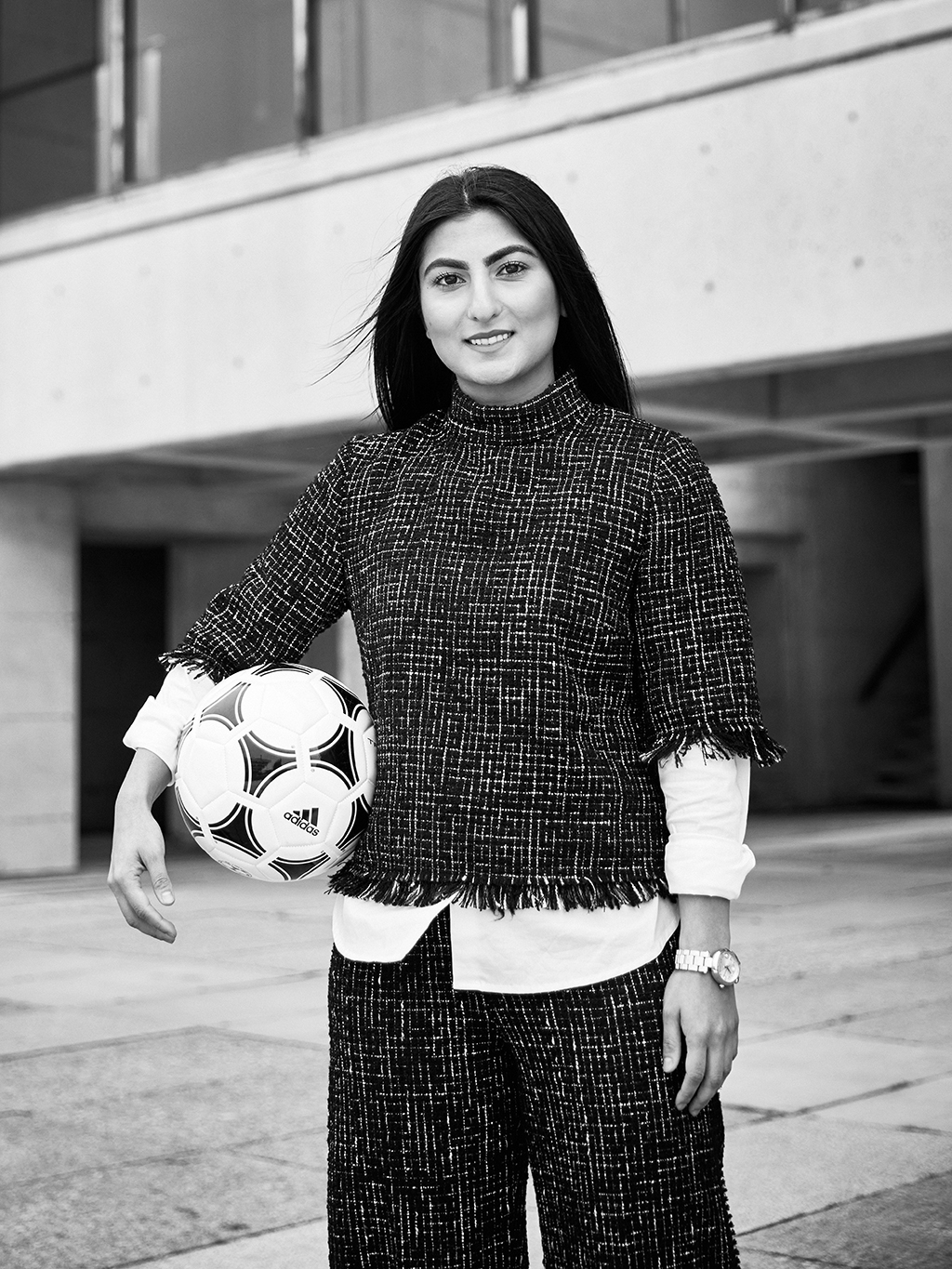 On September 27, 2021, after the team landed in Portugal, Muhtaj flew to Lisbon and had an emotional reunion with them. She is still there. Her work is far from done.
According to Isacco, who also coached her at Vaughan Azzurri in Ontario's League1, her confidence and tunnel vision in leadership means that she doesn't settle for subpar results. Isacco remarks that her leadership and vision are punctuated by her resilience and commitment to what she is focused on. "Far is all about doing something about it, not just talking about it," Isacco says. "It's not over until every goal and every ounce of her is exhausted, or everything is fulfilled."
Muhtaj is not only training three times a week with the group, whose members range from 14 to 20 years old, she is essentially helping to build a new Afghan diasporic community in Portugal as well. "There are gaps," Muhtaj explains over a Zoom call, "because there is no Afghan diaspora."
Muhtaj came to Canada with her parents at the age of two. As a professional educator of immigrant experience herself, Muhtaj is familiar with the ways that sports can be used to integrate into wider society. "[Soccer] is a mechanism to achieve this," Muhtaj says. "The education I received at York allowed me to look at the world with a different paradigm."
This knowledge is a tool for Muhtaj and the 220 people she is championing in Portugal, helping to connect them with both the existing Muslim community and wider society. Along with formal invitations, there are meetings and sessions where the group is encouraged to integrate into society while preserving their cultural identity and faith.
Language and confidence are two of the skills that help Muhtaj to connect, but soccer is another mode of communication. She is looking to establish relationships with municipal soccer programs in Portugal so that if and when the families resettle into permanent communities (Muhtaj and 200 of the evacuees are currently in a hostel), their love for soccer will not be compromised. By her own admission, her Portuguese needs work, but that will not stop her. What began as a four-day trip has become a new life journey for Muhtaj. "I have changed my ticket over five times," she laughs. But building a championship team, such as the one she was part of at York, takes time.
I learned about the social side of sports and how to use sports to integrate. This education transformed the way I think
Building a specialized curriculum to help Afghan girls and their families will not be a quick process either. This requires academic benchmarking and, at present, Muhtaj thinks she may stay a year. "I quit my job as a secondary school teacher and took a leap of faith," she explains. With support from the Aga Khan Foundation and housing provided by the Portuguese government, she is ensuring that this group of young soccer players has a sense of stability, growth and hope. Creating connections with universities and other institutions is necessary for the new Afghan community in Portugal to succeed. "One nation, together," Muhtaj insists.
While she was certainly a leader on the field, it is her work off the pitch that she finds most rewarding. And she credits her time at York University for providing a foundation of understanding in the intersections of this work. "I learned about the social side of sports and how to use sports to integrate. This education transformed the way I think."
She has been invited to speak at various soccer clubs, including a recent event at the famed Barcelona Football Club. She spoke to players at La Masia – Barcelona's storied youth academy – and met players from the professional women's side.
She misses her York Lions soccer family and readily confirms that she will rejoin them upon her return to Canada. Muhtaj maintains that the York soccer community has taught her about working hard and accomplishing something that many felt was impossible. But Coach Isacco feels differently about that. "I have learned more from Far than she ever learned from me."
He insists that her determination, her concrete mentality, is the best teaching for anyone, soccer player or not.
Muhtaj started out as a soccer player but is making a difference as a humanitarian and sports activist. Her worlds of education, sports development and personal connection are colliding as a perfect example of what a brilliant and impactful educator can be.  ■