"My work here is done." With these words, our Chancellor Greg Sorbara (BA '78, LLB '81) perfectly captured the spirit of shared accomplishment and exuberance at the official ribbon-cutting ceremony to open the Toronto-York Spadina Subway Extension at our Keele campus on Dec. 15, 2017.
When I reflect on that historic day for our community, as we welcomed Prime Minister Justin Trudeau, Premier Kathleen Wynne, Toronto Mayor John Tory and a number of other partners to campus, I am reminded that it truly does "take a village" to build something so fundamentally important to the Greater Toronto Area (GTA) community and to York ­University as the TTC Line 1 subway extension. York presidents emeriti, ­Chancellor Sorbara and many others advocated for decades to make this multi-billion-dollar project a reality, and to bring the York University and Pioneer Village subway stations to campus – the first subway to cross the city of Toronto boundary into York Region and the first extension to be completed in 15 years. We are grateful to them and to all of our federal, provincial, regional and municipal partners who collaborated to ensure this project was realized.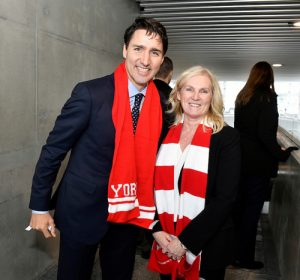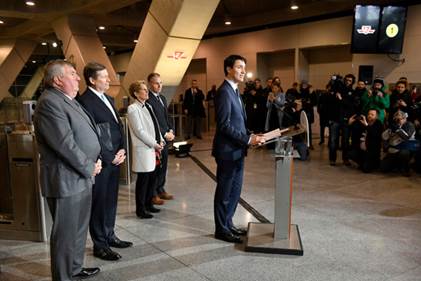 The opening of the subway represents an exciting new chapter in the York University story, creating new opportunities for the University and the communities we serve through increased access, connectedness, excellence and impact. Since most of our students, faculty and staff commute to campus, the subway provides a sustainable transportation option that will also reduce our community's carbon footprint. It means a shorter, more efficient commute for many of our students, who will have more time to learn and innovate in our classrooms and labs, and easier access for community members coming to York.
Of course, it's possible that no one has waited longer for the subway to open than our alumni, and so I encourage you to come back to campus for a visit, and to see firsthand how these new stations are enhancing our connectedness with the rest of the GTA and beyond. It is incredible to see all the new development in this region, and to realize the opportunities for York to amplify our impact as a destination linking cities in the GTA.
In fact, I see our connectedness as an emerging – and compelling – theme in the York story, one that is central to our vision of providing a diverse student population access to a high-quality, research-intensive university that is committed to the social, economic, cultural and other well-being of the communities we serve.