View
Doing the Twist
by Deirdre Kelly
photography by Horst Herget
After years of occupying a series of empty classrooms in various buildings across campus, York University's School of Continuing Studies finally has its own stand-alone home, and it's already turning heads. The rapidly growing faculty's new 9,012-square-metre building, scheduled to open this fall at the northeast corner of Ian MacDonald Boulevard and Pond Road, twists as it rises six storeys above the ground, forming a dynamic contrast to the predominantly rectilinear architecture found south of the Student Services parking garage on the Keele Campus.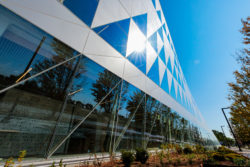 The sense of movement is accentuated by exterior walls and tessellated triangular windows that appear to lean away from the street as they extend upward to a tilting roof parapet atop the geometric structure. Glass walls allow an abundance of natural light to flood the more than 50 classrooms, meeting spaces and instructional offices spread across its six levels (five above grade and one below). Built with sustainability in mind, the new $73 million building also houses mechanical rooms where such ecological features as a self-generating heat recovery system and solar-powered water heater have enabled it to achieve LEED Gold environmental certification.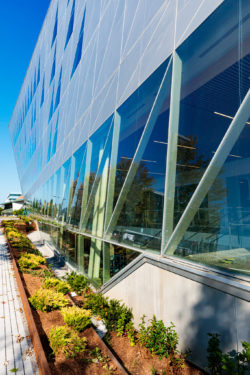 Toronto architecture firm Perkins&Will executed the building over the course of two years after winning a York-sponsored international design competition in 2020. The vision of an unconventional twisting structure was selected for its alignment with the School of Continuing Studies' commitment to offering an innovative learning experience for students of all ages.
Since its founding in 2015, the faculty has been reimagining what continuing professional education could look like in the 21st century – and with considerable success. The new building consolidates that forward momentum. "The design is bold, futuristic and unique," says School of Continuing Studies founder and assistant vice-president Tracey Taylor-O'Reilly, "which resonates with us because our programs are also unique and future-oriented."  ■